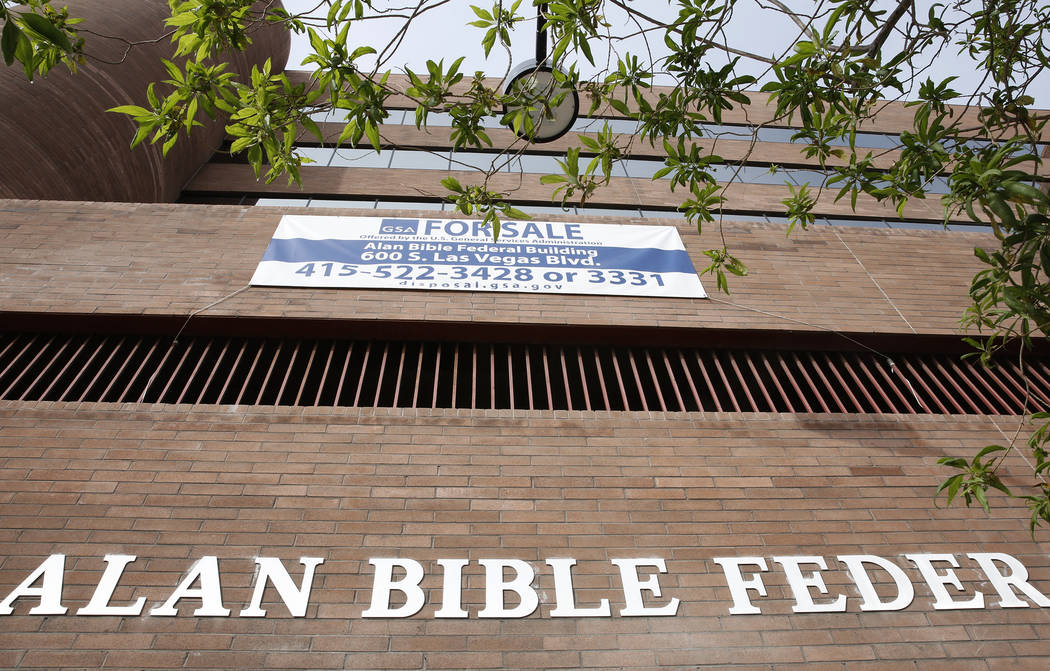 After several agencies moved to a new tower in downtown Las Vegas, the federal government is looking to unload a decades-old office building in the neighborhood.
The General Services Administration plans to start an online auction June 5 to sell the Bible Federal Building, 600 Las Vegas Blvd. South. The minimum opening bid is $2 million, and the auction will be held at realestatesales.gov.
Its sales effort comes after such agencies as the U.S. attorney's office for Nevada, the Department of Homeland Security and the Department of Labor's Office of Inspector General moved to the newly built Federal Justice Tower last year.
The privately owned, 11-story tower at 501 Las Vegas Blvd. South is a block away from the seven-story Bible building, which was built in 1985.
In an email, GSA spokesman Andra Higgs said the Labor Department still has employees in the Bible building, but he couldn't confirm which agencies left or where they moved to.
The U.S. General Accounting Office — a nonpartisan watchdog now called the Government Accountability Office — reported in 1989 that the GSA bought the Bible building for about $9.9 million. But regional officials who made the purchase "did not adequately evaluate structural problems identified by building inspectors."
One agency's personnel even stopped their move to the building "when a floor began flexing and they feared the building was collapsing," the report said.
Higgs said that the property is being sold "as-is" and that all bidders "are invited and encouraged to inspect the facility" before making an offer. The facility has "known seismic issues" and "a history of structural deficiencies, most notably, uneven floor slabs," he said.
The long-term plan, he added, is to move tenants from there to the Lloyd George U.S. Courthouse nearby.
Contact Eli Segall at esegall@reviewjournal.com or 702-383-0342. Follow @eli_segall on Twitter.