Black architect works to inspire next generation, diversify field
February 27, 2018 - 10:07 am
Updated February 27, 2018 - 3:18 pm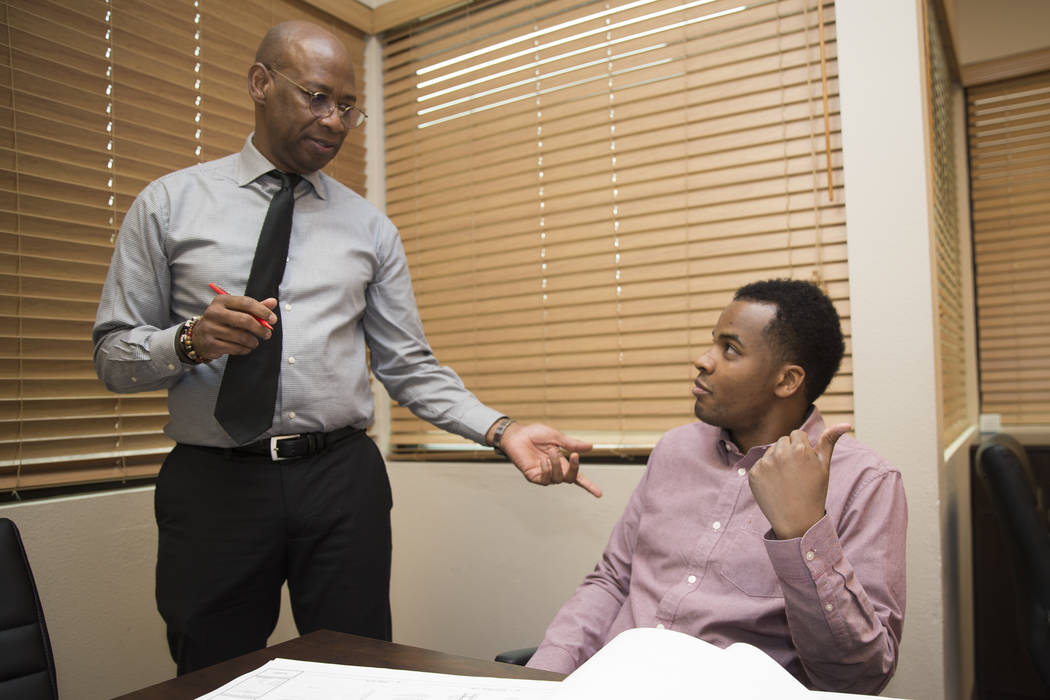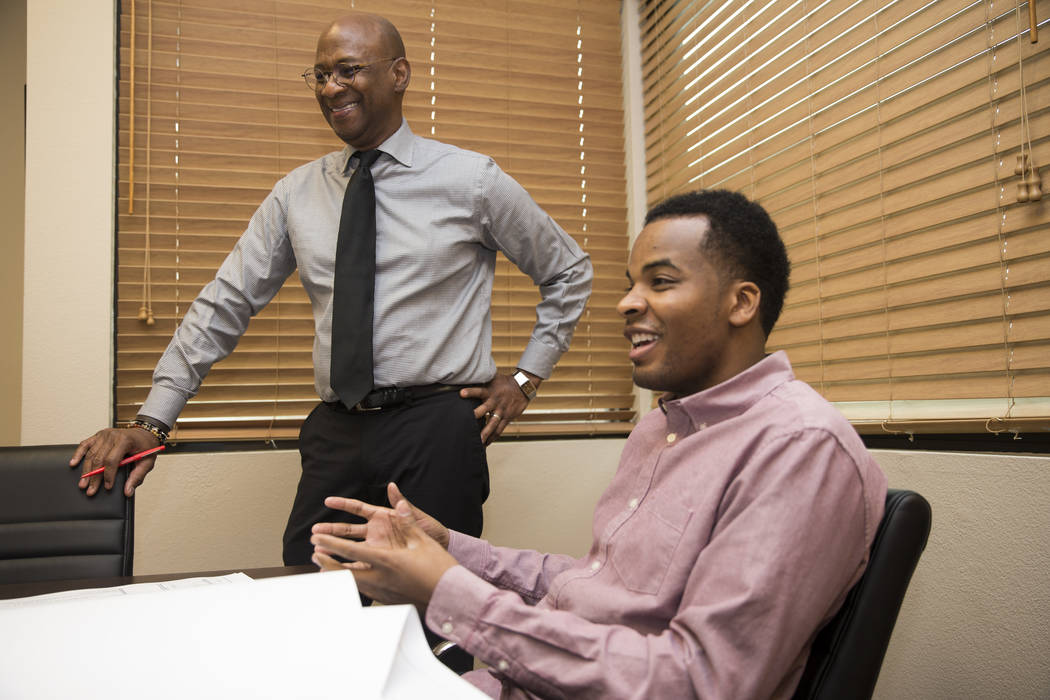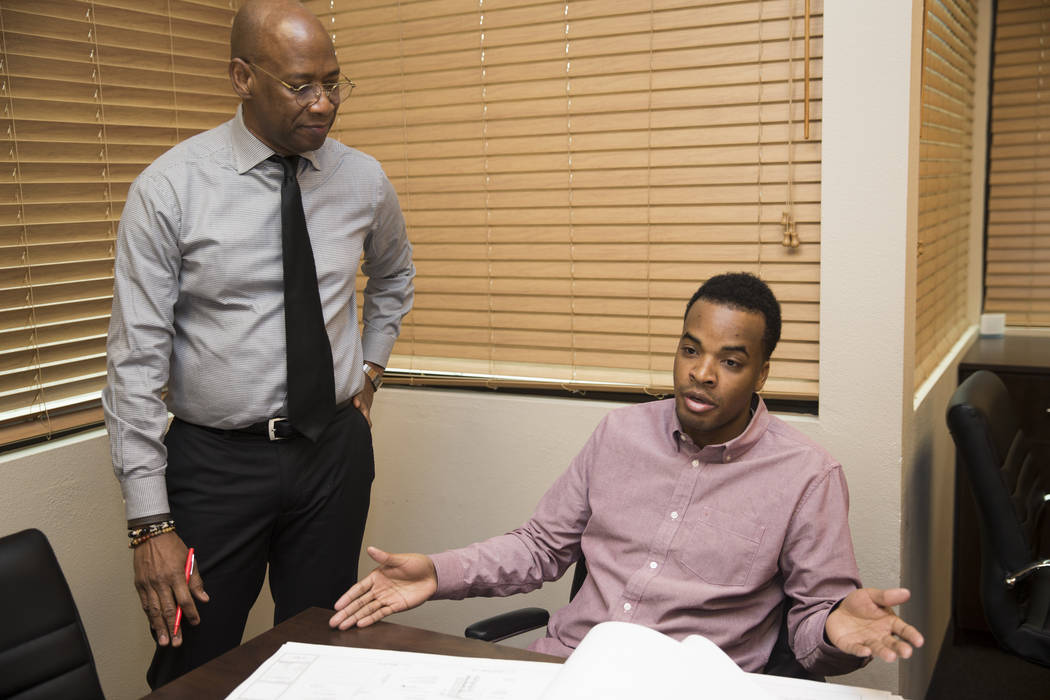 Melvin Green didn't find success alone.
When Green thinks back on decades of architecture work in the Las Vegas area, he remembers his teachers back in northern Louisiana who encouraged his drawing.
He remembers the Connecticut architect who taught him patience and the Nevada engineer who taught him how to manage employees.
As one of the relatively few architect principals nationwide who are black, Green wants to use his position not only to teach the next generation but to help diversify the field.
"That's why I'm doing it," Green said. "I have a passion for doing this."
For about 10 years, Green has run an internship program for budding architecture students and newcomers to the field.
Green stopped the program temporarily during the recession. But today he views his program as a mission to pass on his knowledge and help diversify a field mostly populated by white men.
For current intern Erick James, who is also black, Green has become a role model.
"My professors said Mel's amazing," said James, 28. "It makes me feel better knowing someone of color has achieved this success."
Origins in the South
As a boy picking cotton and milking cows in humid northern Louisiana, Green learned an important lesson from the farmhands who yelled at him.
This isn't how you treat employees. Especially kids. Green started picking cotton at age 5.
"They weren't exactly into child labor laws," Green said. "If anyone comes to me complaining about life, I tell them, 'I've lived it all.'"
Green wanted a different life. He received a bachelor's degree in architecture from Louisiana Tech University in 1980 and moved 1,500 miles to New Haven, Connecticut. He was 22.
"I was young and adventurous," he said.
In Connecticut, he worked with architect Paul Edmeades on community projects like adding third floors to low-income housing.
The project gave people in the area a new source of passive income from renters who moved into the building, said Edmeades, now based in Bel Air, Maryland.
"He was so eager to learn," Edmeades said. "It was a real joy for me to have him in the organization."
He'd move across the country again three years later, nearly 3,000 miles to Nevada. Green was recruited to Holmes & Narver, an architectural and engineering company that worked at the Nevada Test Site (now the Nevada National Security Site) and Tonopah Test Range.
In the mid-1990s, he went into business for himself. The transition wasn't tough. He was established by that time.
He's worked on T-Mobile Arena, the Eclipse movie theater downtown and several local schools. His firm, KME, is participating in the $59.8 million design deal for the Las Vegas Convention Center expansion.
Today, Green recognizes that students and newcomers need what he's benefited from time and time again — opportunity.
By the numbers
Figures show diversity among architecture professionals has improved in recent years.
The American Institute of Architects reported that in 2015, the latest year available, women held a third of all architectural staff jobs, including those not needing a license. That number was 26 percent in 2005.
Women make up 30 percent of licensed architects, an increase from 20 percent in 2005.
Minorities have gone from 16 percent of architectural staff in 2005 to 21 percent in 2015.
In 2005, minorities made up 8 percent of principals and partners. That figure grew to 11 percent in 2015. The share of licensed minority architects increased from 11 percent in 2005 to 20 percent in 2015.
Among certificate holders with the National Council of Architectural Registration Boards, the group whose materials inform Green's internship program, 5 percent are Asian and 2 percent are black.
In a report on why architectural lacks diversity, the American Institute of Architects said the cost of education, lack of role models and competition with careers with greater earning potential are obstacles. For women in particular, concerns over work-life balance, long and inflexible hours and less pay compared to male professionals are obstacles.
Internships and mentorship programs for women and minorities can help recruit a more diverse workforce for the field, according to the report.
Companies can fund scholarships for women and people of color, send representatives to talk to schools about the profession and create written criteria for advancement in the company to ease concerns by new employees, the report said. Schools can hire more architectural professors of color.
Education a key
James, one of several interns currently with KME, said he finished his architectural classes just in time at the College of Southern Nevada.
The college recently dumped its two-year degree program because employers prefer four-year programs, said Dennis Soukup, who chairs the applied technology department.
Having worked with Green for five months, James has learned about Green's thought process when it comes to floor plans. They're now working on adding a sports complex to an existing building.
After playing basketball in high school and working four years for the NHL's Anaheim Ducks, James said the internship has cemented architecture as his chosen career.
"It's made me feel validated," he said.
On occasion, Green will visit elementary schools to share a presentation about his life, from the fields near the Louisiana-Arkansas border to his travels to places like Paris, Rome and Bangkok.
He tells the schoolchildren a motto he hopes they remember.
"Education is a foundation to explore the world," he said.
Contact Wade Tyler Millward at wmillward@reviewjournal.com or 702-383-4602. Follow @wademillward on Twitter.