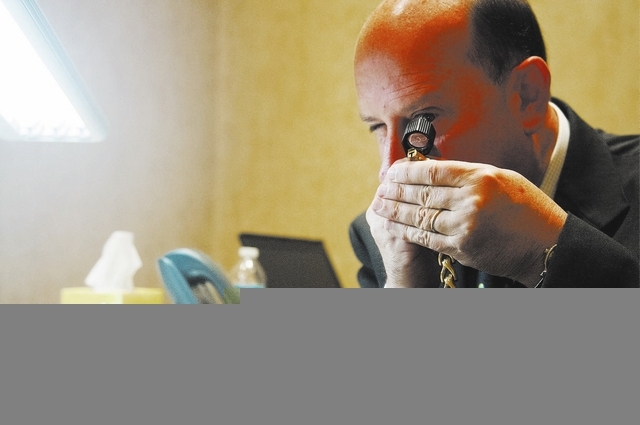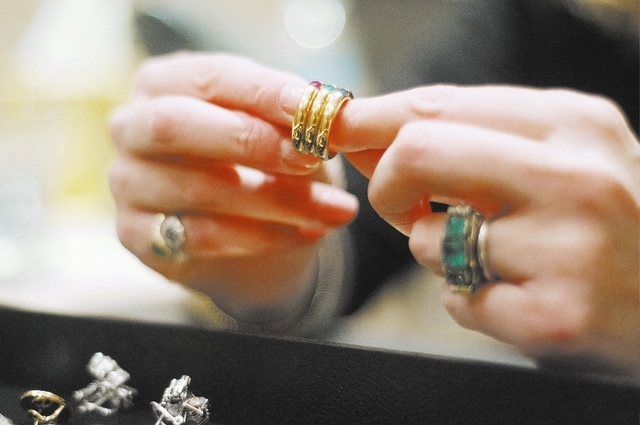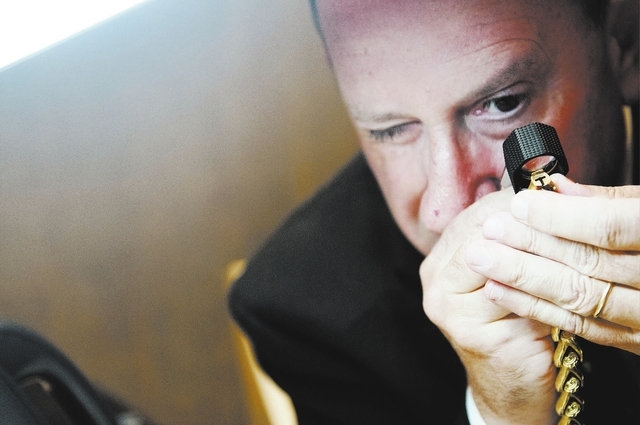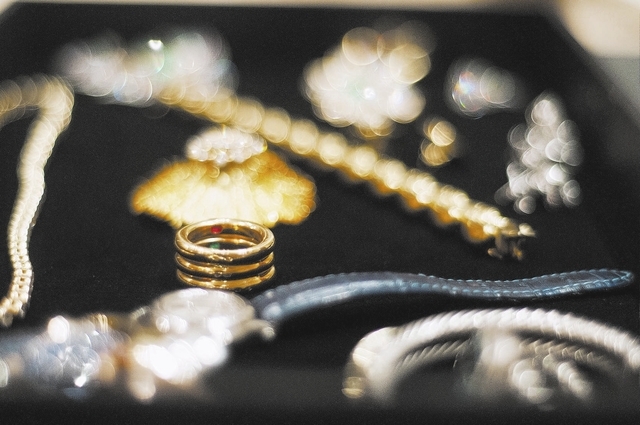 The inner cabochon emerald, smooth and deep green, rests in a blanket of intricate sparkling diamonds that form an artistic leaf shape. The David Webb clip-on earrings are positioned on a showing tray among a dozen other, equally shimmering pieces of jewelry.
No, you haven't walked onto the set of the latest Bond movie. This is Circa.
The international jewelry buyer opened its first Las Vegas office on the first floor of the Four Seasons Hotel, where it can cater to a mix of visitors and locals. With a loyal brand following, the 12-year-old company operates offices in North America, Europe and Asia, and is undergoing its largest expansion to date.
The company announced plans this year to expand its Hong Kong presence and open offices in Las Vegas, Dallas, Beverly Hills, Calif., and Madrid. By the end of the year, it will have 14 locations.
The 795-square-foot Las Vegas boutique at 3960 Las Vegas Blvd. South is led by Umberto Binetti, who spent 19 years managing the Las Vegas boutiques of Bulgari and Charriol. The Italian-born Binetti is as discreet as he is charming. When asked about who makes up the clientele at Circa, he simply smiled, not uttering a word until the next question was asked. He may even have turned a bit red.
In the two months that Circa has been quietly open at the Four Seasons, Binetti said, there has been strong participation from locals.
"We were really founded to meet a growing consumer need and fill a void," said director brand manager Natasha Cornstein. "Historically there haven't been accessible choices for people to sell their jewelry."
Most choices boiled down to cash for gold businesses, pawn shops and high-end auction houses.
At Circa Las Vegas, the outside door is inscribed with the words "By appointment only." The interior office is adorned with photos of jewelry and a single desk.
The company accepts any real jewelry or costume jewelry that is signed ­— meaning it has a name attached to it such as Chanel, Tiffany or Versace. On average, the company purchases more than 300 pieces a day. It then sells them back to the industry.
No item is too large or too small.
"When we look at items, there is a certain beauty that comes into play. It's not just placing it on a scale and putting a price on it," Binetti said.
Cornstein showed a gold bracelet and noted it would be worth about $900 based on weight alone.
"At Circa we're evaluating the piece, looking at it for condition, quality, materials. This is retro and has French hallmarks, which is desirable. It's a rose gold-yellow gold combination, which is very popular right now. I think we paid the seller for this piece a little over $1,600," Cornstein said.
Circa has funds at its disposal, and buyers are able to write customers checks on the spot.
"We can write you a check for $500, we can write you a check for $5 million," Cornstein said. "We don't need to identify a buyer to purchase from you."
Privately owned, Circa has a consortium of investors, and its largest shareholder is a Chicago-based private equity firm, Winona Capital Management.
Circa experienced a 53 percent increase in revenues between 2008 and 2010. Less than 20 percent of what the business buys gets melted.
"There are certain qualities to the jewelry, the way they show and the way they're made, it would be criminal to just take the item and put it on a scale without giving the additional look," Binetti said.
Among the pieces Circa has purchased recently are David Yurman rings and bracelets, Chopard small-faced watches and those aforementioned David Webb earrings. Thousands of brooches, too, are sold to the company every month.
The majority of Circa's clients are women selling jewelry that has gone out of fashion. Some are saying goodbye to a loved one via the transaction.
"Our buyers are trained to understand emotional cues. Where the jewelry is placed on the table often says a lot about our clients," Cornstein said.
At times, buyers tell the customers they don't think they're ready yet to part with a piece, and they should go home and think about the sale. The tactic must work: About 65 percent of Circa's clients are repeat and referral.
"We're not looking to just take. We're looking to build a relationship and advise," Cornstein said.
Circa doesn't charge a commission or fees for insurance nor place other similar restrictions on the items being offered.
"We never know what's coming through the doors. Sometimes someone may come with one single earring, sometimes they may come with suitcases full," Cornstein said.
A growing part of the business comes from clients who mail in their pieces.
"Really savvy consumers are not letting their pieces sit in a drawer unworn. If you're insuring an item and not wearing it, then you really have an underperforming asset," Cornstein said.
Unlike retail, there's not a seasonality to Circa's business. It's steady year-round. And Circa's there to help.
"Just call," Binetti said.
Contact reporter Laura Carroll at lcarroll@reviewjournal.com or 702-380-4588. Follow @lscvegas on Twitter.