Brokerage firm predicts sustained recovery for local commercial market
January 30, 2014 - 2:50 pm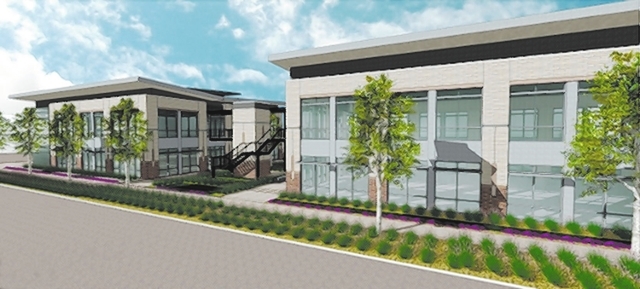 A national brokerage firm predicts a year of sustained recovery in the Las Vegas Valley's commercial real estate markets.
Avison Young's 2014 Forecast calls for a relatively weak office market, and improving strength in the retail, industrial and investment sectors.
Let's get the so-so news out of the way first.
Avison Young's researchers said local office rents, which stayed flat through 2013, will push upward only slightly in 2014. The vacancy rate will mostly remain unchanged, at 19.5 percent.
In retail, most 2014 deals will involve relocations or renewals rather than completely new leases. Look for the biggest retail story in the year ahead to be the opening of The Shops at Summerlin, the 1.6 million-square-foot, 125-store regional shopping center at West Charleston Boulevard and the 215 Beltway. The project is providing 1,700 construction jobs, and will open with 2,000 employees.
On the industrial side, vacancy fell from just 12 percent in 2012 to 11 percent in 2013. Get ready for still more improvement in 2014, as the rate should dip below 10 percent. The headline here may be a "significant" demand for big warehouse and distribution space, and questions about where to build it. With few contiguous spaces of more than 100,000 square feet, and with several big retail and entertainment projects coming online in 2014 and 2015, there'll be pressure on developers to find parcels on which to build.
Finally, expect asset prices to stabilize for investors. Prices made big gains in the first half of 2013, thanks in part to some major apartment and office sales. Office properties owned by The Howard Hughes Corp. in Summerlin and central Las Vegas sold for nearly $500 million combined. But investment-price increases should level off in the year ahead, and remain well below their peaks of 2007 and 2008.
■ Construction is offically underway at Henderson's new Cadence master plan.
The LandWell Co., which is developing the community near Lake Mead Parkway and Boulder Highway, broke ground on a two-story, 10,000-square-foot office building that will house the master plan's marketing center.
The center is scheduled to open this summer on the first floor with interactive kiosks that will let consumers see floor plans and renderings of the project.
The second floor will contain 5,000 square feet of suburban, Class A office space available for lease.
Encompass Studio designed the building.
LandWell plans two office buildings adjacent to the marketing center.
LandWell also expects to begin selling homes at the 2,200-acre Cadence in the summer. The community will have 13,250 homes, with prices starting in the low $200,000s. Cadence will also have 450 acres of open space, including a 50-acre central park, a 100-acre sports park and 30 acres of trails that will connect with regional walkways such as the Las Vegas Wash Trail and the River Mountains Loop Trail. There'll also be four school sites, a bicycle-share program and free Wi-Fi in public parks.
■ A big, local apartment complex has been bought by an investment group — and not one from California.
Utah-based Bridge Investment Group Partners purchased for $17.35 million the 200-unit Silver Shadow complex at 8301 W. Charleston Blvd.
Bridge Investment Group owns or manages 26,000 apartment units in 15 states, mostly in the Sun Belt and the West. The firm also owns or oversees 2 million square feet of commercial space. Its only other local property is The Ritz Apartments at 4250 S. Jones Blvd.
The company says it targets assets that it can buy at "significant discounts to historic values and replacement costs," and that are forecasted to post positive cash flow either immediately or after upgrades.
Bridge Investment Group spent $462 million buying properties just in the first through third quarters of 2013. The December issue of monthly magazine Private Equity International named the firm one of the top 10 emerging private-equity real estate managers in the United States.
Cindy Cooke of Colliers International in Phoenix represented Bridge Investment Group in the deal. Garry Cuff of Colliers International's Las Vegas office represented the seller, Silver P LLC.
■ Brokers with Colliers International's local office completed nearly a dozen recent lease agreements worth more than a combined $1.1 million:
Dean Willmore, SIOR, represented landlord Natomas Creek Nevada LLC in a lease to Updike Distribution Logistics LLC. The 55,125-square-foot industrial space is at 3030 N. Lamb Blvd. Willmore represented the tenant as well.
Willmore also represented Auto Byline Systems in its 28,432-square-foot industrial sublease to Interior Service Network. Sean Beard of Pulse Realty Group represented Interior Service Network in the agreement, which was for space at 3550 W. Teco Ave.
Dan Doherty, SIOR, Chris Lane and Jerry Doty helped tenant Blue Bell Creameries LP lease 11,774 square feet of industrial space at 6957 Speedway Blvd., inside the Speedway Commerce Center.
Doherty, Lane and Doty also arranged a lease on behalf of landlord BREPAC Nevada LLC. PTO Sales Corp. re-upped its lease on 10,476 square feet of industrial space at 4502 Mitchell St., inside the Nellis Industrial Park.
Mike DeLew, SIOR, and Greg Pancirov, SIOR, represented tenant Bowlus LLC in a lease for 5,160 square feet of industrial space at 110 Cassia Way. Pro Commercial Real Estate represented the landlord, Gloria L. Pfau Trust.
Rebecca Staniec represented landlord JAMD in a 5,040-square-foot office property at 7220 S. Cimarron Road. Lisa Hauger of Sun Commercial Real Estate represented the tenant, Arizona Pain Specialists.
Contact reporter Jennifer Robison at jrobison@reviewjournal.com. Follow @J_Robison1 on Twitter.