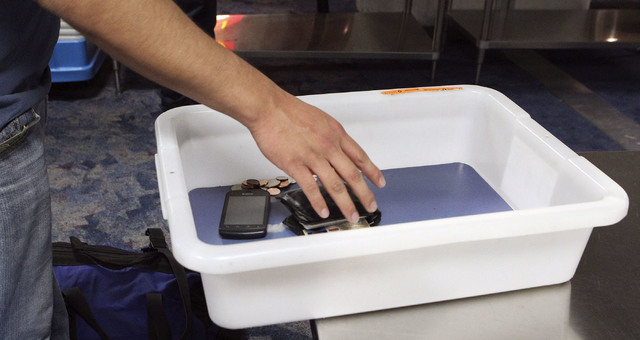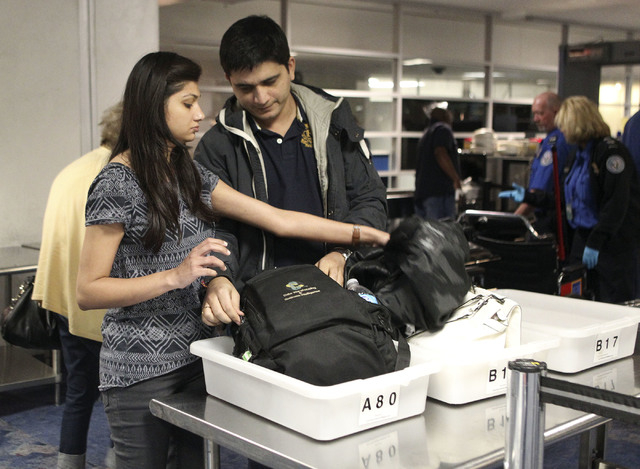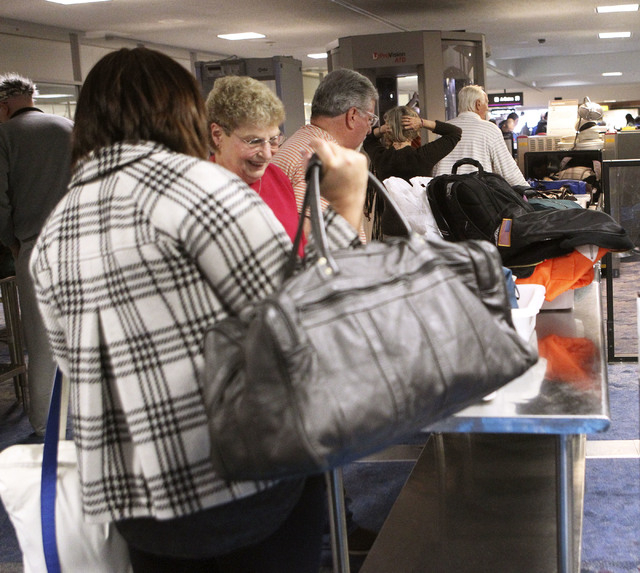 WASHINGTON — A dime here, a quarter there, and pretty soon you're talking real money. Especially in Las Vegas, where air travelers left behind $26,900 last year after emptying their pockets at security checkpoints.
The TSA's haul of loose change at McCarran International Airport was topped only by Miami International Airport, where agents gathered $39,613 last year after passengers rushed to put on their shoes, re-cinch their belts and head to their gates.
All told, the Transportation Security Administration collected an unclaimed $531,395 at airports last year. Over the past five years, the collection has totaled $2.25 million, large enough to attract the interest of Congress on how the money should be spent.
Consequently, the House by voice vote passed a bill Tuesday directing the TSA to distribute the funds to nonprofits that run airport lounges for traveling members of the military and their families.
Currently, the only group that does that is the USO, which operates lounges at 45 airports, including McCarran.
The TSA now is allowed to spend the money on flight security but had spent only $6,539 as of March 1, according to the House Committee on Homeland Security.
Chairman Mike McCaul, R-Colo., said the agency's slowness to act, coupled with the $7 billion it receives from Congress, opened the way for lawmakers to put the found money to other uses.
"In the hustle and bustle of our nation's airports, with millions of travelers every day, it's no surprise some travelers will inadvertently leave behind loose change at TSA screening checkpoints," McCaul said. "That change may not add up to much at one airport, but when you total it up across 450 airports, it accounts for about half a million dollars every year."
Among other airports, passengers last year left behind $20,190 at Dallas/Fort Worth, $21,201 at JFK in New York City, $21,916 at Los Angeles, $22,000 at O'Hare International in Chicago and $19,873 at San Francisco.
In Bismarck, N.D., the collection was $560. In Long Beach, Calif., $867. In Guam, $1.70.
TSA spokeswoman Lorie Dankers said the hefty Las Vegas collection was a result of the relatively large number of passengers who undergo screening.
McCarran officials said the airport is the ninth-busiest overall in North America but has the third-highest volume of origin and destination traffic. In other words, most passengers arrive and depart there as opposed to flying in to catch a connecting flight to somewhere else.
"It's simply passenger volume," Dankers said.
Beyond that, there's no speculation as to whether people leaving Las Vegas tend to have more money in their pockets from casino winnings. Or might be suffering forgetful hangovers from partying. Or might be in particular rushes to catch their flights home, leaving what happened in Vegas to stay here.
"McCarran is a high-traffic airport," said Rep. Steven Horsford, D-Nev., a co-sponsor of the bill that passed. "Whatever the reason for the money left behind, whether it be change from casinos or restaurants, I'm glad we are going to put these resources to helping members of the armed forces and their families."
Contact Stephens Washington Bureau Chief Steve Tetreault at stetreault@stephensmedia.com or 202-783-1760. Follow @STetreaultDC on Twitter