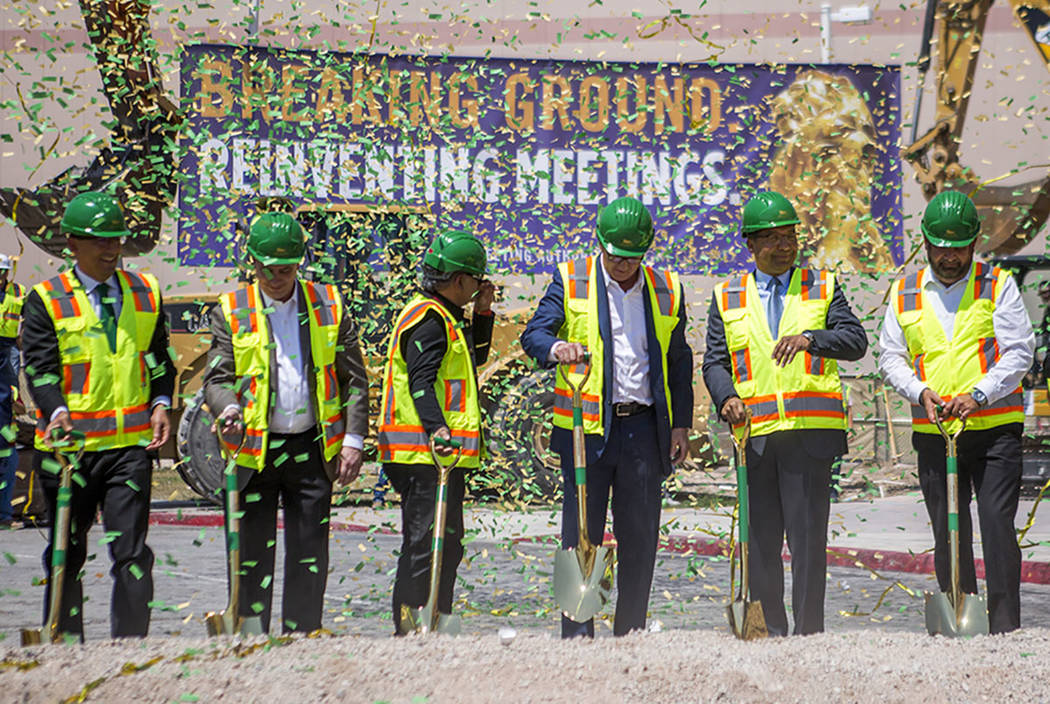 When it comes to conventions and meetings business, MGM Resorts International is all in.
Last week's groundbreaking for a 250,000-square-foot expansion of the MGM Conference Center at the MGM Grand was the latest in a series of investments to vault the company into the top echelon of Southern Nevada meetings hosts.
Analysts who were reading the tea leaves of Chairman and CEO Jim Murren's earnings conference calls knew the company was poised to make an expansion splash, but few saw just how much MGM was going to do.
Consider the Mandalay Bay Convention Center, first opened in 2003, was expanded by 350,000 square feet and is at about 2 million square feet after the addition that went live in August 2015. Less than six months after the Mandalay expansion, the company announced plans to add 200,000 square feet of high-tech meeting space over four floors at Aria, eliminating the Cirque du Soleil "Zarkana" theater. The new space is due to open in early 2018.
Now comes the MGM Conference Center expansion, which will be built between the existing building and MGM Grand's main parking garage in an area currently used as a driveway.
MGM is a believer in Southern Nevada's continuing promise to be the nation's top meetings host.
That Las Vegas Convention and Visitors Authority approval of a $1.4 billion expansion and renovation of the Las Vegas Convention Center? MGM's fingerprints are all over it.
The Las Vegas Convention Center District committee responsible for making a recommendation to the full LVCVA board, composed of gaming industry executives and elected officials, was chaired by Chuck Bowling, president and chief operating officer of Mandalay Bay.
While making sure the Mandalay Bay Convention Center was positioned to host some of the city's biggest trade shows — it's home to MAGIC and media previews for CES — Bowling put on another hat to wrangle votes for the Convention Center project, an ask that didn't need much convincing.
The legislatively mandated Oversight Panel for Convention Facilities in Clark County was chaired by Bill Ham, president of MGM Resorts International Design and one of the guys who manned a shovel for the MGM Conference Center groundbreaking.
Las Vegas had done about everything it can to compete against Chicago and Orlando, Florida, which have made it their goal to dethrone our city as the top convention and trade show destination in the country.
Las Vegas hosted a record 6.3 million convention delegates in 2016, a number that might be hard to top this year because show rotations will move some big events out of the city.
MGM is confident the meetings industry will continue to grow and has netted a meetings contract with Microsoft and one other unnamed technology show coming later this year.
Meanwhile, Wynn Resorts has plans in the works to expand its convention offerings as part of its Paradise Park project.
With a lagoon, Wynn expects to build new rooms and meeting facilities as part of a $1.5 billion project targeted to start by the end of the year.
Let's hope MGM, Wynn and the LVCVA are right that the industry can continue to grow.
Contact Richard N. Velotta at rvelotta@reviewjournal.com or 702-477-3893. Follow @RickVelotta on Twitter.
Here's to your health
One of the compelling features of the soon-to-be-expanded MGM Conference Center is the Stay Well Meetings facility, which now occupies the center's second floor.
Inspired by alternative medicine guru and Delos Advisory Board member Dr. Deepak Chopra, Stay Well offers features you won't find in most meetings facilities:
— Air purification that reduces allergens, toxins, smoke and microbes from the air.
— Aromatherapy using scents that create a relaxing, mood-enhancing environment.
— The use of hypoallergenic products and a state-of-the-art ultraviolet wand cleaning tool, which neutralizes bacteria, viruses and other microbes.
— Circadian lighting engineered to emulate the properties of natural light, enhancing productivity, energy and experience.
— Healthy menu options approved by leading nutritionists at Cleveland Clinic Wellness and designated by their Go! Healthy seal.
— Infused water stations strategically placed to encourage attendee hydration.
— A welcome by Chopra.
— Meditation narrated by Chopra that encourages guests to relax and rejuvenate.