Officials formally kick off conference center expansion at MGM Grand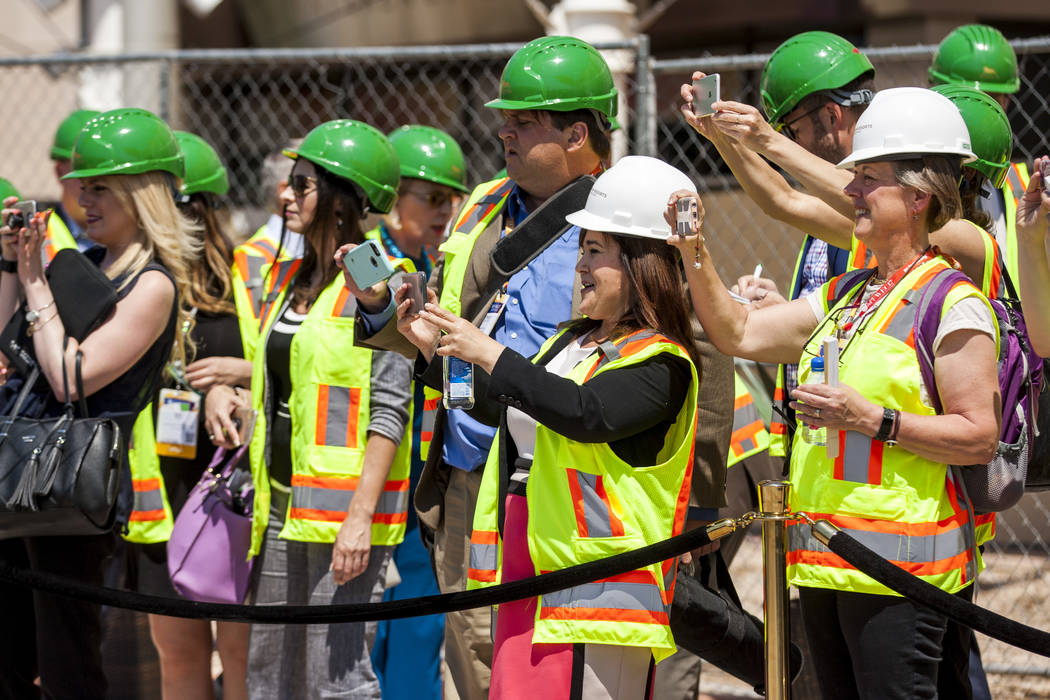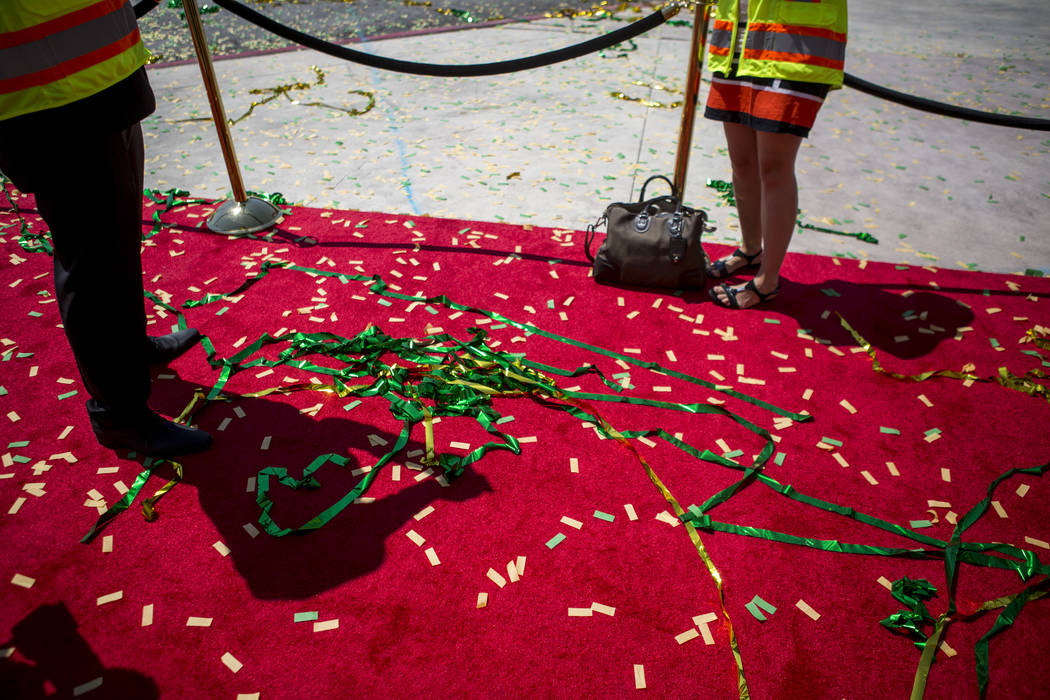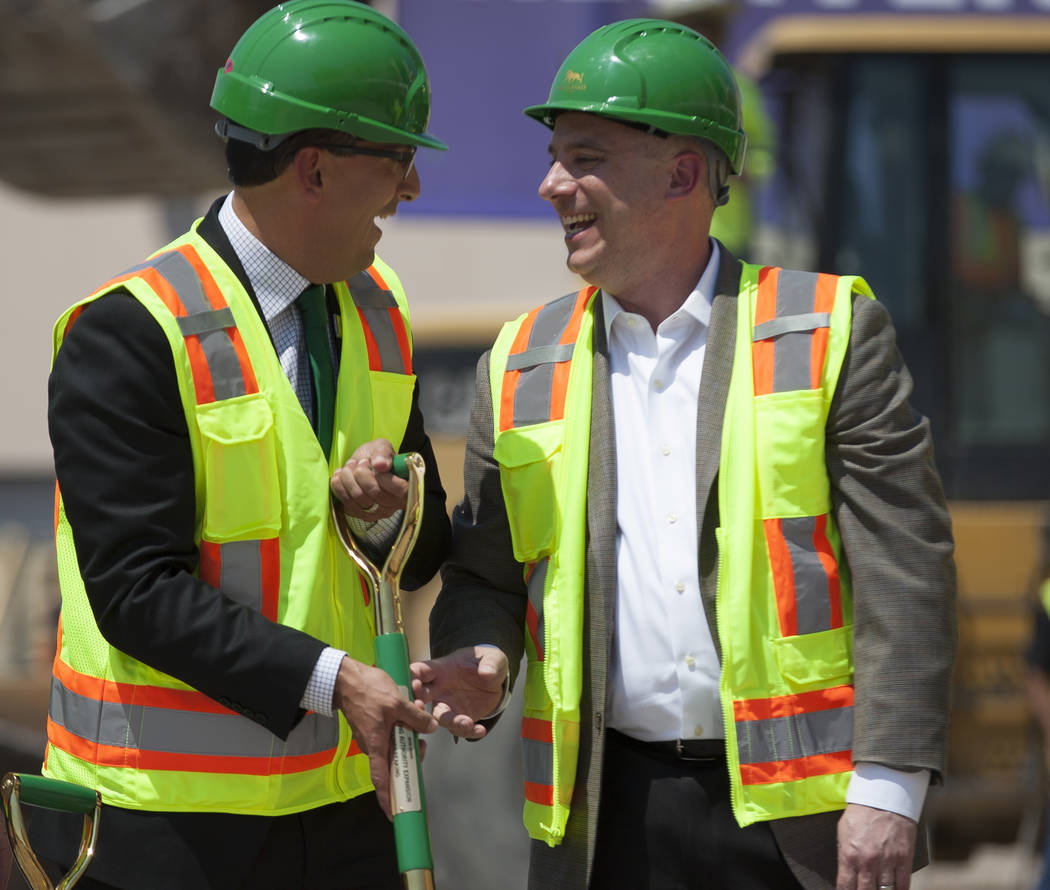 Accompanied by a blast of green and gold confetti and "Viva Las Vegas" by Elvis Presley, MGM Resorts International executives on Tuesday tossed gravel with gold-colored shovels to kick off construction of a $130 million conference center expansion at the MGM Grand, a key piece in a larger south Strip strategy.
The hospitality company will add 250,000 square feet of meeting space to the MGM Grand Convention Center to satisfy demand from current clients for more space. MGM also expects to fill the additional space with association industry and small group meetings it couldn't accept, MGM Resort executives said.
"The amount of business we turn down because we don't have the space is stunning," said MGM Resorts Senior Vice President and Chief Sales Officer Michael Dominguez.
MGM Resorts is aggressively expanding its hotel meeting space in Las Vegas as a growing U.S. economy and rise in mergers and acquisitions drives demand for more and larger group meetings. The number of convention delegates visiting Las Vegas has risen 41 percent since 2010 to reach 6.3 million last year. The city's meeting space has grown at a slower pace.
"Since the financial crisis, there has been no significant new build within the convention," said Ernest Stovall, vice president of sales at MGM Grand, adding that meeting space per guest room nights has declined about 24 percent.
South Strip strategy
When the MGM Grand's extension is completed in late 2018, MGM Resorts will have invested $350 million over four years to expand its meeting and convention space on the Strip by a quarter to more than 4 million square feet.
MGM Resorts finished a 350,000 square foot expansion of the Mandalay Bay Convention Center last year and expects to wrap up a 200,000-square-foot expansion of the Aria in February 2018.
"Las Vegas is increasing its standing as the leading event location in the country, if not globally, and there is a valid argument for the expansions," said David Katz, an industry analyst for Telsey Advisory Group in New York.
Attracting more and larger group meetings will help the MGM Grand fill its more than 5,000 rooms. And that will have the additional benefit of supporting room rates at MGM properties nearby like the Luxor, Excaliber and New York-New York, said Dominguez.
When the MGM Grand has to discount prices to fill rooms, it forces other resorts to cut prices as well, he said.
Football-field sized ballroom
While 80 percent of group meetings held at MGM Resorts properties have less than 100 attendees, the fastest-growing segment is meetings with 1,000 or more attendees, said Ernest Stovall, vice president for sales at MGM Grand. That is helping drive the demand for more and larger space.
The MGM Grand expansion will consist of a 49,000 square-foot ballroom, nearly the size of a football field, and a 32,000 square-foot ballroom. In addition, there will be three "junior" ball rooms, Stovall said.
Pegasystems, a software developer, is among the first companies to book meetings in the yet-to-be-built space. The Boston-based company moved its annual conference to Las Vegas in 2016 to keep its event under one roof.
The number of attendees at its conference has risen 40 percent over the past two years to 4,100 and could reach 5,000 next year, said Michael Brenner, global vice president of customer experience and events for Pegasystems.
The MGM Grand expansion will enable Pegasystems to continue to keep its conference "under one roof," said Brenner, who donned a hard hat and neon vest to help Dominguez and Stovall toss the first gravel.
New tech contract
MGM Grand expects guest room nights to rise 6 percent this year following a 17 percent increase last year, said Stovall.
The growth this year will be helped by a new contract MGM Resorts recently signed with a technology company to bring as many as 30,000 people to Las Vegas in November. Stovall declined to disclose the name of the technology company.
MGM Resorts in February signed a multi-year contract with Microsoft to host the company's annual events, which will bring as many as 30,000 people to the city in July.
MGM Resorts is hoping to use the Grand's expansion to trim its heavy dependence on technology-related group meetings and attract more association business — such as the American Institute of Certified Public Accountants — which is more resilient in economic downturns.
"With our expansion, we need to aggressively go out after association business that we can put on the books in 2020," said Stovall.
MGM Grand will hire five more sales people to help them do that, said Stovall.
Contact Todd Prince at tprince@reviewjournal.com or 702-383-0386. Follow @toddprincetv on Twitter.