For a few dollars, you can own a stake in a Las Vegas home — sort of
February 3, 2017 - 6:59 pm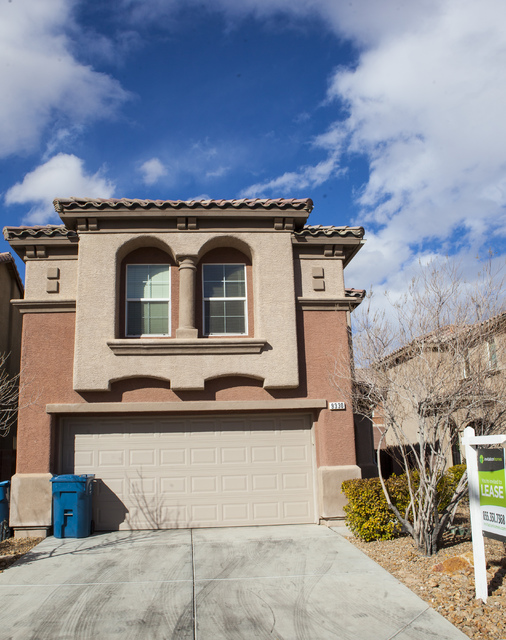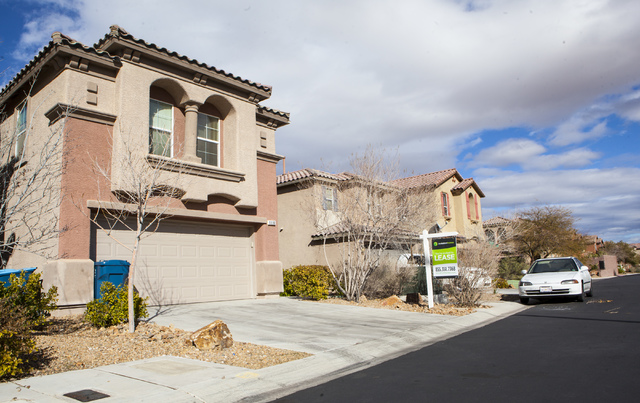 Want to buy a house in Las Vegas for $20 or $30?
Well, part of a house.
Sort of.
The Blackstone Group, a New York investment giant, bought homes in bulk to turn into rentals after the market crashed, forming a company in 2012, Invitation Homes, for the venture.
Invitation now owns almost 50,000 homes around the country, including more than 900 in the Las Vegas area, and began selling stock this week as a publicly traded company. Shares closed Friday at $20.63.
Las Vegas was ground zero for the U.S. housing crash last decade and, like many other cities, drew throngs of bargain-hunting investors. So far, it seems big groups that gobbled up homes after the bubble burst haven't sold their rentals here, at least not in any great volume. But you can buy a piece of these companies.
They include Colony Starwood Homes in Scottsdale, Arizona, which owned about 30,400 single-family homes as of Sept. 30, including 1,700 in Las Vegas. Its shares closed Friday at $31.49.
There's also Silver Bay Realty Trust Corp. in Minnesota, which owned about 8,800 properties as of Sept. 30, including 290 in Las Vegas. Its stock ended Friday trading at $18.26.
Such investment firms revived Las Vegas' housing market, and their buying binge pushed up prices so fast that some people worried another bubble was inflating.
But price growth has cooled substantially the past few years, triggered in no small part by investors heading for the exits because of the shrunken inventory of cheap deals.
Institutional investors – buyers that pick up at least 10 homes annually – bought 3 percent of all homes that sold in the Las Vegas area last year. That's down from a peak of 14 percent in 2013, according to housing tracker Attom Data Solutions.
Big landlords are unlikely to unload their rentals all at once, as this would flood the market with listings and push down prices on themselves. But for now, compared to other cities where they operate, their properties here boast above-average occupancy rates, albeit below-average rents for the most part.
Does that mean it's a good time to buy a rental house? Well, $20 is a great deal – but considering Invitation has a stock-market value above $6 billion, don't be surprised if your ownership amounts to a centimeter of carpet somewhere.
FRESH DATA
Meanwhile, the real estate world pumps out no shortage of reports, dissecting everything from sales prices and mortgage lending to foreclosures, house-flipping and more.
Here's a look at two that came out this past week and what they said about Las Vegas.
The closely watched S&P CoreLogic Case-Shiller index of U.S. home prices was up 5.6 percent year-over-year in November. Las Vegas topped the national average, rising 6 percent.
Commercial real estate brokerage Marcus & Millichap also released a 2017 forecast for the U.S. apartment industry. One highlight: The construction craze continues.
Apartment development has been soaring nationally, prompting more than a few people to question whether investors are overbuilding. Las Vegas is no exception — numerous projects have come out of the ground the past few years, especially in the southwest valley and Henderson.
Overall, Marcus & Millichap expects 3,300 units to be completed in the Las Vegas area this year. A big sum, but it's much less than other markets.
The firm expects 5,800 units to be completed in San Diego this year, as well as 7,800 in Phoenix, 11,900 in Denver and 13,200 in Seattle.
Contact Eli Segall at esegall@reviewjournal.com or 702-383-0342. Follow @eli_segall on Twitter.