Las Vegas Strip's penchant for reinvention in full swing, again
Updated April 3, 2023 - 7:28 pm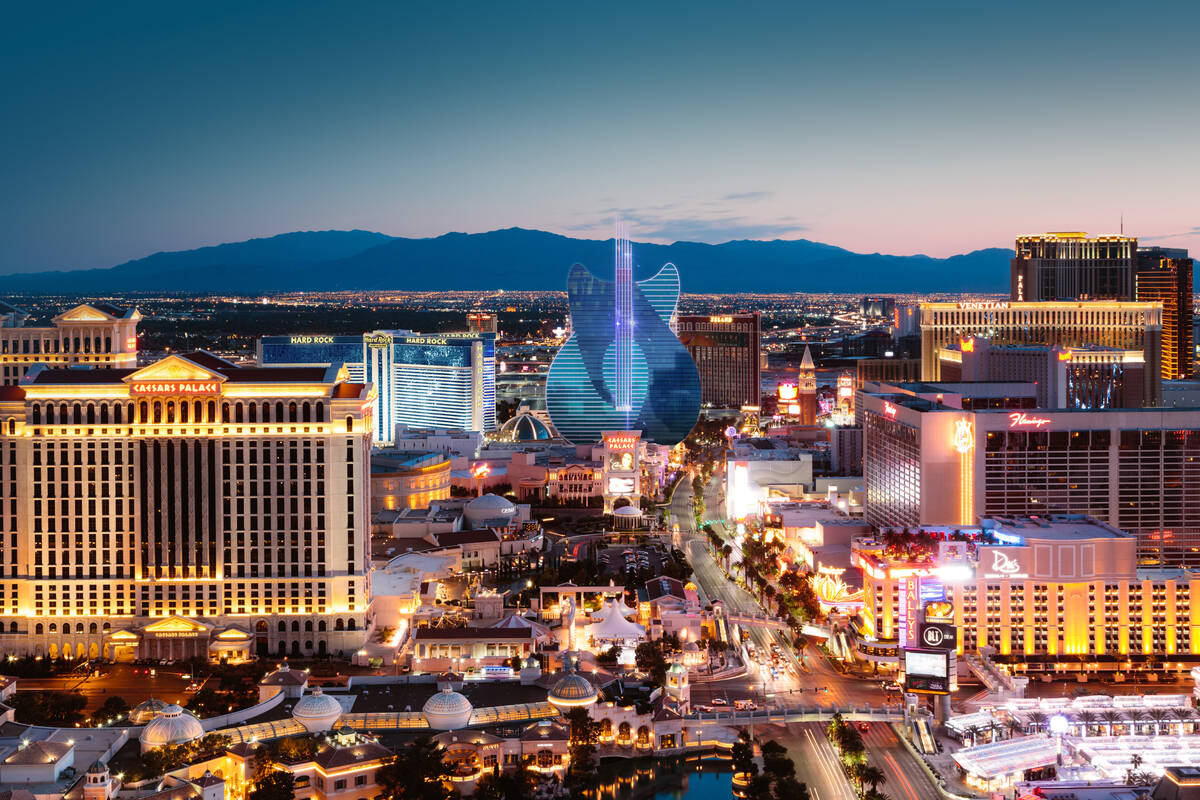 With its history of implosions, huge construction projects and revolving door of resort names, the Strip is always changing.
And lately, its penchant for reinvention has been on full display.
Clark County commissioners cleared the way on March 22 for a guitar-shaped hotel tower to be developed at The Mirage, a project that would spell the end of Las Vegas' iconic volcano attraction. Two days later, Caesars Entertainment Inc. celebrated the renaming of Bally's to Horseshoe Las Vegas.
Work crews also recently demolished a cluster of buildings on the Strip where an investment firm plans to build a new retail complex — just months after other buildings nearby were torn down on land penciled for a 43-story casino-resort.
These kinds of projects can reshape sections of Las Vegas Boulevard, if not just give a property a new look. But on the Strip, these changes happen often.
'Brightly lit strings'
Las Vegas' famed casino corridor is a highly lucrative and competitive tourism market, where massive resorts offer extensive and ever-changing menus of amenities.
Of course, just because something is new doesn't automatically mean it will prove a success, and Las Vegas also has a long history of developers drawing up big plans and never following through.
But the Strip is ground zero for America's casino industry — and with tens of millions of people visiting Las Vegas every year, resort operators and others are always looking for ways to compete for tourists' attention and dollars.
Hard Rock International first unveiled plans for the guitar-shaped hotel tower on the Strip in late 2021, when its $1 billion-plus acquisition of The Mirage's operations was first announced.
It aims to turn the resort into a Hard Rock-branded property, and its proposed 600-room, 660-foot-tall addition is designed to resemble back-to-back guitars with "brightly lit strings" and floor-to-ceiling glass panes, according to a letter to the county.
Clear it out
Demolition work in another part of the Strip has already started. Last fall, construction crews tore down a former Travelodge motel and some neighboring retail space after the property owner, Houston billionaire Tilman Fertitta, landed county approval for a towering hotel-casino.
Plans have called for his upscale project, at the southeast corner of Las Vegas Boulevard and Harmon Avenue, to include restaurants, convention space, spa, wedding chapel, auto showroom and a theater with around 2,500 seats.
His spread is next to property owned by New York-based Gindi Capital, which last year secured county approval for a roughly 300,000-square-foot retail complex on its site.
Work crews recently demolished the low-slung Cable Center Shops, adjacent Boulevard food court and outdoor Fatburger eatery with slushie bar, and the entertainment landmark Mosaic, all of which were on Gindi's project site.
Of course, Las Vegas has long been known for tearing down something old to build something new.
It famously had a series of casino implosions in the 1990s and 2000s as developers set out to pack the Strip with new megaresorts. Over the course of almost 15 years, America's gambling capital bid explosive farewells to hotels including the Dunes, Sands, Desert Inn, Stardust and New Frontier.
But things don't always go as planned.
The investors who toppled the New Frontier in fall 2007, not long before the economy crashed, never built their envisioned resort — and the land remains empty today.
Contact Eli Segall at esegall@reviewjournal.com or 702-383-0342. Follow @eli_segall on Twitter.