Proposed Raiders stadium site has storied history
Updated March 18, 2017 - 12:01 pm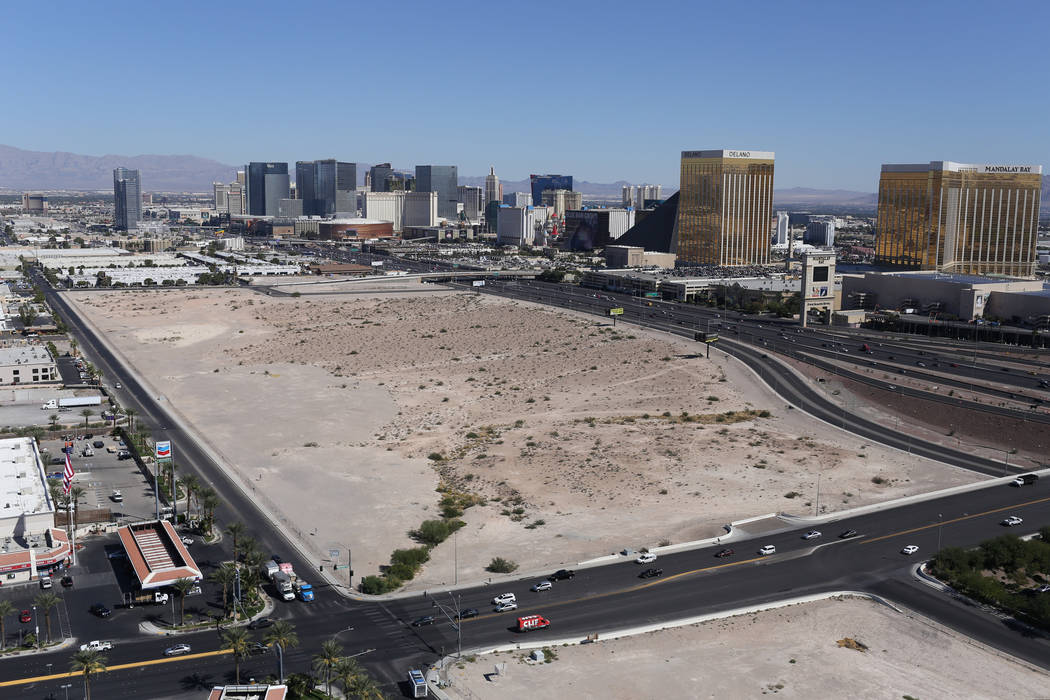 The sprawling desert lot has seen no shortage of plans — hotels, condos, sports arenas, even a train station.
The latest? The Raiders stadium.
National Football League owners are slated to meet March 26-29 in Phoenix and, while there, could vote on Oakland's hoped-for move to Las Vegas, reports say. If they give the thumbs-up, it would clear the way to enable construction of the Silver-and-Black's $1.9 billion, 65,000-seat domed stadium at Russell Road and Dean Martin Drive, just west of Interstate 15.
But the stadium, which would be backed by $750 million in taxpayer funds, isn't the first project to get pitched for the site.
It's not even the seventh.
Las Vegas has a storied history of would-be developers pitching grandiose plans and never following through, and the Raiders' site is no different.
Another example is the former Wet 'n Wild waterpark site on the north Strip: In 2003, investors had plans for a resort with a marina and 600-foot high Ferris wheel; in 2007, a 142-story, 1,888-foot hotel; and in 2010, a 20,000-seat arena.
The latest proposal there, by ex-NBA and UNLV basketball player Jackie Robinson, is for a 22,000-seat arena with a retractable roof as well as a 44-story hotel. Robinson announced his project in 2013 but only recently started heavy site work.
Lenders foreclosed on the 63-acre Russell Road site in fall 2009, after the economy crashed. But developers have never been short on ideas for the property. According to Clark County records and news reports:
1973: County commissioners approve plans for a 1,000-space travel trailer park.
1976: Commissioners approve plans for a 10-building, 3,000-room hotel complex.
1996: Commissioners OK plans for two eight-story hotels.
2004: Investors draw up plans for a 7 million-square-foot project with hotels, a convention center and condos.
2011: High-speed-train promoters say they want a station there for a rail-line connecting Las Vegas with Victorville, California.
Also in 2011: Developer Chris Milam — who pitched the 142-story hotel and 20,000-seat arena at the Wet 'n Wild site — unveils plans for a $1.95 billion, three-stadium sports complex at Russell Road.
2014: Developer Jack Kashani pursues plans for a 2 million-square-foot fashion expo center there.
We'll find out soon enough whether the Raiders stadium will come out of the ground. But if it doesn't, just sit tight: someone else is bound to pitch something.
Contact Eli Segall at esegall@reviewjournal.com or 702-383-0342. Follow @eli_segall on Twitter.