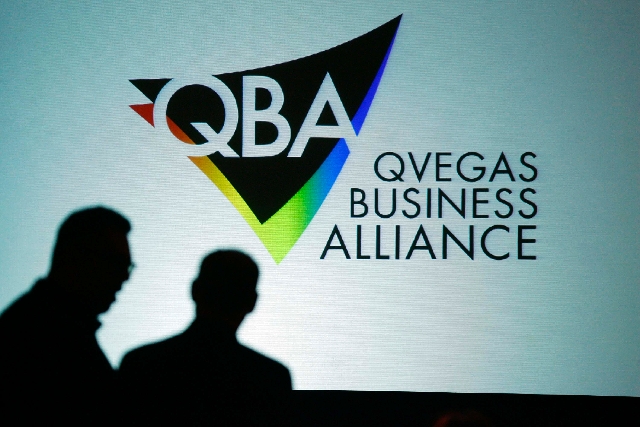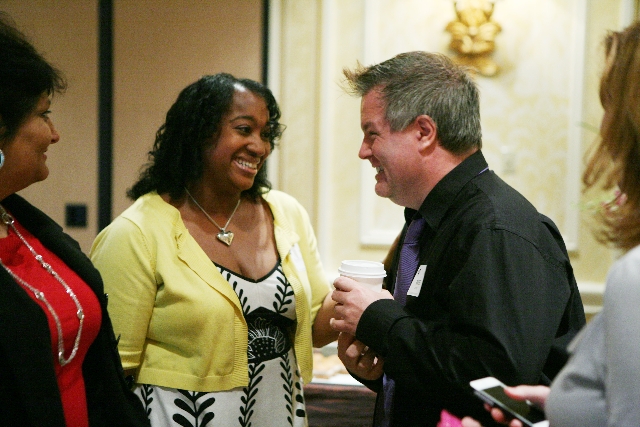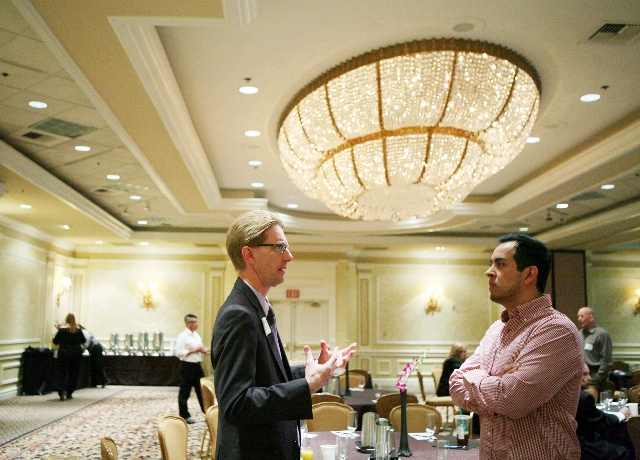 There's a movement happening in the Las Vegas business community, and Friday morning was all about spreading the word.
About 85 members of the Las Vegas business community gathered Friday inside one of the Monte Carlo's second-floor ballrooms to attend a QVegas Business Alliance event about supplier diversity and LGBT certification.
Among attendees was Jason Smith, who moved to Vegas in August from Minneapolis. He works locally as production manager for InSync Show Productions and wanted to check out what the Vegas LGBT chamber of commerce was all about.
He also came to network and see "if there are opportunities for our company to do business with other companies that are represented in the gay-lesbian community in the valley," Smith said.
Friday's event was the first event of this magnitude for the QVegas Business Alliance, which is experiencing a resurgence, evidenced by the many attendees networking.
The group primarily gathered to hear Sam McClure, director of affiliate relations and external affairs for the National Gay & Lesbian Chamber of Commerce. McClure traveled from Washington, D.C., to help educate local businesses about supplier diversity and LGBT certification.
"Supplier diversity is about access to opportunity," McClure said.
In the United States, there are about 1.4 million LGBT-owned businesses.
Certified businesses are those approved through national qualifying programs that signify an entity is officially a female- or minority-owned business, for example.
Like the other certifications, LGBT certification helps companies find a business when looking for specific suppliers .
"It opens up some doors that were not previously open to you. You're able to bid on work you weren't able to before," said Dina Proto, owner of Teazled and co-founder of the business alliance.
It also provides businesses with a path to attend matchmaking meetings and find mentorship opportunities. And it costs $400 unless you're a member of the newly minted local affiliate.
When QVegas Business Alliance President Russ White bought QVegas magazine in August, he inherited the business group.
Since then, he has refocused its efforts, applied for 501(c) status and helped it become an official affiliate of the National Gay & Lesbian Chamber of Commerce.
MGM Resorts International is the group's first corporate sponsor, and Wells Fargo just came on as the second.
"It's very significant for the group and for Southern Nevada," White noted.
Friday's event, though, wasn't just for LGBT-owned businesses.
White also welcomed straight-owned businesses who were interested in learning about the programs and what's going on in the LGBT business community.
"We want them to feel comfortable in our networking groups," White said. "We can help them with marketing to LGBT consumers or LGBT employees."
And as for certification, businesses often can fall into more than one category. McClure, for instance, said she would fall into three: female-, LGBT- and disabled-owned.
If that applies to you, she suggested applying for all the certifications for which you qualify.'
"We're teaching people to leverage their networks," Proto said.
Contact reporter Laura Carroll at lcarroll@reviewjournal.com or 702-380-4588. Follow @lscvegas on Twitter.