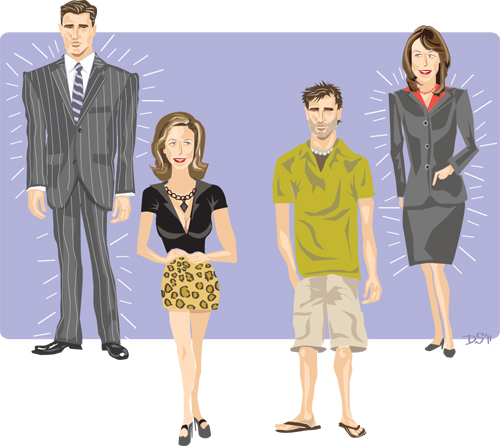 Las Vegas has a reputation for being on the risqué side of fashion, but in business, it's best to leave the leopard print at the door.
According to local professionals and fashion experts, skin-tight, sequined dresses and tattered Bermuda shorts are easily spotted on the Strip, but not so much in the office. Surprisingly, high-powered men and women in Sin City tend to dress like professionals anywhere else.
"Businesspeople are really the same no matter where you go," said event organizer Dave Linden.
Linden hosts networking mixers, including the recent Las Vegas' Largest Mixer, on the West Coast.
He said business attire is largely dependent on industry. Bankers and attorneys will always dress more conservatively than interior designers and entertainment industry executives.
Las Vegas professionals do have a little leeway when 110-degree summer weather rolls in, but that just means removing the suit jacket, ditching the panty hose and switching to summer-weight fabrics like lighter wools and linens.
TRENDING TOWARD CASUAL
Businesswear nationwide has become more casual than in decades past, when professionals of all stripes dressed to the nines.
When John Bailey, managing partner of local law firm Bailey Kennedy, was a young attorney 25 years ago, wearing a suit and tie was the norm in the office and the courtroom. Lawyers today still suit up for court appearances, but loosen up in the office. Bailey, who still dresses up each day, has noticed his fellow attorneys forgoing ties and sometimes dress shirts in favor of more casual attire when they're not meeting with clients.
"I come from a generation where wearing a suit and tie and being well-groomed is an appropriate look for a professional, particularly for an attorney," said Bailey, 51.
Even banking, an industry long considered the embodiment of conservatism, is changing it up. At Valley Bank of Nevada in North Las Vegas, customer service representatives once wore a uniform of a white blouse with slacks and a vest. Tia Dickinson, the bank's customer service manager, thought it was a "cool concept" that fit with the bank's old-fashioned ambience.
The bank abolished the uniforms and adopted a business casual dress code in recent years; tellers can even wear jeans on Fridays.
Dickinson, a 23-year veteran of Las Vegas' financial services industry, is accustomed to wearing suits and prefers more formal business attire.
"On Fridays, (customers) make comments if we're wearing jeans: 'You guys look so dressed down,'" she said.
Personal stylist Jenna Doughton said the lines between business and personal dress have blurred, leading to more casual career attire. Doughton, who helps Las Vegas professionals clean up their wardrobes and shop for new, versatile pieces, said her clients are looking for long-lasting pieces that can easily transition from work to the weekend.
"Back in the day, we had work clothes and casual clothes," she said. "Now they're so intermingled."
"DRESS FOR THE JOB YOU WANT"
Tired of the casual clothing that was prevalent in his office, Appreciation Financial co-founder Dominique Moore decided to hire a style consultant to overhaul the firm's dress code.
Appreciation Financial works with a team of independent contractors to handle retirement planning for Clark County School District employees. Moore experimented with a casual dress code to see if it made clients more comfortable, but decided to switch gears a few months ago.
He tapped Image Empowering CEO Stephanie Ann Vehon to roll out a business formal atmosphere. All of Moore's contractors now wear suits on the job, and Moore said he has seen a "marked increase" in business since the dress code change.
"Image and dress are extremely important to me," Moore said. "I understand that people — right or wrong — judge us based on our appearance.
"Especially when you're dealing with their retirement planning, their nest egg, their financial futures, it's extremely important that the client has confidence in you that you can do the job for them and you take your job seriously. To me, that's reflected in your appearance," he added.
Vehon often works with small-business owners and professionals like Moore to turn their style into a reflection of their business goals.
Vehon began her career as a real estate agent, and said she realized that image played a pivotal role in her success. She lives by the adage, "Dress for the job you want, not the job you have."
That motto applies to entire cities, not just individuals. Las Vegas professionals dress too casually, she said, which is contributing to the economic malaise that hangs over the city.
"All of the cities that are still doing well, people dress well," Vehon said, pointing to New York City as an example. "Everyone still has their suits on. They don't dress down. Down dress creates a down economy. Laid-back style creates laid-back results."
WHAT NOT TO WEAR
Some of the fashion faux pas Vehon has seen in Las Vegas include skirts that are too short and blouses that are too low-cut on women, and outfits that are too casual on men.
Though women are often advised on how to best dress their shape, Vehon said men also have varying body types (round, muscular and thin, if you're curious), and that issue is often forgotten.
She recommended that men who carry their weight in front avoid a sharp contrast between the color of their suit and the color of their shirt. A black suit with a white shirt emphasizes the belly, while a light blue shirt with a gray suit can tone it down. Vehon said men also wear their clothing too big — shirt and jacket seams should sit on the shoulder, not over it.
Las Vegas' Largest Mixer organizer Dave Linden said he too often sees professional men wearing shorts and sandals, which sends the wrong message to prospective clients. He advised women to ditch the uncomfortable stilettos when at a networking event that involves a lot of standing and walking.
Stylist Jenna Doughton said dressing for success can be simple, but it's important to remember small details like polishing scuffed shoes, replacing heel taps, ironing shirts (even those that claim to be of the "no-iron" variety), tailoring suits for better fit and maintaining nails.
WARDROBE STAPLES
Once a closet is decluttered — which entails throwing out or donating anything that doesn't fit or flatter — there are a few key pieces to buy for a stylish professional wardrobe.
Men's Wearhouse manager Frankie Karshbaum recommends eight suits and three pairs of shoes in varying (but coordinating) colors for men in a business formal environment.
"The more suits that they have to rotate, the longer (they're) going to last. The same thing with shoes," Karshbaum said.
Karshbaum manages the Men's Wearhouse location on Twain Avenue and Maryland Parkway, where slim-cut suits have become best-sellers in recent years.
Doughton also recommended a fitted suit for every businessman's wardrobe.
"I love this whole 'Mad Men' look that's going on right now," Doughton said.
For women, Doughton suggested a black suit with skirt, pants and blazer to pair together or mix with other pieces. A black dress and cardigan are also essentials.
"You can take those five pieces and intermix them. You can live off those pieces and pop (them) with inexpensive accessories, inexpensive tops," Doughton said.
Vehon and Doughton agreed that more money should go toward basics that can be mixed with other pieces. Trends that will only last for a season or two can be picked up at discount retailers for lower prices.
When in doubt, Doughton said every professional should consider the following questions: "What is your budget? What is your personality? What is your lifestyle? What do you do for a living? All of those factors need to be taken into account," she said. "If you're on a limited budget, stick with the key pieces and don't try to get crazy."
Contact reporter Caitlin McGarry at cmcgarry@lvbusinesspress.com or 702-387-5273.
Helping women find a strong suit
Professional attire can be pricy, especially for those on a meager budget.
Nationwide nonprofit Dress for Success last year opened a Southern Nevada branch at 3400 W. Desert Inn Road, Suite 29 to help low-income women suit up for job interviews. The organization has outfitted 30 local clients since beginning operations last December.
Nonprofits like The Shade Tree and Help of Southern Nevada refer women to Dress for Success after they have landed a job interview. Dress for Success volunteers help the women select a suit and prepare for their interviews.
The volunteers are trained by Image Empowering CEO Stephanie Ann Vehon to help the nonprofit's clients select the most flattering suit.
Oftentimes, the women who are referred to Dress for Success haven't been shopping in so long that they don't know their dress size, said Paige Candee, public relations director for Purdue Marion & Associates and founder of the Las Vegas Dress for Success location. They also don't know what's in style for professional women, which is where Vehon steps in.
Vehon said that the two most important image-related tips for acing a job interview are to smile and wear a pop of color near the face.
"Color creates confidence," Vehon said. "Don't walk in looking like a bag of Skittles … but when they go into a job interview, they want attention drawn to their face (with) a necklace or a shell, a slight bit of color."
To complete the look, a Mary Kay representative instructs clients on professional makeup application, and hair stylists donate gift certificates for the women to get a blowout before their interviews.
If the women land jobs, Dress for Success provides a week's worth of professional clothing.
"If you get a job and you can't buy a suit, how can you afford to buy the one week or two week's worth of clothes before your first paycheck? That's a great service we're able to provide," Candee said.
Dress for Success plans to launch a professional women's group for its clients to network and receive job training and career advice. The nonprofit accepts donations of professional, stylish, women's clothing — in other words, "nothing from the '80s or over-the-knee boots," Candee said.
CAITLIN MCGARRY / LAS VEGAS REVIEW-JOURNAL