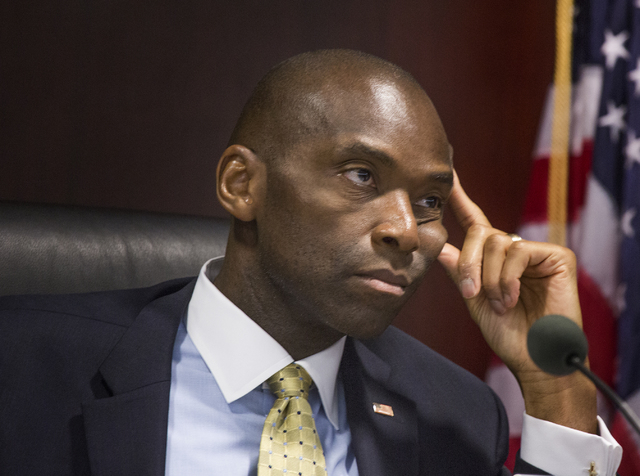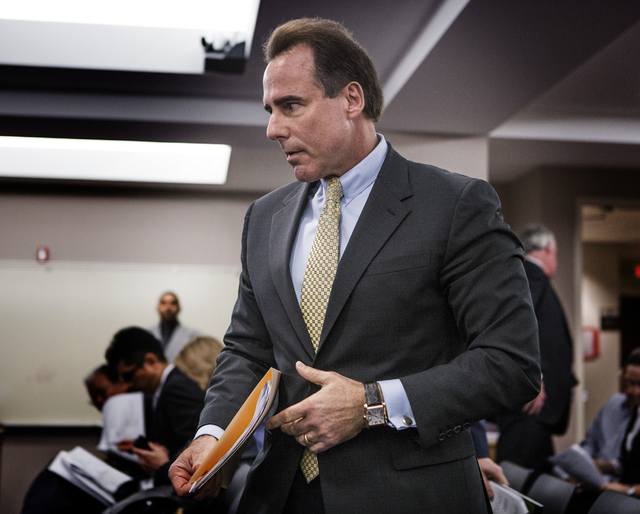 State gaming regulators recommended that Caesars Entertainment Corp. CEO Mark Frissora receive a license to operate the casino company following a lengthy question-and-answer session Wednesday concerning his rocky last year as the top executive with Hertz Global Holdings.
Frissora, 60, took over as CEO of Caesars on July 1 from Gary Loveman, who is still chairman of the casino giant. Frissora was named CEO designee in February 2015 and he spent four months working with Loveman. He was also named to the company's board.
At the outset of the hearing in front of the Gaming Control Board in Las Vegas, attorney Frank Schreck said Frissora had already been approved by gaming regulators in Illinois, Louisiana, Indiana, Iowa, Mississippi, New Jersey and Ontario, Canada.
Frissora also addressed changes he has brought to Caesars Entertainment in his eight months as CEO. He told regulators the company had "under-invested" in its Strip resorts and he created a five-year plan to "recapitalize the Strip."
The company's largest operating division was placed into a bankruptcy last year, but Frissora has steered clear on matters regarding the reorganization.
"In spite of the bankruptcy, there is a high degree of satisfaction among our employees," Frissora told the Control Board.
Frissora said in comments at last year's Global Gaming Expo that the casino industry needed to do a better job of marketing to millennials. He told the Control Board, when asked about those remarks, that Caesars is creating "two casinos of the future" that will open in the next 12 months. The locations will have games and areas dedicated to millennial gamblers.
"Millennials are a big part of our business," he said.
The hearing lasted more than an hour and covered Frissora's departure from Hertz in September 2014.
Frissora addressed a securities filing by Hertz that came out three weeks after he became Caesars' CEO. Frissora was accused by Hertz of having a "management style and temperament that created a pressurized operating environment" during his tenure as the top executive of the automobile and equipment rental car company.
Hertz said the lack of oversight by Frissora led to "material misstatements" in the company's 2011, 2012 and 2013 financial reports totaling $207 million.
"The disclosure by Hertz is something I didn't agree with," Frissora said. "Hertz had 33 quarters as a public company and not once was pressure or fraud ever brought up to me."
Frissora spent seven years as chairman and CEO of Naples, Fla.-based Hertz. He said some of the problems revolved around moving the company's corporate headquarters, Hertz's acquisition of the Dollar Thrifty Automotive Group and separating another part of the business, all at the same time.
"I am very much aware of what happened at Hertz and I'm making sure that it doesn't happen at Caesars," Frissora said.
Control Board members said they were satisfied with Frissora's answers.
"You left a company with challenges and went to a company with challenges," said Control Board member Sean Reid.
Frissora told the Control Board he was approached by a headhunter about the Caesars position shortly after leaving Hertz. He said he met with officials from Caesars' private equity owners to discuss the company. He said his business background fit in well with companies controlled by private equity.
"My background is with highly levered companies with a lot of debt," Frissora said. "My goal is to get a stronger balance sheet."
The Nevada Gaming Commission will make a final ruling on the licensing on March 17.
Contact reporter Howard Stutz at hstutz@reviewjournal.com or 702-477-3871. Find @howardstutz on Twitter.