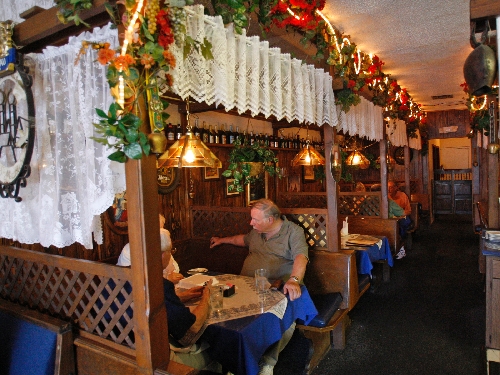 One of Las Vegas' oldest German restaurants has served its last wienerschnitzel.
Cafe Heidelberg on June 30 closed its doors, saying farewell to tearful customers after a more than 40-year run.
Owner Tanya Ferris, who bought the restaurant and grocery store in 1997, said her lease was up and she was unable to negotiate more affordable terms with her California-based landlords.
Ferris ended Cafe Heidelberg's run and let her eight employees go.
"Everyone is shocked, saddened. Everyone has history in there," Ferris said. "We were known as a small family (with) camaraderie, not a corporate location. I had customers walk in (the last day) in tears."
Cafe Heidelberg is the latest in a string of restaurant closures over the past year. Rosemary's and Nora's Osteria and Wine Bar closed last summer, both succumbing to Las Vegas' economic malaise.
Brian Gordon, principal with business advisory firm Appled Analysis, said consumer spending and taxable sales at bars and restaurants are up, but some food and beverage establishments have been unable to emerge from the financial hole shoveled by the recession.
"A number of retailers, including restaurants, have struggled with the latest economic downturn," Gordon said. "Some have managed to weather the storm better than others."
In the past year, taxable revenues at food and beverage outlets reached $7.8 billion, ahead of the peak of $6.2 billion in 2007, which reflects "a new high in terms of activity at restaurants and bars," Gordon said.
But an increase in consumer spending couldn't save Cafe Heidelberg, which needed to shed one of its three leased units in the commercial center on East Sahara Avenue. When Ferris couldn't reach a deal with her landlord, she put her things in storage and plans to take a break from the restaurant business.
"For me to do this again, all of the circumstances have to be correct: You have to have the right location, the proper lease and a friendly landlord," Ferris said.
Contact reporter Caitlin McGarry at cmcgarry@reviewjournal.com or 702-387-5273.