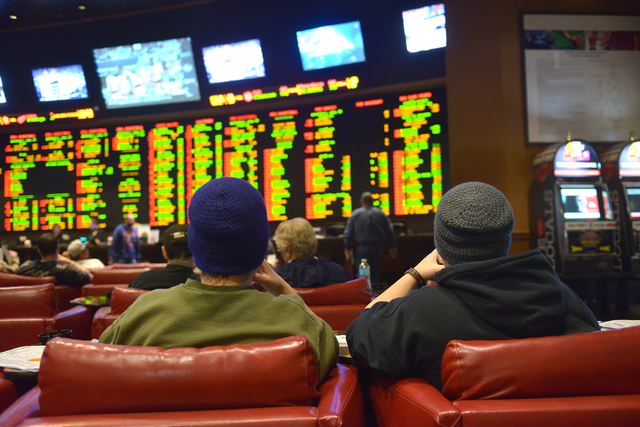 It's been well-documented that the best people to ferret out sports cheats and game fixes are employed by Nevada's legal sports books.
After all, they have a financial interest in the outcome of every race, match and meet posted in their books. If the fix is in and a player or players are under the influence of gamblers looking to make a quick score by collaborating with an athlete who doesn't play up to his ability, the sports books are the ones that would take the financial hit.
That's why I chuckled a little when I heard Sportradar AG, a Swiss company, was hired by the National Hockey League to address potential cheating in the sport — until I learned what Sportradar is all about.
Nevada sports books helped unravel a game-fixing scandal at Arizona State University in 1994.
That year, the old Horseshoe Race and Sports Book discovered some unusual betting patterns in ASU's March basketball game against the University of Washington. Book employees alerted state Gaming Control Board Chairman Dennis Neilander, who notified the FBI, which eventually investigated Stevin "Hedake" Smith, a two-time All-Pac-10 point guard who played for ASU from 1991-1994. Smith eventually was prosecuted for accepting $20,000 to shave points in ASU's game against Oregon State University earlier that year.
Smith was arrested in summer 1997 and he and teammate Isaac Burton pled guilty to conspiracy for taking bribes to fix four games. He ended up serving a year and a day in prison and 1997 was the only year Smith saw any time playing in the National Basketball Association for the Dallas Mavericks.
Two decades later, cheating has become more sophisticated — but so has its detection. And that's where Sportradar comes in.
Weeks after the NHL announced that it was awarding Las Vegas its first major-league franchise, it also said that it would incorporate Sportradar's fraud detection system into its game-integrity protection package.
Instead of 64 Southern Nevada race and sports books paying attention to odd wagering patterns in a sport that doesn't get a whole lot of attention at the betting window, there are 550 sports wagering operations worldwide processing data in real time.
Alex Inglot, who runs communications and is heavily involved in integrity work at Sportradar's London office, said there isn't much game-watching in his office. Instead, it's all about monitoring the betting and much of that occurs through software the company has developed.
"The first phase is a technological algorithm-based policy in which we effectively take data from 550 operators around the world," Inglot said in a telephone interview. "They include some in Nevada, online bookmakers, operators in Asia, from Europe, from Central America, Australia … and we take it in real time. That will allow us to track wagers on every NHL game."
The software searches for anomalies based on a broad history of betting and anticipated results.
"We're looking for movements and deviations (from patterns)," he said.
If the wagering pattern drastically deviates from the norm, the software generates a report that is further studied by Sportradar's team of about 40 experts. They can also make contact with people on the ground at the site of the game so that they can make determinations on whether a line move is suspicious or not.
If the team considers it suspicious, it can quickly generate a 40-page report backed by data gathered from the books.
"We understand that players have bad days all the time," Inglot said. "Maybe it's their birthday and the play particularly well or maybe they got a bad night's sleep because the baby was crying all night, or whatever it is. There are hundreds of reasons, or maybe a player just makes a mistake. That happens," he said.
And that's why there's a human element attached to the effort.
Inglot said Sportradar's greatest value may be in educating players about the detection protocols that are in place.
Prior to every season, the detection gurus explain how the games are monitored — kind of a "scared straight" strategy to show how their play is being watched and to discourage them from even thinking about collaborating with a fixer.
Sportradar has plenty of experience, not only with hockey but other sports as well. It has integrity deals with the International Ice Hockey Federation and the German Ice Hockey League.
Exclusive agreements with the NFL, the International Tennis Federation and NASCAR are among its 65 worldwide league and federation partnerships.
Its U.S. advisory board includes basketball legend Michael Jordan, Washington sports businessman Ted Leonsis and Mark Cuban, the majority owner of the same Dallas Mavericks team that signed Stevin "Hedake" Smith a few years after his basketball game-fixing shenanigans.
Inglot admitted that his home town isn't a hockey hotbed, but at least he once saw an official NHL game in one of his travels to Canada.
That's one more than what's been played in Las Vegas.
Contact Richard N. Velotta at rvelotta@reviewjournal.com or 702-477-3893. Follow @RickVelotta on Twitter.