Dancers, dignitaries mark start of $4 billion Resorts World Las Vegas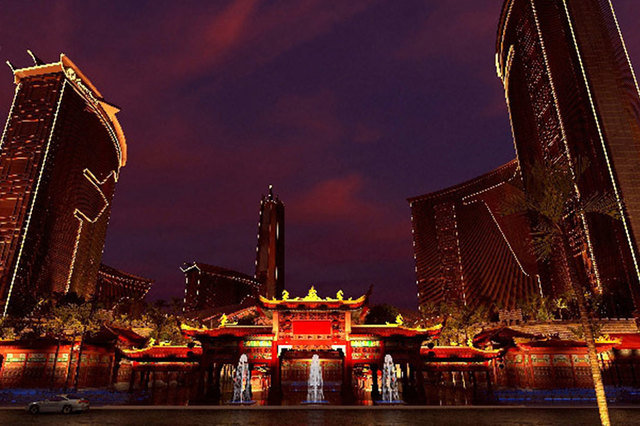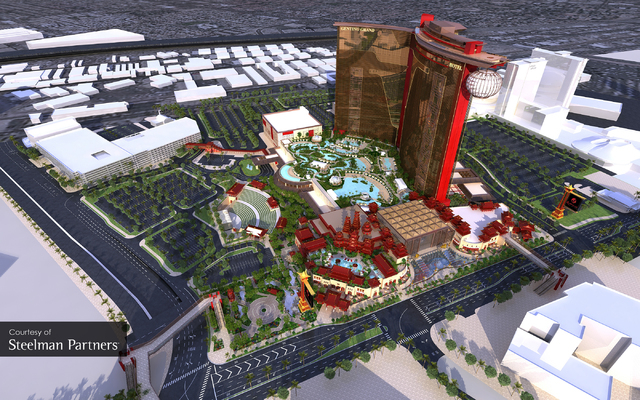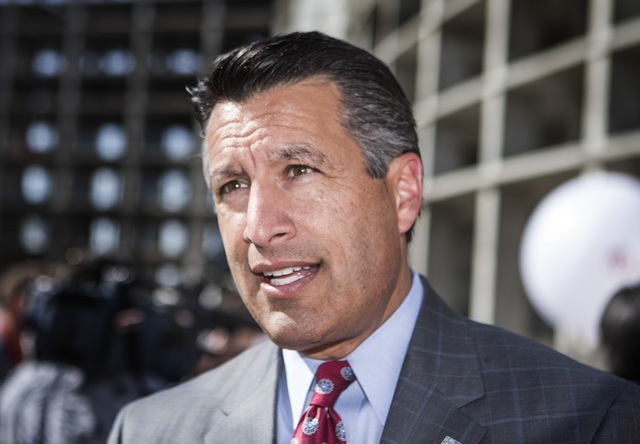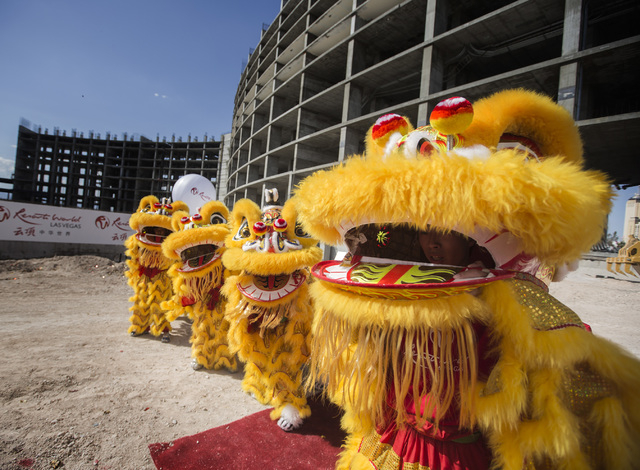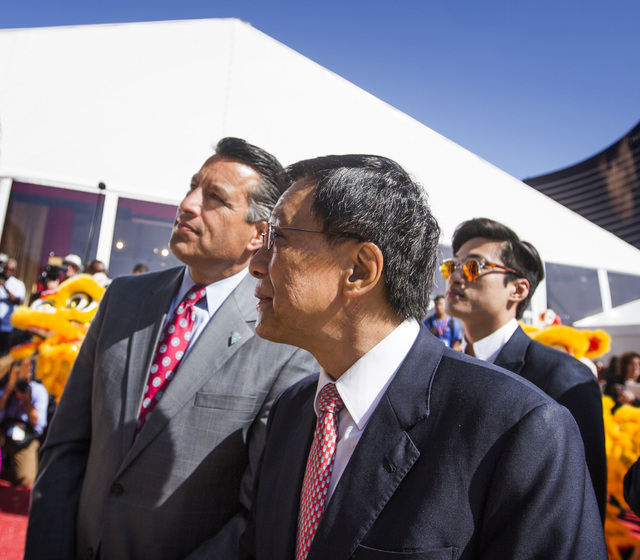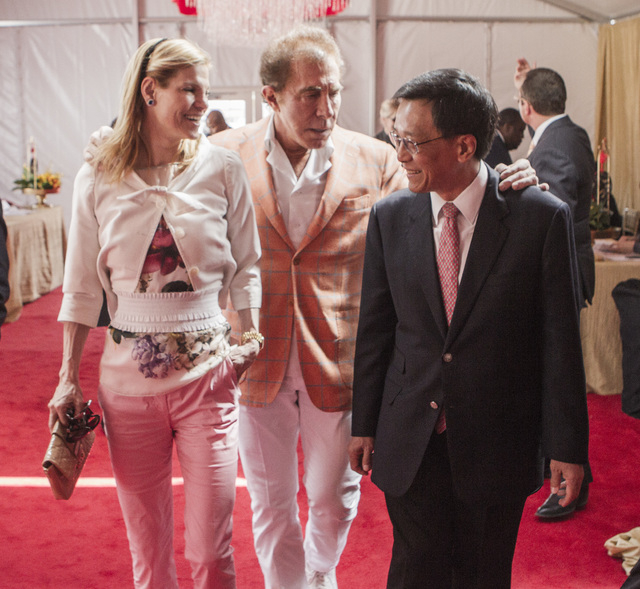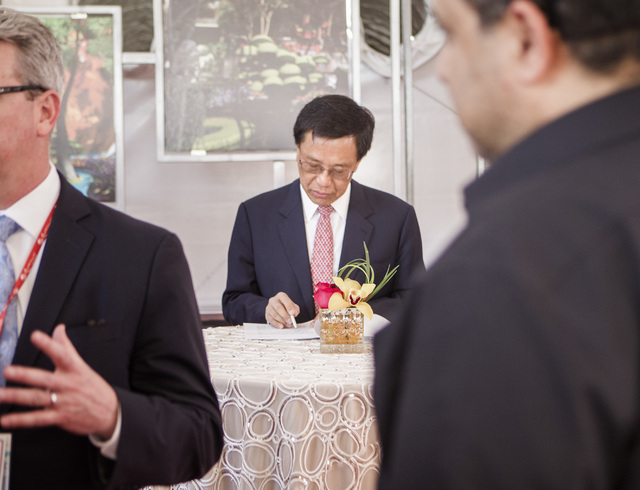 With traditional Chinese thunder drummers stirring excitement and ornately costumed lion dancers displaying their own brand of cultural athleticism, the north end of the Strip came to life Tuesday with a groundbreaking for the $4 billion Resorts World Las Vegas project.
A host of dignitaries welcomed Malaysia-based Genting Group Chairman and CEO K.T. Lim to Nevada in an event kicking off the first phase of construction of the first built-from-the-ground-up megaresort on the Strip in a decade.
The event was staged in a tall, air-conditioned tent on the site across the street from the shuttered Riviera, the future front entrance to the Las Vegas Global Business District. The Riviera closed its doors 27 hours before the groundbreaking.
It was a flashback to a bygone era when Las Vegas matured through several waves of mega­resort development that began with the opening of The Mirage in 1989 and was last seen in the arrival of CityCenter when it opened in 2009 as the Great Recession began crushing the gaming and tourism industries.
When Resorts World Las Vegas opens in mid-2018, it will bring 13,000 permanent jobs to the city. Along the way, an estimated 30,000 construction jobs will be filled as the 3,000-room first phase grows from the 87-acre site that once was targeted as the site of Boyd Gaming's Echelon resort.
The project could eventually build out to more than 6,000 rooms.
American construction crews will be hired for the project, and the concept of a Chinese-themed resort was delivered to Genting by Las Vegas architect Paul Steelman.
As the recession tightened its jaws around the casino industry, Boyd abandoned the Echelon plan and sold the land that once held the Stardust to Genting for $350 million.
It wasn't long before Genting unveiled its plans for the property.
The Chinese-themed resort will include four room towers, a 175,000-square-foot casino, a 4,000-seat theater, an aquarium, a panda exhibit, an indoor water park and a replica of the Great Wall of China.
The proximity of the 60-year-old Riviera inspired the predictable observation verbalized by Clark County Commissioner Steve Sisolak that after some doors closed yesterday, new doors were opened today.
About 250 people — government leaders, casino executives, Genting representatives and an international press contingent — witnessed history with the startup of the first Las Vegas mega­resort developed entirely by an international company. Dubai World is a 50-50 partner with MGM Resorts International on CityCenter.
"This is a day that we've been waiting for a very long time," Gov. Brian Sandoval said.
'A JEWEL IN THE DESERT'
Sandoval recalled his first meeting with Lim and some of his executives about the company's interest in building on the Strip. He said they met in a small room in a Basque restaurant in Elko in late 2012.
Lt. Gov. Mark Hutchison, who chairs the state's Tourism Commission, predicted Resorts World would become "a jewel in the desert and a world-class destination resort." County Commissioner Chris Giunchigliani said she was excited about Genting's emphasis on cultural authenticity in its plans to bring a slice of China to the Strip.
"This resort will be something special and innovative, even by Genting standards," Lim promised in his remarks.
Genting is a multinational company with holdings in New York and Miami. It has properties on seven continents, and its worldwide resorts draw 50 million customers annually.
Genting is one of the largest casino operators in the United Kingdom, and the company also is part owner of the Norwegian cruise line with ships ported in Miami.
Its flagship property in Malaysia was considered the world's first full-scale resort.
Resorts World Sentosa is a familiar competitor to Las Vegas Sands. Genting and Sheldon Adelson's Sands company operate the only two casino resorts in Singapore.
"The vision of Resorts World Las Vegas is a continuation of our philosophy of providing tailor-made experiences for our guests, unique to each particular market," Lim said.
"This philosophy started 50 years ago when my late father, Lim Goh Tong, saw a need to provide a cool, temperate hilltop resort for people in the hot tropical lowlands of Malaysia," he said. "He had the vision to build this year-round mountain resort 6,000 feet in the sky in the midst of jungles, but within an hour of Malaysia's capital, Kuala Lumpur."
Once the thunder drummers offered their last blasts, they led the lion dancers, executives and dignitaries outside, where a cannon filled the sky with confetti as the group used gold-plated shovels to turn the ground in the shadow of the Echelon superstructure that will be incorporated into the Resort World design.
Several state, county and federal leaders attended the event. In addition to Sandoval and Hutchison, Rep. Cresent Hardy, R-Nev., Secretary of State Barbara Cegavske, Gaming Control Board member Terry Johnson, former Control Board member Mark Clayton and former Gaming Commissioner Joe Brown attended.
Also present: Clark County Commissioners Larry Brown, Susan Brager and Lawrence Weekly, who sits on the Las Vegas Convention and Visitors Authority board of directors.
Convention and Visitors Authority President and CEO Rossi Ralenkotter and senior vice presidents Cathy Tull and Terry Jicinsky were there, as was former Attorney General Catherine Cortez Masto, whose father, Manny Cortez, headed the Convention and Visitors Authority for 13 years.
Lim also greeted Perry Christie, prime minister of the Commonwealth of the Bahamas and Obediah Wilchome, his minister of tourism.
Wynn Resorts Chairman and CEO Steve Wynn, a longtime critic of the unfinished Echelon project, also attended the event.
Wynn won't have long to wait before his newest competitor arrives.
Contact reporter Richard N. Velotta at rvelotta@reviewjournal.com or 702-477-3893. Find him on Twitter: @RickVelotta
RELATED
Resorts World Las Vegas ground breaking announced
Top executive for Resorts World Las Vegas departs
Nevada forecasts massive job growth through 2017