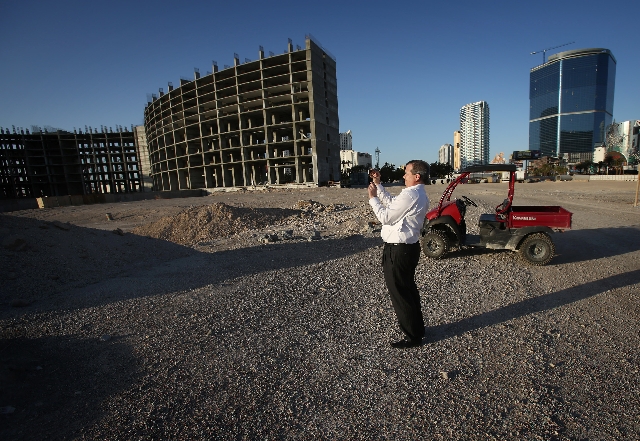 Boyd Gaming Corp.'s sale of the Echelon site for $350 million to Malaysia-based Genting sent the casino company to a fourth-quarter net loss of almost $900 million.
In a statement Monday, Boyd Gaming said it recorded a one-time, noncash pretax impairment charge of about $994 million because of the company's decision not to complete the development, which has been stalled since 2008.
A portion of the sale proceeds went to a third party to pay the company's obligations. After closing costs, Boyd Gaming said it expected to receive about $157 million in net proceeds from the transaction.
In the quarter ended Dec. 31, Boyd Gaming reported a net loss of $899.9 million, or $10.24 per share, compared with a net loss of $491,000, or 1 cent per share, a year earlier.
"Our highest priority is strengthening our balance sheet," Boyd Gaming CEO Keith Smith said in a statement. "The sale of the Echelon site is another important step in the ongoing effort to improve our long-term financial position. While we remain committed to the Las Vegas market, we determined that developing a large-scale project on the Las Vegas Strip was not consistent with our current strategy."
In an interview, Smith said that at some point, the company would want to acquire another property on the Strip.
"Where the company is at today, it was pretty evident this was the right transaction for us," he said. "We think there will be another opportunity to get back on the Strip. There are a lot of assets on the Strip, and, longer term, we'd like to get back on the Strip."
During the quarter, Boyd Gaming reported net revenues of $625.8 million, a 3.2 percent increase from the $606.7 million reported during the same quarter of 2011.
However, the increase was attributed to properties the company acquired when Boyd Gaming bought regional gaming rival Peninsula Gaming for $1.45 billion. The five casinos contributed almost $57 million in revenues.
Boyd Gaming said revenues fell 4 percent in the Las Vegas locals market and 1 percent at the company's downtown casinos.
The largest decline in revenues came from the Borgata in Atlantic City, which Boyd owns and operates in a 50 percent joint venture with MGM Resorts International.
The Borgata collected revenues of $147.6 million in the quarter, a 28.8 percent drop from $176.4 million in the same quarter of 2011.
Smith said the acquisition of Peninsula's five casinos diversified the company's operations. He said the properties would strengthen Boyd's balance sheet.
"We were also encouraged to see sequential improvement throughout the quarter in our Las Vegas locals business, as our initiatives in this market began to pay off," Smith said. "We remain focused on improving our core business, successfully integrating the Peninsula assets, and finding new ways to drive revenue and (cash flow) growth throughout the business."
Shares of Boyd gained 93 cents, or 14.4 percent, on Monday to close at $7.39 on the New York Stock Exchange. Volume was 10.66 million shares, more than four times the normal volume.
Contact reporter Howard Stutz at hstutz@
reviewjournal.com or 702-477-3871.
Follow @howardstutz on Twitter.
Related Story
Genting buys Echelon for $2 billion Resorts World Las Vegas