Esports conference fails to attract big Las Vegas Strip operators
September 8, 2017 - 2:21 pm
Updated September 8, 2017 - 2:53 pm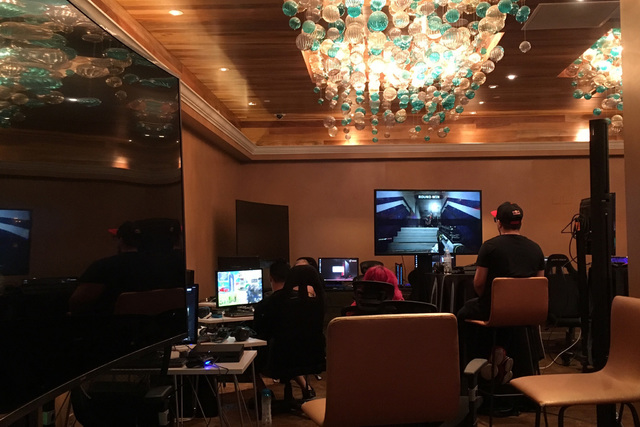 If Strip casino operators are interested in attracting esports to their establishments, they didn't show it at the first Casino Esport Conference.
The conference, held at the Westgate on Thursday and Friday, aimed to bring people from the casino and esports industry into one room to explore how casinos could integrate and monetize esport tournaments.
The two-day closed event featured eight panels to discussion such key issues as regulation, marketing and tournaments. Panelists included game makers, consultants, academics, gaming control board officials and lawyers. Missing from the panels and audience, which numbered about 175, was a big presence from Strip operators.
Representatives from regional gaming operators, including Native American casinos, well outnumbered those from Las Vegas establishments, said conference producer Ben Fox.
Regional casinos "have a tendency to make their decisions quicker and easier because they don't have to answer to the heirarchy of the old school," said Fox. "It is extremely hard to turn a battleship."
While esports and Las Vegas casinos may seem to go together, the two have been slow to form closer ties. MGM Resorts International announced earlier this year that it would construct an esports arena, the first Strip casino to do so.
Youthful participants
Many esport participants are younger than 21, which prevents them from playing on casino floors or consuming alcohol. That potentially reduces the ability of casinos to monetize their stay. Additionally, Strip hotels can be pricey for young gamers, their families and fans.
The Tropicana in Atlantic City recently hosted an esports tournament on a weekend. The room rates were about $200 and no players stayed there, said esport consultant and panel moderator Mike Chapman. The players also skipped eating at the Tropicana, he said.
Chapman said it is not enough to attract the esports community by hosting tournaments, even if room rates are reasonable. If the casino doesn't create a the equivalent of a college football "tailgate" environment around the tournament, people like himself will just watch it via the live streaming gaming app Twitch.
"If you are going to convince me to leave my nice apartment in Phoenix and come to Vegas to watch a tournament, it needs to be fun other than watching a competition," Chapman said. "Because the Twitch screen is just fine and then I can just sleep in my own bed and not have to pay $100 a night to stay there.
Bullish on outlook
Downtown Grand Chairman Seth Schorr, though, was very bullish about the outlook for esports for casino operators, saying the industry's growth rate is so strong it could break out of its niche category and eventually become as big as the National Football League.
Twitch is doing for esports what TV did for the NFL, widening the global audience by leaps and bounds, he said.
"It is a real possibility because of the media consumption," said Schorr. "If that trajectory is a trend, then in 10 years from now is going to compete with major sports" in terms of popularity and revenue generation, Schorr told the audience.
The Downtown Grand has been studying the esports industry over the past two years to determine how to monetize the industry's growth, Schorr said.
While tailoring food and beverage to esport audiences is one way, Schorr said casinos could offer what the industry calls "boot camp facilities" for teams that include rooms with fast Internet access, IT support and gaming lounges for practice.
Chapman agreed there was "huge demand" for boot camp facilities in the U.S. like the one now offered by Downtown Grand.
North American teams "are sick" of sending people to China and Korea to practice gaming for weeks ahead of major tournaments, he said.
"It is expensive, but the infrastructure is there. If we have it here, they would love to save that money."
Contact Todd Prince at tprince@reviewjournal.com or 702-383-0386. Follow @toddprincetv on Twitter.