Federal hearing on sports betting to occur Thursday
Updated September 26, 2018 - 6:02 am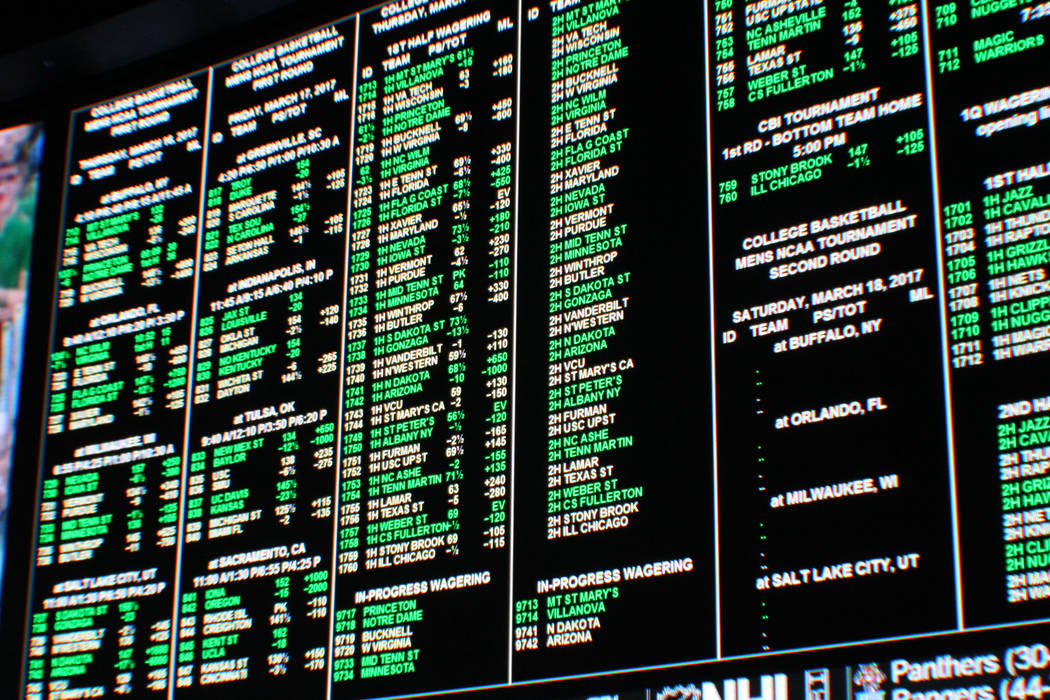 The gaming industry might get a better perception of how the NFL feels about regulated sports betting Thursday when a House subcommittee conducts a hearing on whether the federal government should be involved in its oversight.
Jocelyn Moore, executive vice president of communications and public affairs for the NFL, will be among those who testify before the House Judiciary subcommittee on Crime, Terrorism, Homeland Security, and Investigations' hearing, "Post-PASPA: An Examination of Sports Betting in America."
This year the Supreme Court struck down the Professional and Amateur Sports Protection Act, which effectively banned sports betting in most states nationwide.
Gaming industry analyst Chris Grove, managing director of California-based Eilers & Krejcik Gaming, said the industry is aware of the stances taken by the NBA, MLB and NHL. The NBA hopes to collect a fee for providing statistical information to sports books. Other leagues have discussed integrity fees to monitor irregular betting patterns to expose game fixing or cheating.
Where they stand
"The NFL has only issued a couple of statements," Grove said. "One of the more interesting subplots of this hearing may be a more nuanced articulation of where the NFL actually stands on sports betting and how they would like to see regulated sports betting roll out and perhaps some hints about how aggressively they intend to advance those preferences.
"If there's anything to watch in the hearing, it's some additional color on how the NFL is viewing regulated sports betting and how intense they intend to be," he said.
The American Gaming Association will try to convince the subcommittee that federal oversight isn't necessary for the growing U.S. sports betting industry.
Sara Slane, the AGA's senior vice president of public affairs, will testify, along with Nevada Gaming Control Board Chairwoman Becky Harris.
Slane sent a Sept. 13 letter to Senate Minority Leader Chuck Schumer, D-N.Y., reiterating the gaming industry's priorities for eliminating the illegal gaming market and implementing successful and safe legal sports betting markets in the United States.
Four states — New Jersey, Delaware, Mississippi and West Virginia — have joined Nevada in offering legalized sports betting. More than 20 states, including New York, are looking to legalize it when their legislatures convene next year.
"Across the country, more than 4,000 dedicated public servants effectively regulate the commercial and tribal casino industry, including sports wagering," Slane said in her letter to Schumer. "Replacing an already proven regulatory regime with a non-existent and untested federal oversight apparatus would be out of step with seven in 10 Americans who think this decision should be left to each state and tribe."
Nevada experience
Harris is expected to explain to the subcommittee how Nevada regulates sports betting and how bookmakers have spotted game fixing by observing irregular wagering patterns. Grove said he expects Harris to emphasize Nevada's lengthy experience and success in monitoring betting.
Also scheduled to appear before the subcommittee are University of Illinois business professor emeritus John Kindt, a nationally known opponent of gambling, and former Nebraska Attorney General Jon Bruning, counselor for the Coalition to Stop Internet Gambling.
Contact Richard N. Velotta at rvelotta@reviewjournal.com or 702-477-3893. Follow @RickVelotta on Twitter.
Five AGA principles
The American Gaming Association has advocated for sports wagering, listing five principles that would ensure a safe, successful betting market.
The association has promoted responsible gaming and advertising; protecting game integrity; discouraging the enactment of legislative preferences for specific business interests; empowering state and tribal regulation; and placing consumer protection first.
"If implemented correctly, legal sports betting could support tens of thousands of jobs, could generate hundreds of millions of dollars in tax revenue, and should make the vast illegal market unattractive to consumers," said Sara Slane, the AGA's senior vice president of public affairs.