Genting buys Echelon for $2 billion Resorts World Las Vegas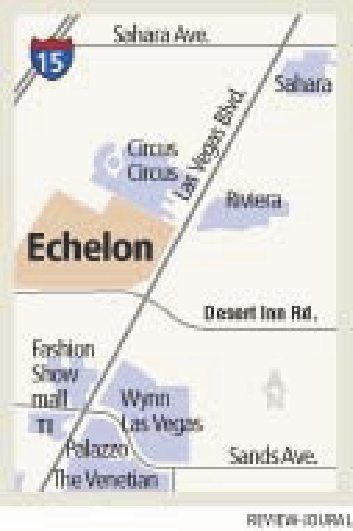 Malaysia-based Genting Group today will announce acquisition of the Echelon site on the Strip and outline plans to build a $2 billion hotel-casino complex on the 87-acre develop­ment halted by the onset of the recession almost five years ago.
Genting, which operates casinos in Singapore and New York City, will pay Boyd Gaming Corp. less than $500 million for Echelon. The initial phase of its Resorts World Las Vegas will include 3,500 rooms and a 175,000-square-foot casino.
The site once housed the famous Stardust.
Resorts World Las Vegas is expected to open in 2016 with multiple restaurants and dining options, along with 250,000 square feet of retail, more than 500,000 square feet of convention space, a theater and outdoor pool amenities.
"This is a great day for Genting, Las Vegas, and the state of Nevada, and we look forward to taking full advantage of this exciting new opportunity," Genting Chairman KT Lim said in a statement. "This is an unparalleled opportunity to showcase what has made the Resorts World brand a globally recognized success for the past several decades."
Lim is expected to be at a news conference today in Las Vegas with Gov. Brian Sandoval, who applauded Genting's initial move into Nevada. Analysts consider Genting one of the world's top hotel-casino operators.
"The Genting Group and Resorts World Las Vegas will bring several thousand new jobs to our state and will help us in keeping our economic resurgence on the right path toward success," Sandoval said in a statement.
Genting will need to gain licensing approval from Nevada gaming regulators before the casino can open.
A spokesman said Genting will incorporate much of the remnants of the Echelon project into the Resorts World Las Vegas development, including the un­finished concrete and steel hotel structures and a parking garage.
The project has sat silent since August 2008, when Boyd Gaming halted construction of the planned $4.8 billion resort. According to the company's annual report filing last year, Boyd expected to spend $15.5 million to $17 million annually to maintain the Echelon site, including security costs and property taxes.
Boyd Gaming's original concept for Echelon was five hotels of varying sizes totaling 5,000 rooms and suites, all connected to a 140,000-square-foot casino. The project included 300,000 square feet of retail, 750,000 square feet of convention and meeting space, 30 restaurants and two theaters.
The bulk of the Echelon site was once home to the Stardust, but Boyd purchased several adjacent parcels to increase the acreage. The largest acquisition was 27 acres from Harrah's Entertainment in exchange for the Barbary Coast in October 2006.
The Stardust closed in November 2006 and was imploded four months later to make way for Echelon, which had a formal groundbreaking in June 2007. Boyd Gaming stopped the project's construction 14 months later when credit markets began to sour.
Boyd Gaming executives were celebrated by local political leaders and Wall Street analysts for taking a gutsy move to halt development after spending close to $1.5 billion on construction. Several gaming analysts said if Boyd Gaming hadn't stopped Echelon, the company could have ended up in bankruptcy.
Boyd planned to restart Echelon within a year, but the economy didn't cooperate.
Last summer Clark County commissioners gave Boyd Gaming a six-year extension to complete the north Strip development by 2018. Commissioners also demanded the company "beautify" the site. Boyd Gaming was to hide unfinished structures with more than $4 million in landscaping and strategically placed coverings.
Genting's announcement marks the second north Strip revitalization project announced this year. Last month, SBE Entertainment began a $400 million renovation of the Sahara into the SLS Las Vegas.
Genting's best-known properties are Resorts World Sentosa in Singapore and Resorts World New York.
In Singapore, the property, which includes a Universal Studios theme park, is one of two casinos in the island-nation along with Las Vegas Sands Corp.'s Marina Bay Sands. In 2012, Resorts World Sentosa alone produced $2.94 billion in gaming revenues, nearly half as much as the entire Strip collected in gaming revenues last year.
Resorts World New York opened in October 2011 and is attached to the Aque­duct Racetrack in New York City. The property has almost 5,000 video lottery terminals and electronic table games. In 2012, Resorts World New York reported gaming revenues of more than $638 million.
Genting made headlines last year when the company said it would spend $3.8 billion to develop Resorts World Miami.
The project, which was to include more than 5,000 hotel rooms and was designed with an 800-foot promenade along Biscayne Bay, was shelved when Florida lawmakers scuttled gaming expansion legislation.
Genting, which spent $500 million on the 30-acre site, said it would build a smaller mixed-use development while waiting for Florida to enact gaming legislation.
Contact reporter Howard Stutz at hstutz@reviewjournal
.com or 702-477-3871. Follow @howardstutz on Twitter.
Resorts World Las Vegas Site Timeline
July 2, 1958: Stardust opens on the Strip
March 1, 1985: Boyd Gaming acquires the Stardust
Nov. 1, 2006: Stardust closes
March 13, 2007: Stardust is imploded
June 20, 2007: Formal groundbreaking held for Echelon
Aug. 1, 2008: Echelon construction halts
March 4, 2013: Genting Group announces purchase of the Echelon site