Las Vegas shooting still hurting MGM Resorts business
Updated April 26, 2018 - 6:11 pm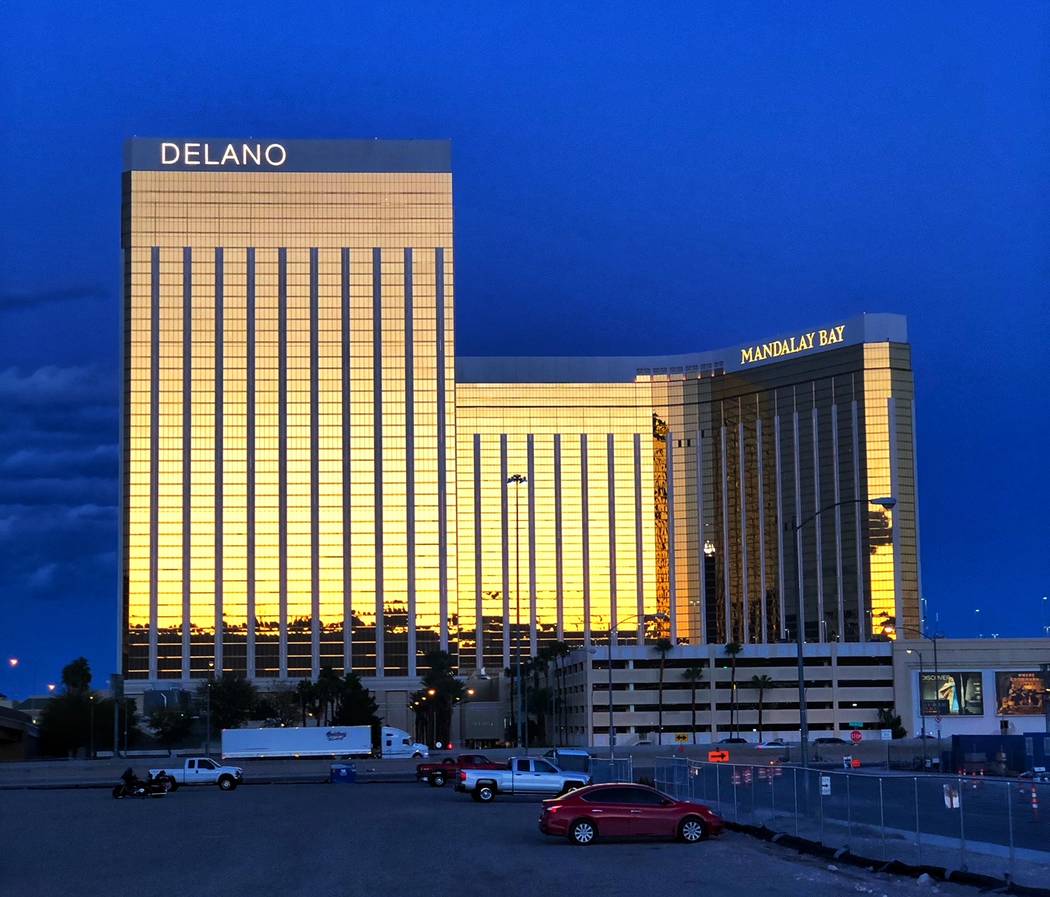 Shares of MGM Resorts International plunged as much as 10 percent Thursday morning after management said it is taking longer to recover from last year's Mandalay Bay shooting than anticipated.
MGM shares closed down $3.04, or 8.6 percent, to $32.29, wiping away about $1.7 billion of market capitalization. It is the biggest drop in months for the casino operator.
Mandalay Bay, the site of the Oct. 1 shooting, is not turning around as fast as expected, MGM Chief Executive Officer Jim Murren told Wall Street analysts during a conference call Thursday to discuss first-quarter financial results.
"This is a property that is undertaking a tremendous challenge" and it "has lagged behind what we had predicted in terms of its performance," Murren said.
The property's revenue declined $16.3 million, or 6.3 percent, during the first quarter to $245 million. Occupancy fell 6 percentage points to 85 percent, the second lowest among MGM's Strip properties after low-end Circus Circus.
Mandalay Bay accounts for 8.5 percent of MGM's net revenue, making it the fourth largest property in its portfolio. With about 2 million square feet of meeting space, Mandalay Bay hosts many of the city's largest conventions.
The property had a convention cancellation in February and several smaller meeting cancellations, Chief Operating Officer Corey Sanders said during the conference call. Demand for meeting space at Mandalay Bay around the first anniversary in October of the shooting is "challenged," he added.
While Mandalay Bay caters mainly to convention attendees some leisure tourists are also "electing to stay away" from the property, Sanders said. Murren said some Mandalay Bay guests, as well as Monte Carlo guests, are choosing to stay at competitor properties at the moment.
Brutal construction
MGM is carrying out a massive $550 million overhaul of Monte Carlo as it rebrands the outdated property into the more upscale Park MGM. However, the work is causing much greater disruption than management anticipated, Murren said.
Heavy equipment could be seen in front of the doors earlier this year as dozens of construction workers carried out the upgrade inside and outside the hotel.
"One of the challenges that Monte Carlo has had for the last several months is that it does not have a porte-cochere," Murren said. "It's kind of a tough thing when you go to a resort and you can't drive up to the front door."
Monte Carlo revenue declined $17 million, or 23 percent, during the quarter to $56.3 million.
Murren said his team "completely underestimated the financial impact" the "brutal" construction process would cause, adding that MGM Resorts has never done a renovation on this scale.
However, he said that the rooms are now 90 percent completed and the property's new restaurants and bars are "doing very well." Construction will wrap up before the end of the year.
The chief executive said the year's earnings forecast will take a small hit from the cancellation of the highly anticipated May 5 rematch between Saul 'Canelo' Alvarez and Gennady Golovkin at T-Mobile Arena.
Wynn rumors
Murren threw cold water on a New York Post report that the company was in initial talks to buy Wynn Resorts. However, he left the door slightly open on MGM's interest in the Wynn Boston Harbor project.
MGM is finishing a long, multi-billion dollar investment cycle with the opening this year of a casino in Cotai and Springfield, Massachusetts. The priority now is to return money to shareholders, he said.
"We have no interest in embarking upon a major growth plan through M&A," Murren said in response to a question hinting at Wynn Resorts.
Murren declined to comment when asked specifically about Wynn Boston Harbor, a $2.5 billion project that is expected to open in June, 2019. However, he said it would have to be an "extraordinary opportunity" for the company to burden itself with a new construction project.
Japan would be one of those extraordinary opportunities. Murren reiterated MGM's interest in building an integrated resort with a consortium in Japan.
Looking ahead
The company expects full-year Strip revenue per available room — a key industry metric — to grow a maximum of 3 percent this year down from an earlier forecast of 4 percent.
Management blamed the cut on Mandalay Bay's slower recovery, Monte Carlo's construction and the canceled Alvarez-Golovkin fight. April table hold was also worse than expected, they said.
However, 2019 is shaping up to be strong with a better convention calendar and a faster pace of bookings.
Q1 Earnings
MGM Resorts said first-quarter net revenue rose 3.9 percent as the opening of a new casino in China was offset by a decline on the Las Vegas Strip.
The casino operator's net income rose 8.5 percent to $233 million, or $0.38 per diluted share, helped by U.S. tax reform. The company received a $94 million non-cash income tax benefit during the quarter compared with a tax provision in the year-ago period.
However, MGM adjusted property earnings before interest, taxes, depreciation and amortization fell 4.1 percent to $804 million during the quarter compared with the same period in 2017. Operating income fell 28 percent to $360 million.
Contact Todd Prince at 702-383-0386 or tprince@reviewjournal.com. Follow @toddprincetv on Twitter.