MGM Resorts' Picasso pieces to be auctioned in Las Vegas this fall
Updated August 11, 2021 - 9:15 pm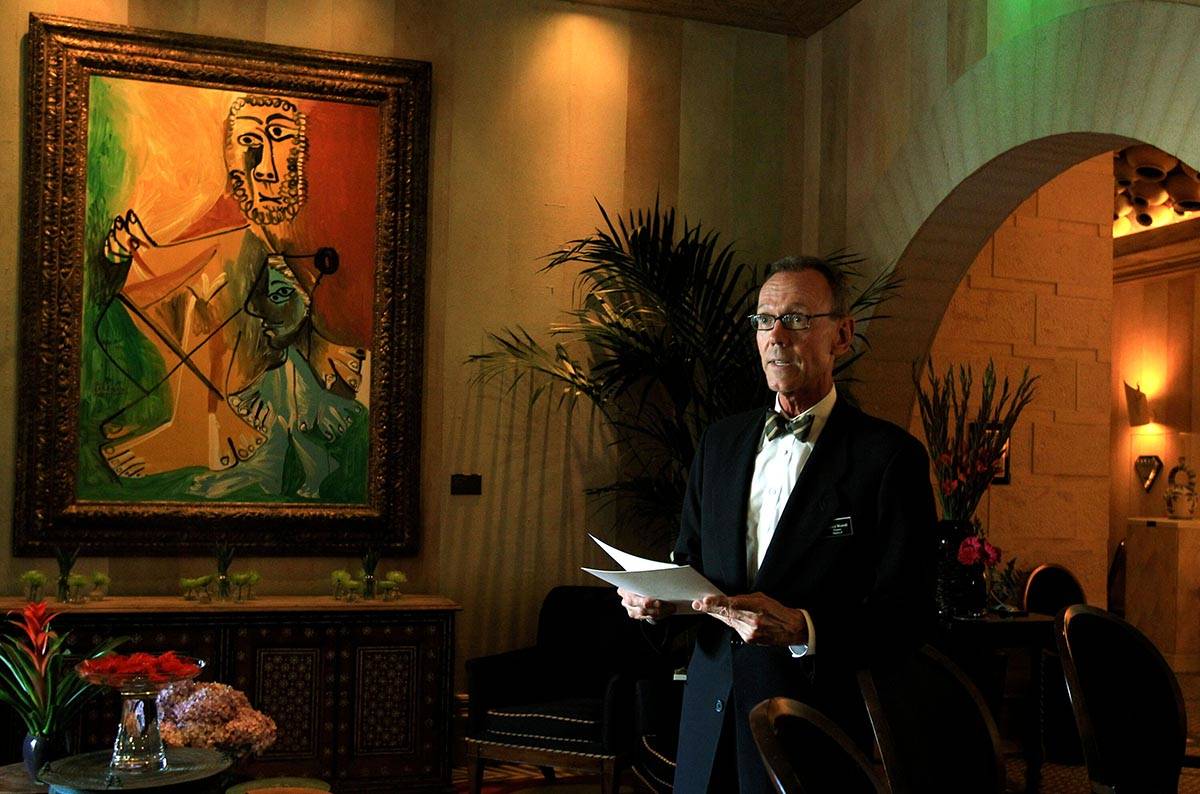 MGM Resorts International plans to auction off 11 pieces by Pablo Picasso this fall worth upward of $100 million.
The resort company is teaming with luxury art firm Sotheby's to auction off Picasso works in MGM Resorts' fine art collection, the companies announced Wednesday. The auction will take place Oct. 23 at the Bellagio and represents "the largest and most significant fine art auction to ever take place in Las Vegas," the announcement said. Picasso would have turned 140 on Oct. 25.
Casino mogul Steve Wynn and his former company, Mirage Resorts, bought the artwork for the Bellagio's Picasso restaurant ahead of the hotel-casino's 1998 opening, an MGM spokesperson said. MGM Resorts owns 23 pieces by Picasso, all at the restaurant; the company will auction off 11 and continue displaying the other 12.
MGM Resorts said it intends to diversify its collection with art from underrepresented communities.
Picasso artwork remained at the restaurant even after Wynn sold Mirage Resorts to MGM in 2000. He then chaired Wynn Resorts from 2002 to 2018, when the gaming industry ousted him because of sexual misconduct allegations. Wynn has denied the accusations.
Sotheby's estimates two paintings are each worth $20 million to $30 million: a portrait of a lover, Marie-Thérèse Walter, in "Femme au béret rouge-orange" and one of his largest paintings, "Homme et enfant," at 6.4 feet tall and 4.3 feet wide. The Spanish-born painter kept the Walter portrait in his private collection for decades.
Another two paintings are valued each at $10 million to $15 million: "Buste d'homme" and "Nature morte au panier de fruits et aux fleurs." All 11 works together are valued between $70.5 million and $104.2 million, the companies announced.
Wynn opened Bellagio with an art galley and filled it with works by Picasso, Henri Matisse, Vincent van Gogh and others.
Wynn and Mirage Resorts each owned half of the $400 million art collection. The billionaire took his art with him and bought additional pieces from Mirage following the sale to MGM. MGM sold several pieces to pay down debt accompanying the Mirage acquisition.
The Bellagio Gallery of Fine Art now displays contemporary art and rotating exhibitions, while Wynn continues to collect and deal art through Wynn Fine Art.
The Las Vegas auction will be the first time Sotheby's hosts a North American marquee evening sale outside of its New York City salesroom. Sotheby's will broadcast the sale via livestream on Sothebys.com.
The public can view all 11 pieces free at Sotheby's New York galleries from Sept. 7-13 and the Bellagio Gallery of Fine Art from Oct. 21-23. International exhibitions are scheduled for Taipei, Taiwan, from Sept. 17-18 and for Hong Kong from Oct. 7-11.
Additionally, Aria will exhibit Sotheby's cars, jewelry, handbags and other goods from Oct. 21-24. Sotheby's will auction those items in New York later that month.
Brooke Lampley, Sotheby's chair and worldwide head of sales for global fine art, said it was a "privilege" to help MGM diversify its collection of artists and works through the Picasso auction.
"We couldn't imagine anyone better than Picasso to inaugurate this unique art and culture experience," she said in the announcement.
Contact Mike Shoro at mshoro@reviewjournal.com. Follow @mike_shoro on Twitter.
Picasso works to be auctioned off by MGM Resorts by Las Vegas Review-Journal on Scribd