More hospitality robots are calling Las Vegas Strip home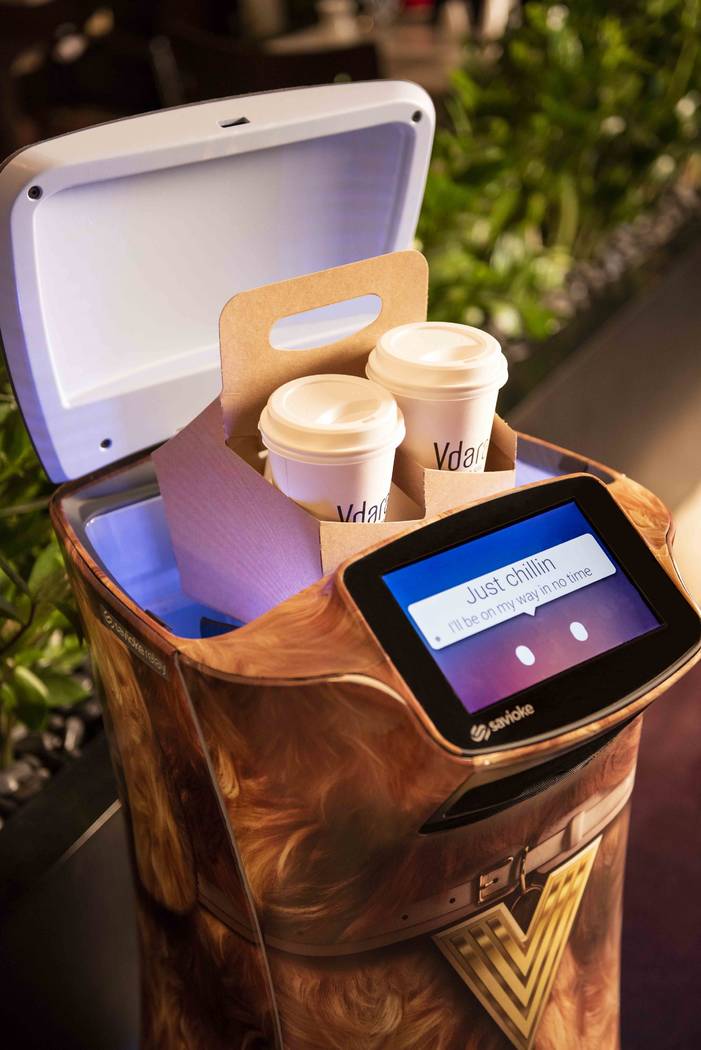 More hospitality robots are calling the Strip home.
Vdara has put into circulation a pair of three-foot-high robots to deliver amenities likes shaving and dental kits as well as food from the property's cafe, the property said in a statement Monday.
Vdara is at least the second property in Las Vegas to employ the Relay robots made by Silicon Valley start-up Savioke. Renaissance Hotel installed two models in January ahead of the the Consumer Electronics Show. Rising Star Hotel in Mesquite, Nevada has also incorporated a Relay robot into its property.
The hospitality industry is experiencing a wave of technological disruption that is altering the way people check in to how they receive information and hotel amenities.
Las Vegas hotels have been installing Amazon Echos and tablets in rooms to improve guest interaction, setting up chat bots to automate basic concierge requests and launching mobile check in that allow guests to use their phone as their room key.
The high-end hotels like Vdara that are leading this drive may be doing so as much to bolster their image as to improve efficiencies, said Michael McCall, a professor of hospitality at Michigan State University.
"What is interesting is that the consumer connection if you will, is to tie this robotic experience to a luxury experience not simply one of functionality. It doesn't accomplish anything that can't be accomplished in other ways, but it seeks to present it as classy," McCall said.
How Relay works
When a guest orders amenities, an employee loads the items into Relay, closes its lid and enters the guest's room number on the robot's tablet. Relay is wired to connect to the hotel's communications systems and is able to operate the elevator autonomously.
Sensors on the robot enable it to maneuver around people and obstacles. When Relay reaches the room, it rings the guests. The robot's lid will unlock once the room door is opened.
Relay takes less than five minutes to complete a delivery inside the 57-story Vdara, according to property.
Besides making deliveries, Relay can detect and report weak WiFi connections as well as trays as it roams the floors.
Vdara had been testing Relay since December. In May, the property launched deliveries from its cafe with two Relay robots. The two robots each make on average about 20 runs a day, the property said.
There over 100 Relay robots in operation at about 70 hotels around the world, according to Savioke. In the U.S. outside Nevada, Relay robots can be found at Hilton Garden Inn in Gilroy, California; Hotel Interurban in Tukwila, Washington and Luba Hotel on Times Square.
$2,000 per month
Savioke claims that studies prove its robots directly impact hotel occupancy and revenue per available room. Relay spares guests the need to tip.
Most hotels lease their Relay for about $2,000 per month, according to the company. Relay robots can operate twenty-four hours a day with intermittent charging.
Culinary union workers in Las Vegas earn about $23 an hour, including benefits such as health care and pensions. The monthly cost of round-the-clock labor at a unionized Strip hotel would be about $16,500, based on that hourly wage.
Vdara General Manager Mary Giuliano said the robot is an addition to the hotel's work staff. Relay will "free up time" for staff to focus on requests that require a "higher level of service," she said in the statement.
McCall said that while many hospitality jobs will eventually be replaced by new technologies, he did not foresee the Relay as a threat.
Savioke was founded in 2013 by robotic engineers with capital from leading industry investors including Intel Capital and Google Ventures.
The company last month raised an additional $13.4 million to expand Relay into the hospital market.
Contact Todd Prince at 702-383-0386 or tprince@reviewjournal.com. Follow @toddprincetv on Twitter.