Nevadan at Work: Ultimate Gaming exec has international background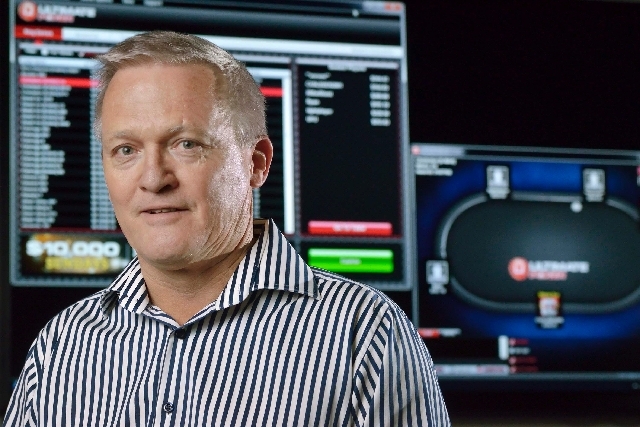 On an early Tuesday afternoon in June, Ultimate Gaming Chief Executive Officer Tobin Prior took out his smartphone and checked up-to-the-minute operating statistics for Ultimate Poker.
Sixty-five tables were in play, offering stakes from a few pennies to games with a $100 big blind. At the time, 410 players were participating in Nevada's — and America's — only legal play-for-play poker website.
That might not seem like a staggering figure, considering the largest poker room in Las Vegas is The Venetian with 59 tables.
"Our peak period on Monday had 150 tables operating and 1,100 players seated," Prior said. "The experience we're providing is much different than a land-based environment."
Prior, 52, spent roughly 20 years with Kerzner International, including time as the president of the company's international gaming division, opening hotel-casino resorts in remote destinations around the world.
He developed such properties as the Mazagan Beach Resort & Casino in Morocco, was CEO of the Atlantis Paradise Island in the Bahamas and was responsible for multiple Kerzner projects in his native South Africa, including Sun City.
Prior was helping to develop a joint-venture project on the Strip between Kerzner and MGM Resorts International that was canceled when the recession hit.
He was approached by Station Casinos' owners Frank Fertitta III and Lorenzo Fertitta in 2011 when the company was restructuring under Fertitta Entertainment and was looking to expand into the potential online gaming market.
Prior first became acquainted with the Fertittas in 2000 when Station Casinos partnered with Kerzner on an Internet gaming startup business licensed on the Isle of Man. The website never accepted wagers from Americans and was short-lived. In 2002, the U.S. Department of Justice told Station Casinos and other Nevada companies exploring the online market in Europe to exit the activity.
"We shut down that business and we watched as everyone targeted our customers for 10 years," Prior said.
The Fertittas approached Prior again soon after he decided to leave Kerzner.
"They are really progressive guys," Prior said. "I was happy to throw my lot in with them. It soon became clear that something with Internet poker was going to happen."
The newly named Fertitta Interactive purchased Cyber Arts, an Oakland, Calif., based technology firm, in late 2011. Building off Cyber Arts, the business partnered with the Fertitta-owned Ultimate Fighting Championship to create Ultimate Gaming once Nevada created its Internet gaming regulations.
"We started with about four of us camping out at the Red Rock (Resort) offices trying to figure out what we were going to do," Prior said.
Ultimate Poker, which Ultimate Gaming operates, launched April 30. So far, the website has dealt more than 3 million hands of poker and has received registration from players in all 50 states and 28 countries.
Ultimate Gaming, which is majority-owned by Station Casinos, operates in refurbished offices in an industrial area off Harmon Avenue that once held the prelaunch operations for The Cosmopolitan of Las Vegas. Prior designed the offices himself. Ultimate Gaming employs 130 people through offices in Las Vegas; Oakland, Eastern Europe; and China.
Question: How did Cyber Arts become part of the equation?
Answer: We were looking at a few European companies and then we found Cyber Arts. We were lucky enough to find a company that was squeaky-clean and had never taken a wager from the U.S. That was almost unique in the space. We bought the technology with a U.S.-based team dedicated with doing the things like how to make the software compliant to all regulations.
Question: How important was it to be first in the market?
Answer: If you want to lead in the space, I guess that kind of goes with the territory. The most important thing about being first is not what people think. You've got to get into the space and start doing stuff because there are way more things to achieve and get together than people figure.
Question: What was the No. 1 priority in launching Ultimate Gaming?
Answer: The most important thing to tackle was how to make all this technology work with the regulations. Guys have been perfecting technology over the last 12 years with the customers. But now we talk about technology meeting regulations. That's a much bigger meeting than people think. We're not just talking a couple of page of regulations. It's a book.
Most people in the space are not used to doing this, but we basically decided that was important for us. That's binary, you either clear that hurdle or you don't. If you don't clear the hurdle, then you're not out there. If you clear the hurdle, then you can do the rest of the stuff. Now, we can get on with the business of looking after the customer and building in all the features that the customer wants.
Question: Does the technology's success help you with going into other potential online markets?
Answer: It was important for us to prove our technology and our platform could meet the regulatory requirements. There have been no major transgressions and the software has performed well from a regulatory point of view. By being successful in Nevada, it puts us in a good position to move into other markets. We can say to other regulators that it works.
Question: What's next for Ultimate Gaming?
Answer: We have spent a year to make sure we are doing what the regulators require. We're now out there marketing our product. We have 20 forms of poker in the library, which is more than any other platform. Eventually we will put them in the poker lobby. We also have a full-fledged gaming platform that we could launch in markets, such as New Jersey. With casino games, we would put them in a separate lobby and keep a specific lobby just for poker.
Question: Which do you prefer, operating resorts or operating an online gaming business?
Answer: I like them both. It's like having children. Both businesses have pros and cons. With the service level we provided at Kerzner, it required a lot of hands-on management. With the online business, you're always following it on a regular basis to see what's happening with deposits and registrations. If anything happens, you have to be able to respond immediately. This is a fledgling startup. As CEO, you're worried about what's going on, particularly in this field trial period.
Question: How are resorts and online similar?
Answer: I love building resorts and opening them. I love that challenge. I love opening businesses, and this business is a bit of a challenge. It's interesting to put together a whole new team. That's a lot of fun. This industry is growing and there is a lot of new potential.
Question: Do you play poker?
Answer: We are surrounded here by some very serious poker players. I'm a much more serious businessman than I am a serious poker player. To be a very good poker player, you have to dedicate a lot of time to poker. I play every now and then. I don't pretend to be serious. Poker is not difficult to play, but it's difficult to achieve a lot of success in poker unless you take is seriously.
Contact reporter Howard Stutz at hstutz@reviewjournal.com or 702-477-3871. Follow @howardstutz on Twitter.
VITAL STATISTICS
Name: Tobin Prior
Title: Chief Executive Officer, Ultimate Gaming
Age: 52
Family: Wife, Sally; daughter, Ruby; son, Jasper
Work Experience: SAB/Miller, 1984-94, Sun International, 1994-98, Kerzner International, 1998-2011, Fertitta Entertainment and Ultimate Gaming, 2011-present.
Hobbies: Nature, art, architecture, watching rugby
Favorite Book: "The Soul of the White Ant" by Eugene Marais.
Hometown: Johannesburg and Cape Town, South Africa.
In Las Vegas since: Full time this year.
Quotable: "The most important thing to tackle was how to make all this technology work with the regulations."
Ultimate Gaming is located at 3485 W. Harmon Ave., Las Vegas. Ultimate Gaming can be reached at 702-495-3352.