New $2.7 Parisian resort to open Tuesday in Macau
September 10, 2016 - 5:52 pm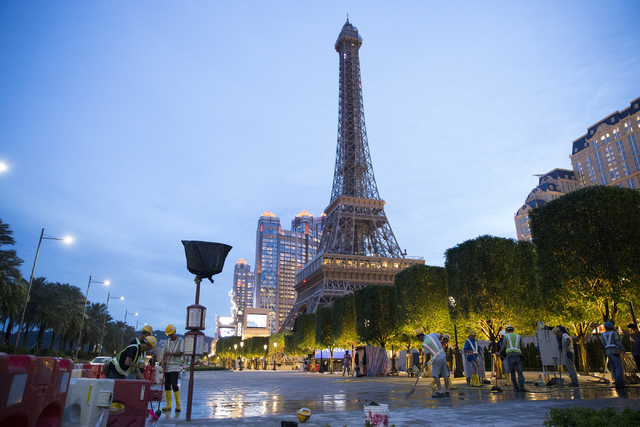 Macau's newest casino — the second American-owned property to open in three weeks — greets its first guests Tuesday.
The $2.7 billion, 3,000-room Parisian, operated by Las Vegas Sands subsidiary Sands China Ltd., is expected to open with 410 table games and 1,600 slot machines.
The Parisian joins Steve Wynn's $4.2 billion, 1,700-room Wynn Palace, which opened less than a mile away on Aug. 22. The elegant development — Wynn's most expensive outlay — has received rave reviews from travelers and industry analysts in the brief time it has been open.
Most of the table games at the newest resort will feature Asian players' game of choice, baccarat, with limits that will appeal to China's growing number of middle-class tourists.
The Parisian, the company's third property in Macau, is expected to cater to families with what executives are calling "an affordable luxury experience."
The centerpiece of the resort is a free-standing, 525-foot, half-scale replica of Paris' Eiffel Tower, the tallest structure on the Cotai Strip, a boulevard of hotel-casinos built atop reclaimed land between Taipa and Coloane islands.
The property also will have 170 retail outlets, a 1,200-seat theater, 56,000 square feet of meeting space and an outdoor pool deck with an Aqua World water park.
While the faux Eiffel Tower is expected to draw most of the attention, officials with the hotel are enthused that the property will be one of Macau's greenest. The Parisian is targeting LEED silver certification.
"We set the bar very high for sustainability, and we are extremely proud of our accomplishments in planning and successfully implementing our eco-conscious design," said Rishi Tirupari, the Parisian's director of sustainability.
"It was challenging to make it all happen and there were many lessons learned along the way," Tirupari said. "However, the technology of sustainability — such as next-generation LED lighting — has progressed so much in recent years that we are able to run our resort operations efficiently without impacting the guest experience."
Every light inside and out is LED, which Parisian officials say is a first for a resort of its scale.
The company expects the upgrade will pay for itself in three years, and that enough energy would be saved to power 12,000 homes for a month.
While energy sustainability will be an important money-saver, a bigger issue may be financial sustainability.
Sands China had sought to place 250 table games in the property when it opens, but Lionel Leong, Macau's economy and finance secretary, announced last week that the Parisian would receive exactly the same table allocation as Wynn Palace — 100 tables on opening day, an additional 25 at the beginning of 2017 and a final 25 at the beginning of 2018.
"Following the surprise grant to Wynn Palace, we believe consensus expectations for Parisian had become very low with some analysts recently voicing their expectation of a zero allocation," Grant Govertsen, a Macau-based gaming analyst with Las Vegas' Union Gaming, said in a report to investors.
"We had taken an opposite view and were expecting Parisian to not only get an allocation of tables, but to get the 'full' allocation of 250 based on its family-style nongaming offerings," Govertsen said.
Wilfred Wong Ying Wai, president and chief operating officer for Sands China, told the Macau Daily News last week that 310 of the new property's gaming tables would come from some of his company's other venues in Macau, the Sands Macau and the Venetian Macau, a similar strategy Wynn took at Wynn Palace.
Wong also told the newspaper that the Parisian would employ about 6,000 people, with 3,700 of them transferred from its other Sands properties.
The Review-Journal is owned by the family of Las Vegas Sands Corp. Chairman and CEO Sheldon Adelson.
Contact Richard N. Velotta at rvelotta@reviewjournal.com or 702-477-3893. Follow @RickVelotta on Twitter.
RELATED
Sands to open The Parisian in Macau on Sept. 13
Steve Wynn's $4.2 billion Wynn Palace in Macau opens today
Las Vegas Sands unveils plans for The Parisian resort in Macau