Rio cash-flow connoisseur: With WSOP, planning key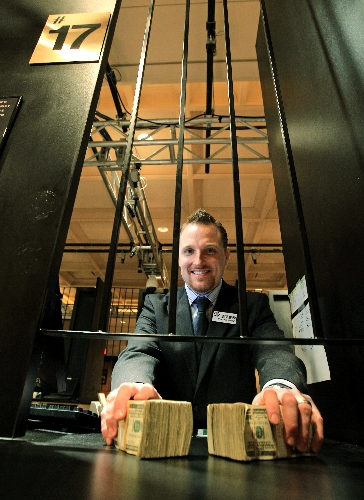 Kevin Amend spends six months out of the year prepping for a job that lasts all of six weeks.
His bosses at the Rio don't seem to mind.
Amend, 34, is director of cage operations for the Rio, home of the World Series of Poker. This year, a record $191.9 million in prize money was awarded at the tournament, all of which passed through the cage facility that was built in one of the Rio Convention Center's meeting rooms.
The cage, along with auxiliary cages built in the Rio's Pavilion Ballroom that were used to service the poker tables associated with satellite events and cash games, were as equally secure and operated as if they were the primary cage in the resort's casino.
Through the other poker operations that were run in conjunction with the World Series of Poker, millions of additional dollars were wagered at the Rio. Since the Caesars Entertainment Corp.-owned tournament was moved to the Rio in 2005, the event has traditionally been the catalyst for making June and July the Rio's busiest months.
Amend brought in temporary staff to supplement full-time Rio cage supervisors and employees to serve the record 75,672 participants in the World Series of Poker's 58 events.
"The operation has high security and is just as sophisticated as the main Rio cage," Amend said of the temporary cage that had 20 windows to take care of poker-playing customers.
The recently completed World Series of Poker marked Amend's second stint as the cage director. Three years ago, as a customer service manager, he had the unpleasant task of dealing with last-minute poker players who couldn't get a seat at the Main Event's final day of first-round play because the casino ran out of space.
Amend, who has been with the Rio since September 2002, has also worked in slot-machine operations and spent a year during the tough economy as an improvement specialist helping find ways to cut costs.
A move to become director of cage operations two years ago allowed him to spend time with the World Series of Poker, an event he enjoys.
Question: When do you begin planning for the poker tournament?
Answer: We start planning in January. It's a big task and a lot of different departments are involved. It really takes up about half my year with all the planning. After the tournament is completed, we'll start talking about what we can do differently the next year. We take notes throughout the World Series of Poker and have a series of meetings to download all the information and talk about improvement opportunities. Our goal is to always improve customer service.
Question: How do you go about staffing the temporary cage operations?
Answer: I have about 38 employees from the regular Rio cage that we bring down for the World Series of Poker. We also hire an additional 195 temporary cashiers for the cages. They are part-time jobs, so we have school teachers, people who have worked at banks and retired folks. We also have a lot of people who work at other casino cages around town.
It's a full-on casino cage and we get a lot of support from the main cage. I take a good part of my team and bring them down here. We need full-time Rio cashiers and supervisors who understand the Rio cage operation better than the temporary folks. You just can't turn over the keys to the temporary employees.
Question: Are there long hours involved with running the cage for the World Series of Poker?
Answer: We have an amazing team and it impresses me how dedicated they are to executing this huge event. It's a lot of hours and we have folks willing to put in 10 or 12 hours a day to get the job done. The main cage is the heart of the whole casino and the World Series of Poker cage is just as important.
Question: How much time do you spend at the cage during the World Series of Poker?
Answer: Probably 95 percent of my time is spent down here (at the World Series of Poker cage) during the tournament. I'm always available to the main cage by phone, but this becomes a pretty important place during the tournament.
Question: How do the entry fees and the player payout systems work?
Answer: Many of the entries are preregistered, so money might already be on account. It's typical as with any casino cage. Players will buy in with cashier checks; they can wire funds directly to the World Series of Poker. They can bring in cash or use casino chips.
As for payouts, we can wire funds into their bank accounts, or we can hold the money on account here at the Rio to be used as front money for other events. We can also pay out winnings in Rio casino chips. A lot of the poker professionals who are here for the whole World Series of Poker prefer to take the winnings in chips that they can use for big cash games. We have chips as large as $25,000. We also have safety deposit boxes in the cage for the players to use as a secure place to store their winnings.
Question: What happens if someone asks to be paid out in cash?
Answer: When you get up to those high limits, most people won't take cash for security reasons. But we're prepared to handle some very large payouts in cash. If a big winner wanted all cash, it probably could take a day or two to facilitate that request.
Question: Do you play poker?
Answer: I play a little bit at tournaments around town. I got to have dinner a few years ago with Annie Duke when she was on the Players Advisory Committee. Jean-Robert Bellande has given me some advice on how to help my game, but I still have a lot of work to do.
Contact reporter Howard Stutz at hstutz@reviewjournal.com or 702-477-3871.
Follow @howardstutz on Twitter.
VITAL STATISTICS
Name: Kevin Amend.
Position: Director of cage operations, Rio.
Family: Wife, Mandie; daughter, Cassidy; and baby on the way.
Education: Eldorado High School; some college at the University of Nevada, Las Vegas.
Work history: At the Rio since September 2002; has worked in slot operations, customer service, improvement specialist; director of cage operation for two years.
Hobbies: Spending time with family, remote control helicopter, reading.
Favorite books: "The DaVinci Code" by Dan Brown; "The Girl with the Dragon Tattoo" by Stieg Larsson.
Hometown: Las Vegas.
In Las Vegas since: 1986. Moved here when he was 10.
The Rio is at 3700 West Flamingo Road and can be reached at 777-7777.