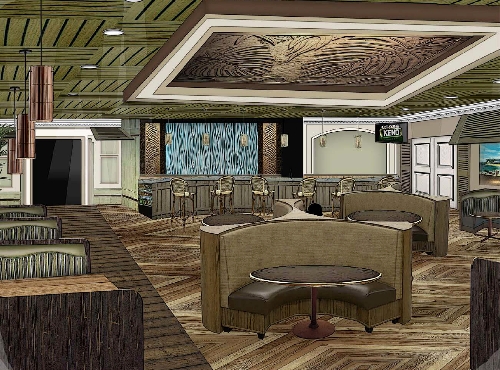 The Roadhouse Casino's plans to renovate and reopen the property are on hold while the owner awaits the outcome of a pending lawsuit filed by one of Station Casinos' properties.
Sunset Station Inc. filed a lawsuit on Nov. 18 against the city of Henderson, Roadhouse Casino owner Robert McMackin and his company Marengo Inc. over an operating permit granted by the city.
Neither McMackin nor the Henderson city attorney's office had received a copy of the lawsuit as of Tuesday. Henderson spokeswoman Kathy Blaha declined to comment until the city attorney's office had an opportunity to review the lawsuit.
Elizabeth Trosper, a spokeswoman for McMackin and Marengo, however, said the company's renovation plans have been put on hold because of the lawsuit.
"Due to Station's aggressive litigation stance to thwart any competition, any plans to move forward are contingent on the outcome of this lawsuit against Bob McMackin and the city of Henderson," Trosper said. "Unfortunately, any delay hurts everyone, except Station."
She said a "shuttered casino" at the gateway to Henderson would continue to be an eyesore "with its scheduled improvements placed on hold."
Sunset Station's lawsuit challenges the city's decision to issue a license that would allow Roadhouse to open. Henderson officials determined the Roadhouse's 1998 conditional use permit for nonrestricted gaming never expired.
In its lawsuit filed in Clark County District Court, Sunset Station argued that the city exceeded its authority "by approving an application permitting nonrestricted gaming without a resort hotel or specific nonconforming use."
Attorneys Todd Bice and Jarrod Rickard of the Las Vegas law firm Pisanelli Bice PLLC represent the hotel-casino, which is owned by Station Casinos Inc.
McMackin is represented by the Las Vegas law firm Nitz, Walton & Heaton Ltd.
Messages left with both law firms were not returned. Station Casinos spokeswoman Lori Nelson declined to comment on pending litigation.
Sunset Station and its parent company have come out against plans to renovate and operate the casino with a nonrestricted license, meaning it would not have to invest in building and operating a hotel on the property.
Station Casinos also operates two other nearby casinos, Fiesta Henderson and Boulder Station.
The Roadhouse at 2100 N. Boulder Highway at Sunset Road operates with a nonrestricted gaming license, which was grandfathered in by the state because the property was licensed before a hotel was required.
To maintain its gaming license, Roadhouse opens one day a year and operates at least 16 slot machines for eight hours.
McMackin initially closed the Roadhouse in 2002 before it was leased to a separate party from 2004-2007.
Trosper said construction had been scheduled to begin in January, with a reopening of the Roadhouse scheduled for "early summer." She said the project's total cost was still being tallied and it has not yet gone to bid.
Improvements planned include new landscaping, rehabilitating the outside of the property and renovating the inside of the building to include a casino, two kitchens and an area with entertainment capabilities, the company said.
McMackin and Marengo have lined up outside financing for the Roadhouse project but Trosper declined to identify any partners.
Trosper said, "In this uncertain economy, delays can always result in investment capital being redeployed elsewhere."
But she said it was "premature to contemplate any other plans" for the property, including its sale by McMackin.
Contact reporter Chris Sieroty at
csieroty@reviewjournal.com or 702-477-3893.