Sale of Rio hotel in Las Vegas closes for $516.3M
Updated December 5, 2019 - 6:14 pm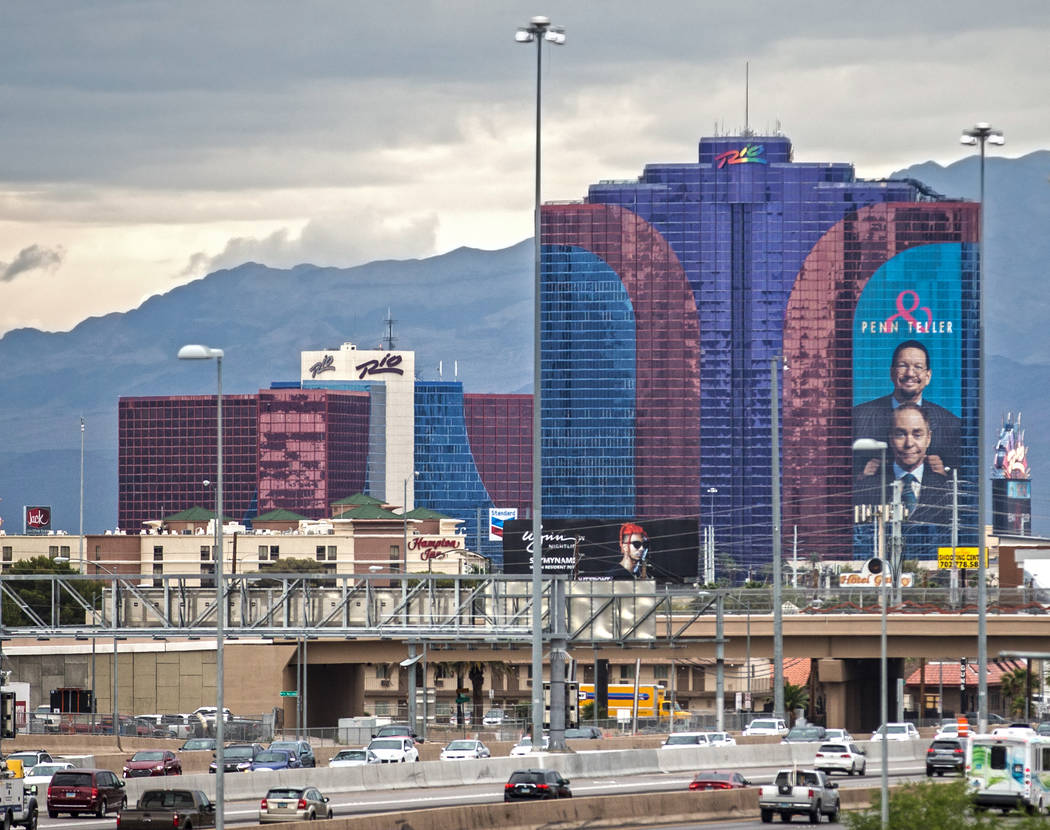 Newly formed Dreamscape Companies is the official new owner of the Rio, with the $516.3 million deal closing Thursday.
Dreamscape will have plenty of lead time to determine how to drive customers to the 2,500-suite off-Strip property. Caesars will continue to operate the building for two years with an option for a third year before Dreamscape takes over with its own management team, according to a Securities and Exchange Commission filing. Caesars will pay annualized rent of $45 million while Dreamscape strategizes on to whom and how it will market the resort.
"The way our deal is structured with them is they will manage this asset and they will pay us rent for the next two years, so we have nothing to do other than put together our plan and renovation strategy over the next two years," Dreamscape owner Eric Birnbaum told the Review-Journal.
Changes to the Rio?
Birnbaum's company currently operates the nongaming Westin Las Vegas on Flamingo Road. He plans to study that property's positioning as well as research the best fit for the Rio.
"We're not doing this blindly so we obviously have a strategy and an idea as to who our customer is and how we're going to position the asset," Birnbaum said. "It's a little premature for me to reveal exactly how we're going to do that and what we're going to do because we don't want to spill the beans just yet. Suffice it to say that we believe that this asset has unbelievable potential."
Birnbaum wouldn't disclose a budget for improvements to the property, but said his team would include seasoned gaming industry veterans. He also noted that Rio's 250,000 square feet of conference space separate from the casino would be worth enhancing, including matching the quality of rooms with an upgraded meeting space.
The 22 acres of unused land, part of the 90-acre Rio campus, also provides potential opportunity, he said, but he all but ruled out the potential of developing a Major League Baseball stadium, a persistent unfounded report that surfaced in recent months.
There also was no commitment to rehiring the current Rio staff, but he made it clear that his team will be looking for the best personnel to run the property and those who do it now should be qualified.
One thing that isn't changing is that the Rio will continue to host Caesars' popular World Series of Poker tournament, at least next year. Hosting rights will remain with Caesars which will later make decisions on where to host the event that attracted a record of more than 154,000 entrants in 2019.
Eldorado deal in play
The terms of the sale to Dreamscape will remain in place as Caesars goes through its own transition — Caesars is in the midst of being taken over by Eldorado Resorts Inc. in a deal expected to close in early 2020. When Eldorado takes over, it has said it would retain the Caesars name.
Dreamscape would pay Caesars $7 million to extend similar rent-paying terms for a third year.
David Katz, managing director of gaming, lodging and leisure equity research for New York-based Jefferies, said the transaction was long expected during Eldorado's acquisition of Caesars and the success of Rio will depend on the new owner's execution of the business plan.
"It's been pretty clearly stated that there are two issues that Eldorado should address before and after it closes on Caesars," Katz said. "First is market concentration, and Las Vegas has been an area of focus. Second is leverage, so the sale of Rio should reduce pro forma leverage for the combined company. It addresses both."
As for Rio's future, Katz said, "Rio's performance over the long term will depend on the strategy and execution of the new owners. I'm not privy to those strategies, so I can't comment on its prospects."
Built by longtime Las Vegas entrepreneur Tony Marnell of Marnell Companies, Rio opened in 1990 and was the first Las Vegas resort to put the buffet kitchen in the dining area, open a large-scale nightclub and enhance its pool with white sand and parties, which brought crowds to the off-Strip Brazilian-themed property, Marnell said.
In its heyday, the Rio produced an elaborate parade of floats that soared over the casino floor on aerial tracks every evening.
It was also the first all-suite resort in Las Vegas and first with floor-to-ceiling glass in all rooms.
When the Rio sale was first disclosed in September, it was announced as a sale to New York-based Imperial Companies. Birnbaum is a co-founder of Imperial, but Dreamscape is a separate operation unaffiliated with Imperial.
Contact Richard N. Velotta at rvelotta@reviewjournal.com or 702-477-3893. Follow @RickVelotta on Twitter. Review-Journal staff writer Bailey Schulz contributed to this story.