UNLV students develop Candy Crush-like game for casinos
October 3, 2016 - 2:55 pm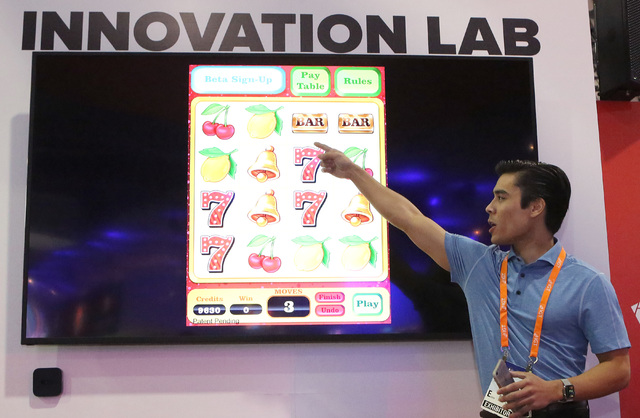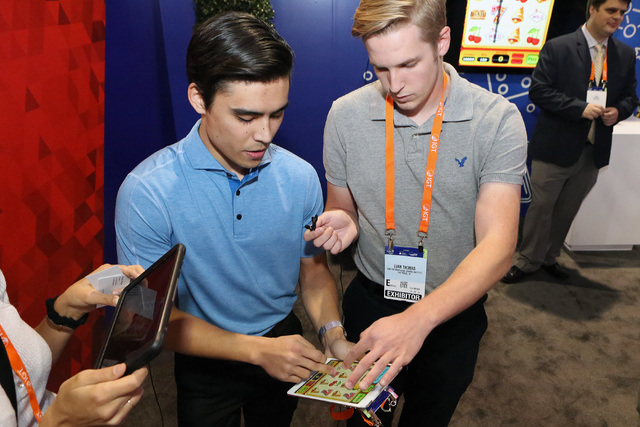 It's a game resembling Bejeweled and Candy Crush and its inventors, two 20-year-old students from UNLV, think it could be the first skill-based game to enter casinos.
"This is an original skill-based game called Line em Up," said Troy Pettie, co-founder of Guru Games, the name of their game development company.
The objective of Line em Up is to use the best strategy to create as many vertical, horizontal or diagonal lines of matching icons as possible.
Pettie and co-founder Evan Thomas demonstrated Line em Up last week during Global Gaming Expo, drawing an engaged crowd with audience members yelling out what they thought would be the best moves to make.
"It's inspired by Bejeweled and Candy Crush," Thomas said. "We took what we loved about those gaming mechanics, what made those games popular, and then we took what we know about gambling games and traditional slot machines and we melded the two to make something that's seamless, unique and something that could actually work in a gambling space in a casino."
In a slot machine, a player would begin by making a wager. Then, just as in Candy Crush, the game would randomly give the player a number of moves she or he has to make during that round.
"All zero movers are losers, but all boards that have moves are guaranteed to win," Pettie said. However, it is possible to have a zero-move winning round if the game generates a new board with a line of matching icons already made.
The "skill" part of the game involves the strategy of moving icons around in the best way possible to make the maximum number of lines.
"The order of the moves matter, because it can impact how many lines you can ultimately make," Pettie said.
Right now the game is available as a social casino app, which does not require a wager, but Pettie and Thomas said they are "in talks" regarding partnering with a hardware distributor to get Line em Up into a land-based casino.
So far, it is has been tricky for casinos to find a game that is hard enough to prevent a player from winning all the time, but fun enough to keep them playing, said Roger Gros, publisher of Global Gaming Business magazine.
"You (a casino) can't have somebody winning money all the time from you," he said.
Pettie and Thomas said they have solved this issue for casinos as well, with their patent-pending algorithm.
"The great thing about our math is it meets all the Nevada gaming regulations," Pettie said.
Thomas added that the mathematics guarantees that the house always has an edge of 3.5 percent for the players using the best strategy. For others, the house edge drops to about 6 percent.
Pettie and Thomas developed the game under the guidance of Mark Yoseloff, executive director of UNLV's Center for Gaming Innovation.
Contact Nicole Raz at nraz@reviewjournal.com or 702-380-4512. Follow @JournalistNikki on Twitter.