Venetian considers property upgrades, bonuses for 7K employees
Updated November 2, 2022 - 5:46 pm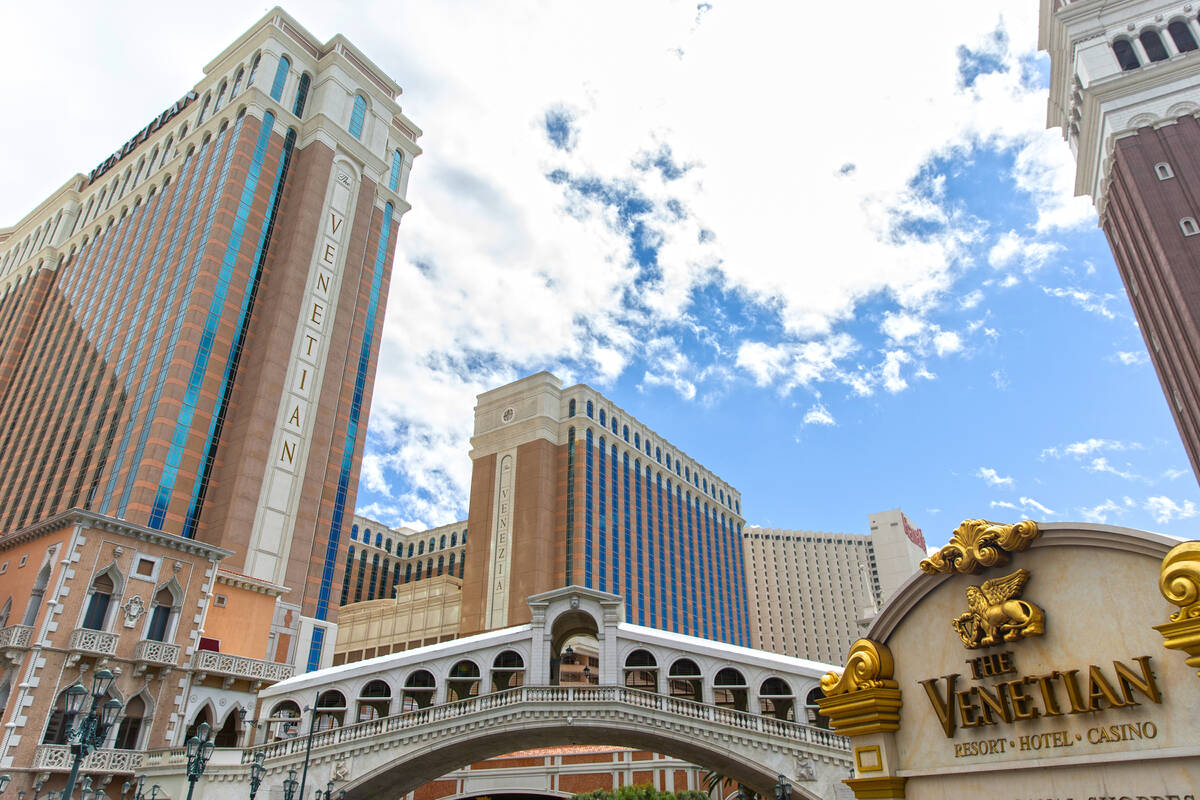 The owner of The Venetian resort plans to distribute a dividend of an estimated $620 million to investors and hand out bonuses to the resort's 7,000 employees.
The Nevada Gaming Control Board on Wednesday recommended approval of the distribution, which is required by regulation because the operating subsidiary of Apollo Global Management is a private equity investment company. The Nevada Gaming Commission is expected to consider the request Nov. 17.
Representatives of The Venetian did not specify the amount of bonuses workers will receive — saying they plan to announce it in an employee town hall meeting — but that each employee would receive the same amount.
The Control Board was required to review the distribution to be sure the company maintains an appropriate debt balance and financial stability of its operation.
Robert Brimmer, chief financial officer of The Venetian, said the resort has substantially outperformed expectations since Apollo acquired the property for $6.4 billion from Las Vegas Sands Corp. in February. The deal was first announced in March 2021.
Brimmer said the company has had higher-than-expected financial results in the hotel, casino, food and beverage, and meetings and convention business. It managed to maintain high room and occupancy rates since the Apollo team took over. He termed it as "right-sizing the capital structure" of the company and rewarding investors for their support.
He said the company intends to invest $1 billion in the property in the next three to four years by remodeling rooms and expanding and upgrading the casino floor with more slot machines.
Control Board members said they were concerned about its financial stability because Apollo hasn't had a long track record operating the company. But Apollo private equity partner Daniel Cohen said the company didn't anticipate such a large rebound from the pandemic, and it realized higher profitability after leaders got more familiar with the operations.
"When we signed this transaction about a year and a half ago in March of 2021, we were underwriting the transaction at a very different point of time in history," Cohen said. "When we closed the transaction, we were on the recovery, but we didn't know the business. We were just getting under the hood and had just inserted Rob (Brimmer) as the CFO. We didn't know all the optimization opportunity that was actually going to happen so quickly. We didn't even know what the business plan was and it took us three or four months to figure that out."
During that learning phase, Apollo also hired Patrick Nichols, an executive with The Cosmopolitan of Las Vegas, to become The Venetian's new CEO on Aug. 1.
The Review-Journal is owned by the Adelson family, including Dr. Miriam Adelson, majority shareholder of Las Vegas Sands Corp., and Las Vegas Sands President and COO Patrick Dumont.
Contact Richard N. Velotta at rvelotta@reviewjournal.com or 702-477-3893. Follow @RickVelotta on Twitter.