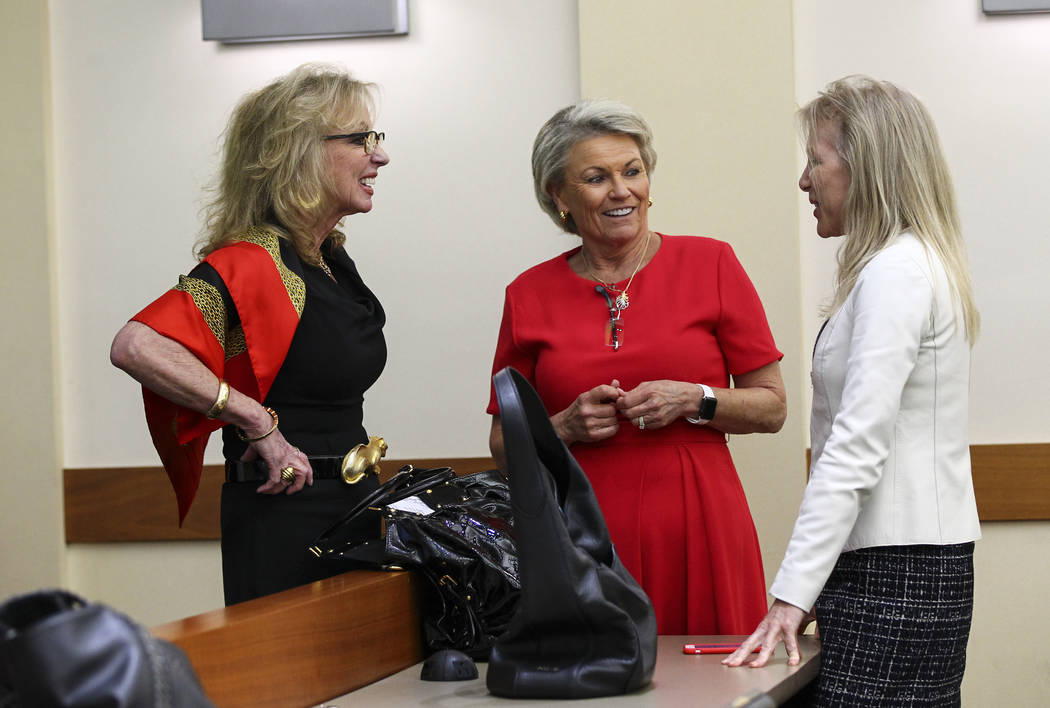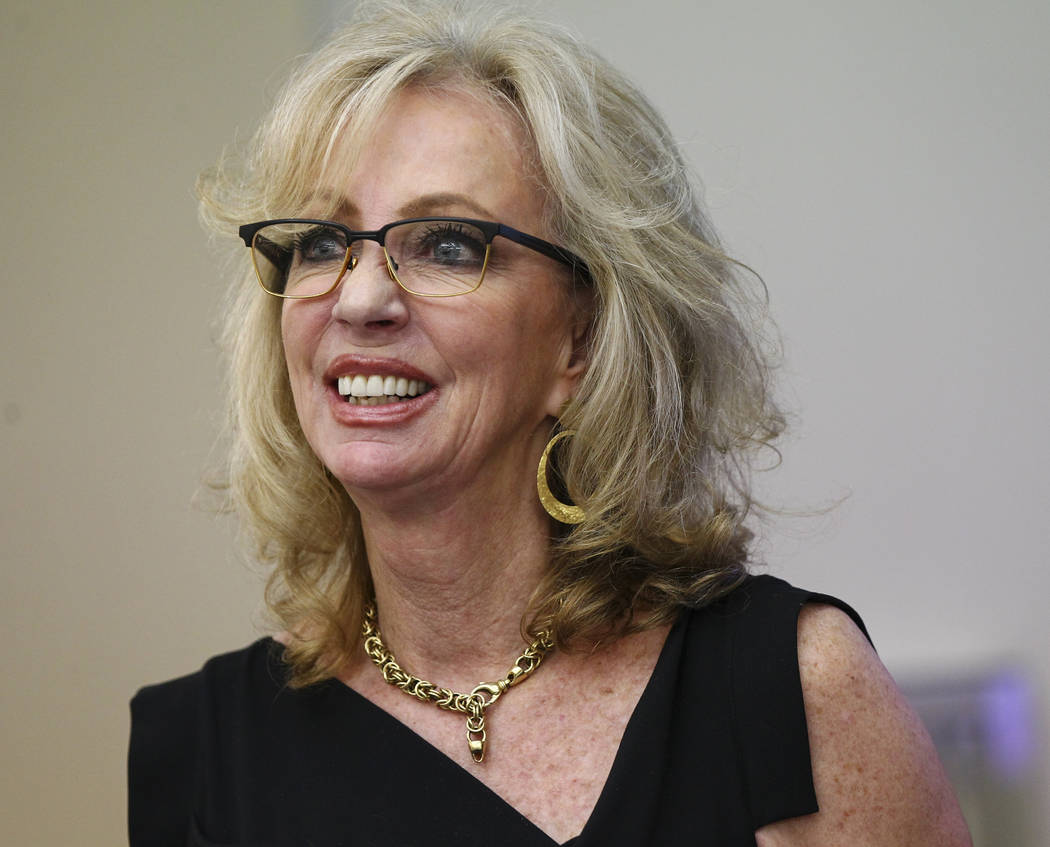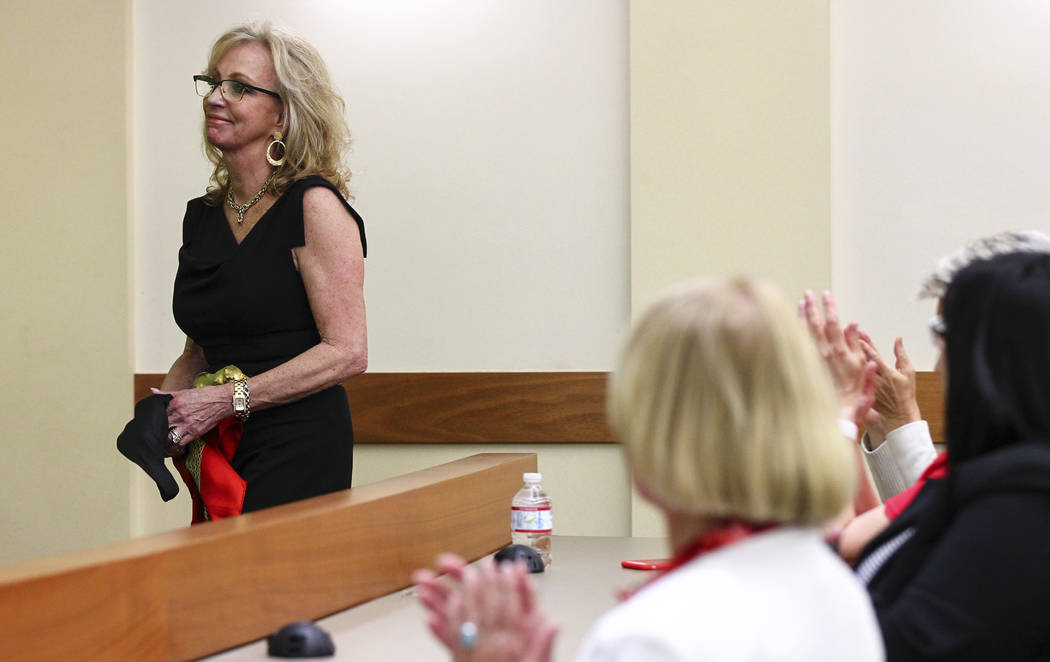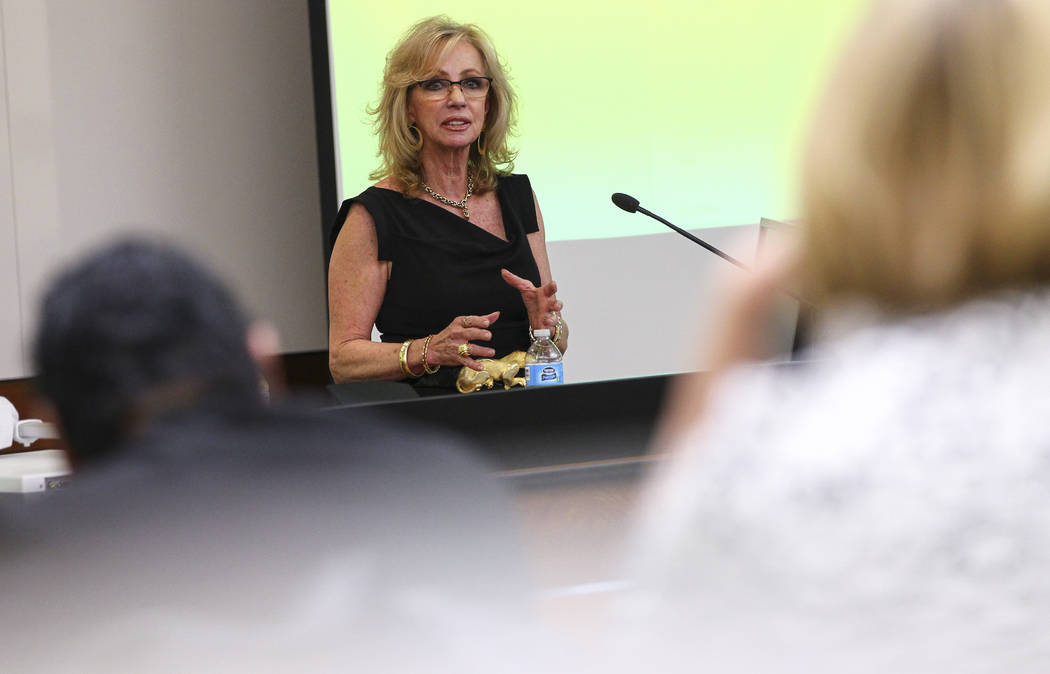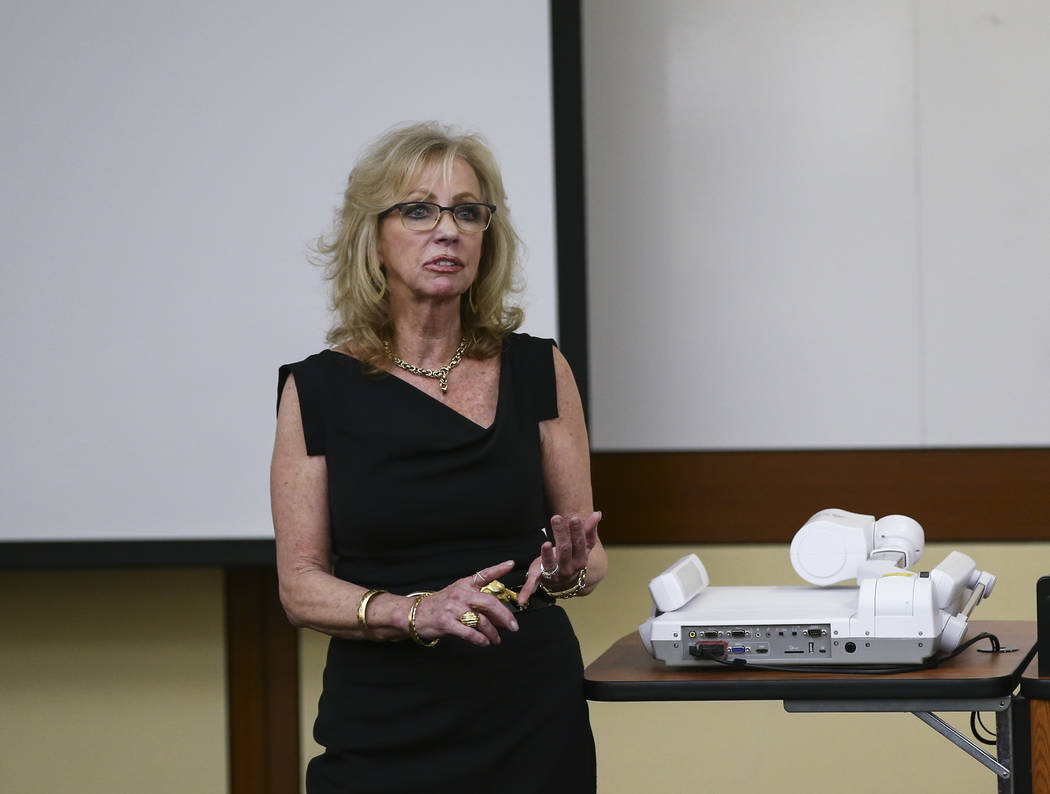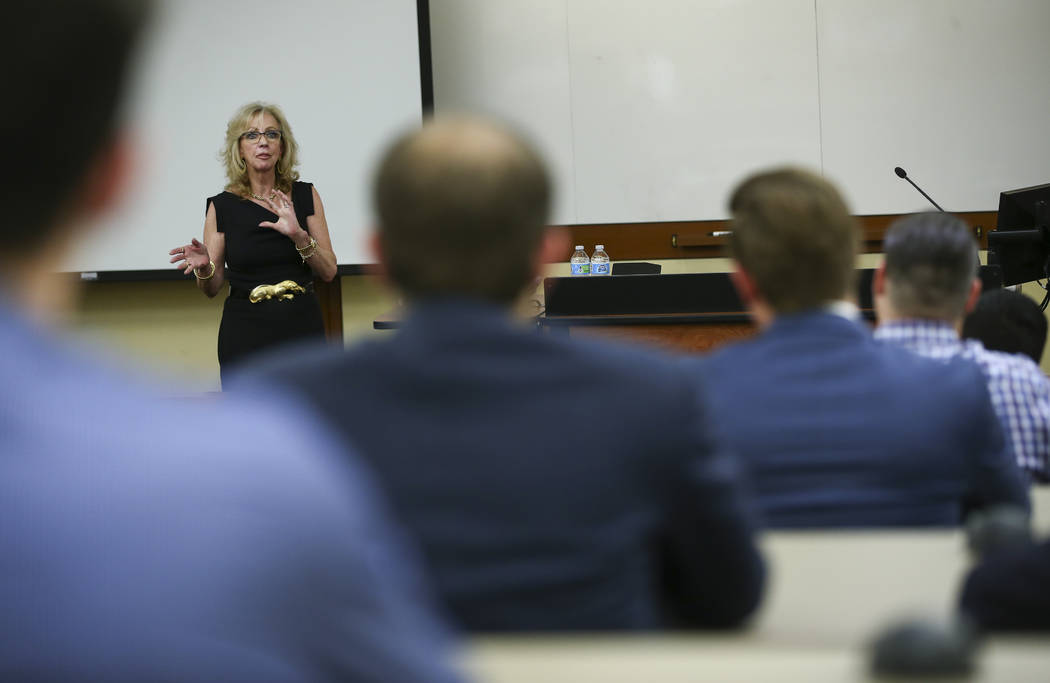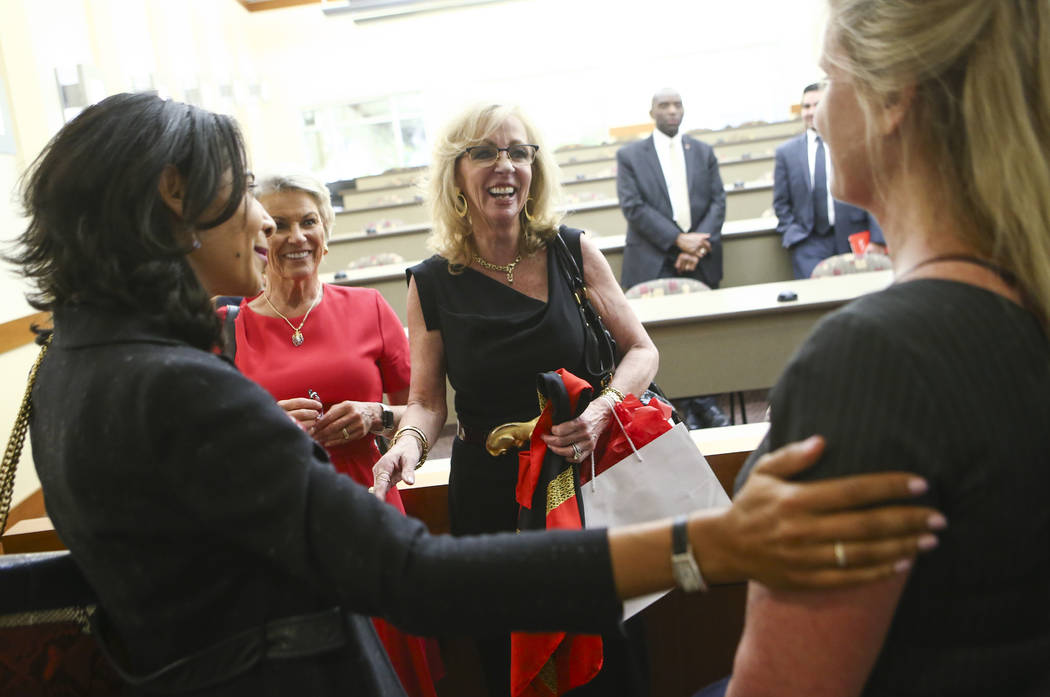 The collective willingness of visionaries to take a risk and to turn left when everyone else wants to go right has made Las Vegas what it is today, a former Las Vegas mayor believes.
Caesars Entertainment executive Jan Jones Blackhurst, Las Vegas' mayor during many of its boom years, told law students, practicing attorneys and a couple of gaming regulators that entrepreneurs willing to take a chance transformed Las Vegas from a dusty Western outpost to the U.S. epicenter of gaming and entertainment.
Blackhurst spoke late Tuesday on how entrepreneurial spirit drives innovation at the Robert D. Faiss Lecture on Gaming Law and Policy at UNLV's William S. Boyd School of Law.
Faiss, known for his kindness and eagerness to engage with students as an adjunct professor at UNLV as much as his status as one of the world's leading gaming attorneys, died in 2014.
In her 45-minute presentation, Blackhurst listed several entrepreneurs in gaming and government — Jackie Gaughan, Steve Wynn, Sheldon Adelson, Paul Christensen, Bruce Woodbury and Pat Mulroy among them — who have acted on a vision to change the face of Southern Nevada.
Big gamble
Blackhurst said a big gamble by Wynn, now chairman of Wynn Resorts, on building The Mirage cleared the way for other entrepreneurs to think big and make a difference.
"Everybody was taking bets on how quickly The Mirage would close" after it opened in November 1989, Blackhurst said.
But once people arrived by the thousands to see the place, attitudes changed.
"They realized this isn't about just building a casino and holding all the guests in it," she said. "This is about building an experience and bringing more and more people. All of that was the result of Steve believing that he had a better way to attract tourists."
The success of The Mirage resulted in a parade of new resorts developing along the Strip. It was in that time frame that Blackhurst, with no political experience, received the backing of several gaming entrepreneurs and was elected mayor in 1991, serving two four-year terms.
Blackhurst said the mind-set of Las Vegas innovators is what sets them apart from those in other cities.
"Most of them are entrepreneurs and most of them are gamblers and gamblers by their very nature look at the world differently," she said. "They look at risk-taking differently, they look at it like a bet, from a whole different perspective. And, they're braver."
Blackhurst said Adelson, chairman and CEO of Las Vegas Sands, operator of The Venetian and Palazzo on the Strip, was more interested in developing convention facilities than casinos, and developed a model to draw trade shows, conventions and meetings to Las Vegas at midweek to broaden occupancy rates.
She also praised vision in government that led to the establishment of transportation infrastructure, flood-control measures and water development.
Stadium innovation
Blackhurst, who serves on the Las Vegas Stadium Authority, believes the city's next major innovation will be development of a 65,000-seat domed stadium that will become the home of the Las Vegas Raiders in 2020.
"This will be the biggest project that will be completed in Las Vegas in a decade," she said. "And it's not just about the Raiders. (The stadium) allows us to bring in the Super Bowl, it allows us to bring in World Cup soccer, it allows us to bring in Beyonce, big-show (events) that we don't have a facility for now."
She downplays critics who say stadiums can't be economic drivers.
"They say, 'Stadiums are not economic development drivers, just look at what happened in Cincinnati,'" she said. "Well, we're not Cincinnati and the difference is we have 43 million people visit here every year."
The Review-Journal is owned by the family of Las Vegas Sands Corp. Chairman and CEO Sheldon Adelson.
Contact Richard N. Velotta at rvelotta@reviewjournal.com or 702-477-3893. Follow @RickVelotta on Twitter.
NEXT INNOVATION
Jan Jones Blackhurst said one visionary innovation that she regrets never came to fruition was the initial plan to connect downtown Las Vegas with McCarran International Airport with the Las Vegas Monorail.
But other innovations could be on the horizon:
— Consistency in gaming regulations across multiple jurisdictions is important and getting better. "I think regulatory bodies are trying to be more expedient in testing new products because what's happening is that products are changing so quickly that if you can't get past the regulatory process in getting approval to try something new, it slows down the ability to innovate," she said.
— Nationwide sports wagering is coming — but how? She'd like to see brick-and-mortar sportsbooks in Las Vegas take the lead in developing a national sports wagering system.
— Transportation will be important in the years ahead and while light-rail is a vision to many, she sees plenty of roadblocks to running a line along the Las Vegas Strip.