Wynn, MGM in talks about possible Encore Boston Harbor sale
Updated May 17, 2019 - 5:06 pm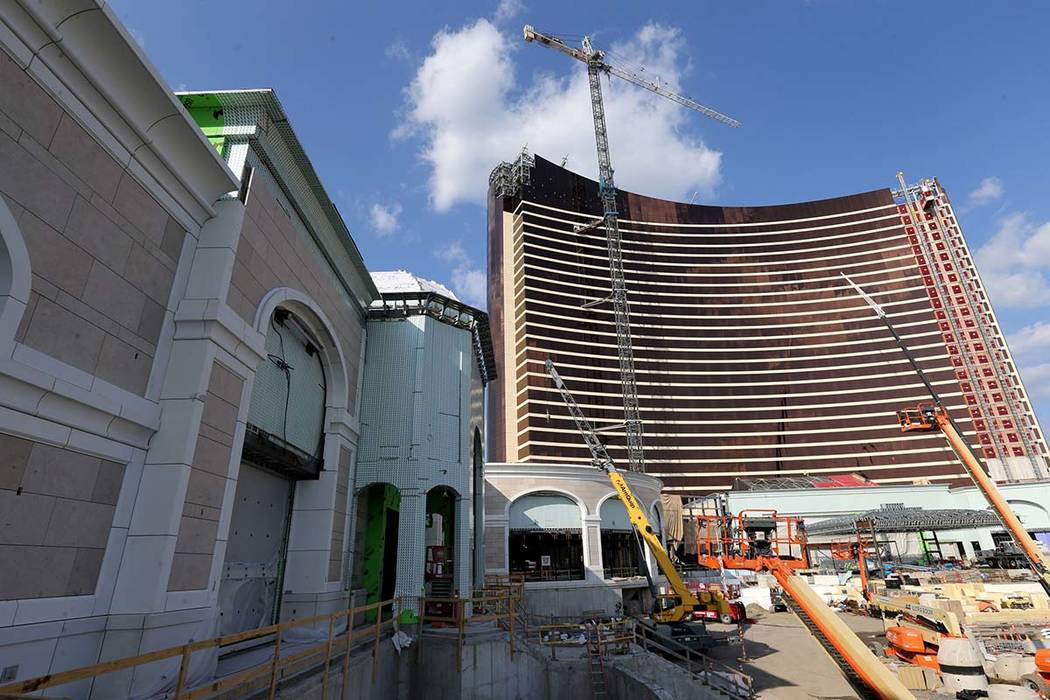 Wynn Resorts Ltd. and MGM Resorts International have had talks about Wynn selling its yet-to-open $2.6 billion Encore Boston Harbor to MGM.
The companies issued a joint statement Friday affirming the conversations, hinting they could be ongoing, but not saying what, if anything, would happen next.
The statement also didn't address a prospective price of the transaction or how MGM would pay for any deal. MGM is in the midst of a cost and expense reduction strategy it calls MGM 2020 to improve cash flow by $300 million a year by 2021, resulting in the layoff of dozens of employees.
The company also announced Thursday that it anticipates "possibly" spending up to $800 million by next May in the settlement of lawsuits from the Oct. 1, 2017, shooting at Mandalay Bay that killed 58 people.
Any deal would be fraught with regulatory roadblocks, the biggest of which could be Massachusetts' rule prohibiting one company from owning more than one casino in the state.
MGM opened MGM Springfield in the western part of Massachusetts in August.
Wynn has weathered its own struggles, being fined a record $35 million by the Massachusetts Gaming Commission in April for the company's failure to act on accusations of sexual harassment by its former chairman and CEO, Steve Wynn, and for failing to disclose a settlement in one case. Steve Wynn has denied all accusations that he harassed anyone.
Wynn Resorts, which was allowed to keep the license it first won in 2013, has until May 30 to decide if it will pay the fine or appeal the commission's sanctions in court.
Opening unaffected
The joint statement from Wynn and MGM acknowledging talks says the conversations won't affect the planned opening of the property in Everett, Massachusetts, in June.
"Over the past several weeks, we have engaged in conversations around the potential sale of Encore Boston Harbor," the statement says. "They are very preliminary and of the nature that publicly traded corporations like ours often engage in, and in fact when opportunities such as this are presented, we are required to explore. We cannot say today where these conversations will lead, however we can reaffirm our commitment to the communities where we operate today."
The statement said the people of Springfield and Everett welcomed them into their neighborhoods and that both companies take seriously the responsibility of their privileged licenses.
"Our conversations will not impact the jobs at our facilities and will not impact the opening of Encore Boston Harbor," the statement said. "Regardless of where this leads us, we will ensure that our commitments will be met, and that those who welcomed us into their communities will not be disappointed."
Some analysts speculated in March 2018, after Steve Wynn divested his holdings in the company and the company's stock price plummeted, that MGM could be a prospective suitor for the property.
Matt Maddox, then the newly appointed CEO for the company in April 2018, put those reports to rest by saying Wynn had no intention of selling the 671-room resort to MGM or anyone else. Maddox was among the Wynn executives that scouted a location for the Massachusetts property and entered the agreement with Everett in 2014.
The Massachusetts law that prohibits multiple property ownership isn't that uncommon, according to UNLV law professor Anthony Cabot, who explained that it's a regulation designed to prevent market monopolization and to promote competition.
In Massachusetts, the state is allowing only three casino resorts and one slot machine parlor. In addition to the properties in Springfield and Everett, one more license for a resort may be issued in the southeastern part of the state. The slot parlor in Plainridge Park is operated by Penn National Gaming, operators of the Tropicana and M Resort in Las Vegas.
Other complications
While the Massachusetts Gaming Commission would have to approve any transfer of gaming licenses, a swap in property ownership could have other complications.
Both Wynn and MGM have signed agreements with their host communities, Everett and Springfield. It's unclear if those cities would object to new ownership for their respective casino properties.
MGM, which stands to capitalize on the growth in sports wagering if and when Massachusetts legalizes it, bolstered its presence in the Boston area in March when it signed a multiyear gaming partnership deal with the Boston Red Sox Major League Baseball team.
MGM's logo now appears prominently on the "Green Monster," the left-field wall at Fenway Park, less than seven miles away from Encore Boston Harbor.
The stock prices of both Wynn and MGM took hits in Friday trading.
MGM closed down 64 cents, 2.4 percent, then fell another 56 cents, 2.2 percent, to end at $25.33 a share on volume slightly above the daily average.
Wynn plunged $5.89, 4.6 percent, then gained back 3 cents, less than 1 percent, after hours, ending at $131.42 a share, also on volume slightly above normal daily averages.
Contact Richard N. Velotta at rvelotta@reviewjournal.com or 702-477-3893. Follow @RickVelotta on Twitter.