Zika outbreak in Florida could unwittingly benefit Las Vegas, MGM Resorts CEO says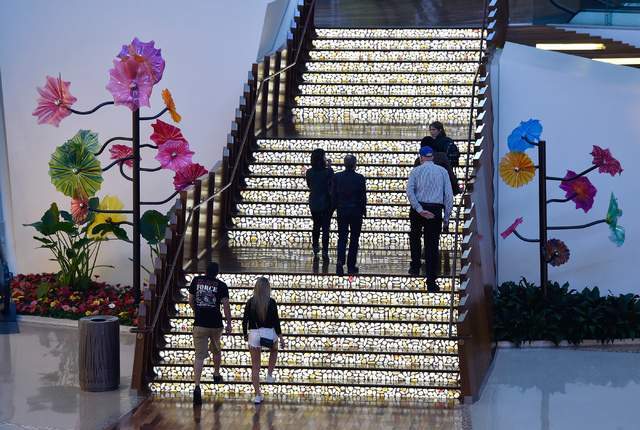 Las Vegas may unwittingly benefit from the outbreak of the Zika virus in South Florida as Southern Nevada's already seeing a surge in activity this summer, especially from Asia, business travelers and tourists from the Southwest.
That's one of the revelations Thursday during a conference call with MGM Resorts International CEO Jim Murren as he outlined an earnings report that showed the second quarter revenue dipped slightly from a year ago when Floyd Mayweather fought Manny Pacquiao at the MGM Garden Arena.
Federal health officials issued a travel warning Monday urging pregnant women against visiting a South Florida neighborhood because of an outbreak of Zika virus cases. It's the first-ever such warning by federal officials against traveling to a part of the continental U.S. due to an infectious disease outbreak.
"One of the interesting notes I got this week were comments from JetBlue that they're seeing a pickup in passenger activity to Las Vegas and maybe a slowdown to Florida," Murren said in response to a conference call question about Zika.
JetBlue isn't a large airline to Las Vegas with about 3 percent passenger share, Murren said during the call. He added there are a variety of factors why Las Vegas is seeing "strong air activity and strong drive activity" from the Southwest U.S. and from Asia, including citing pent-up demand.
"It's helping everybody in town, and not just the MGM portfolio," Murren said of the summer surge prior to the Zika outbreak in Florida. "As sad as that situation is in Florida, I certainly don't want to benefit from that. I can say we're seeing a pickup in air traffic and driving traffic even in the last couple of months.
Second quarter revenues were $2.27 billion compared with $2.39 billion in the same quarter of 2015. Thomson Reuters I/B/E/S had estimated $2.33 billion. Casino revenue for the quarter increased less than 1 percent compared the same quarter last year. But quarterly room revenue at the company's U.S. resorts increased 2 percent.
The company reported net income of $474.4 million, or 83 cents per share, in the three months ending June 30, compared with $42.9 million, or 17 cents per share, in the same quarter a year ago. Most of the profit increase came from the sale of its stake in The Shops at Crystals, giving the company a $406 million gain.
"We had an extraordinary May last year with the Mayweather-Pacquiao fight and a couple of major music festivals," Murren said. "It made for a really tough second quarter (comparison) and despite that our Strip (revenue per room available) grew 3.1 percent, which I know is below what we guided."
Murren said MGM Resorts has been hosting many customers from Asia over the last several weeks, some which they haven't seen in a while and others that are new. But he added a lot of growth has to do with group business in the current quarter that will continue into the fourth quarter. There will be a record year in for group business in 2017, he said.
"Our leisure and convention business continues to be strong. That's the bulk of where this city's hotel business lies," Murren said.
Murren said it will be tough to match the fourth quarter of 2015 when its revenue per available room grew by 12 percent. Because of the strength of the third quarter and bookings so far, the rest of the 2016 should be strong, he added. In addition, 2017 is "pacing well" and Las Vegas will benefit from the return of CONEXPO-CON AGG in March.
"It has been a remarkable summer out there. We have not seen this level of activity in terms of people in the resorts up and down the Strip ever. Layered on top of that we're seeing a resurgence in high-end gaming business to Las Vegas during a time when it's a non-traditional time to see these customers. We saw a lot of customers coming from Asia and both Mainland China and a variety of other markets in the Far East coming to Las Vegas."
MGM in a joint venture Anschutz Entertainment Group opened the 20,000-seat T Mobile Arena along the south end of the Strip in April. It will open the Park Theater, a $100 million, 5,000-seat Theater at the Monte Carlo in December.
MGM announced it's on pace for 100 events annually with about 70 this year. It will do more events in Mandalay Bay Events Center than in 2015, but have a slight decrease at the Grand Garden Arena. In total, it will have 138 events this year compared to 74 in 2015.
"If we have learned anything about Las Vegas and how different it is from the rest of the United State, special events and entertainment activity drive (room revenue growth)," Murren said.
MGM reports it is meeting targets for sponsorship and premium seating and suites and loge boxes sold out. The calendar the rest of the year includes six Garth Brooks shows, Coldplay, Drake, preseason NHL and NBA games, Kanye West, Carrie Underwood, Barbra Streisand, and the Rolling Stones.
Shares of MGM gained 28 cents, or 1.18 percent, to close at $24.06 on Thursday.
The Associated Press and Reuters contributed to this report.
RELATED
Florida finds 10 more cases of Zika from local mosquitoes
Florida reports first local transmission of Zika virus in US