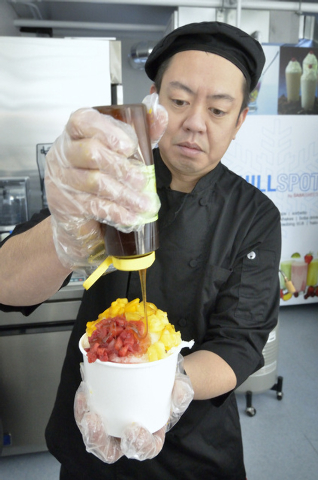 Opening ChillSpot, a frozen dessert shop in downtown's Container Park, is a good news/bad news proposition, co-owner Joe Vergara realized.
The retail center on Fremont Street, catercorner to the El Cortez, welcomed shoppers Dec. 5 as the latest Downtown Project attempt to help the neighborhood shed its seedy reputation.
"We really believe in what the Downtown Project is trying to do," Vergara said. "This is an amazing experiment."
To help it stand out, Container Park was designed to look like shipping containers stacked around a central courtyard. There's a fire-spewing metal mantis out front in case passers-by don't notice.
Vergara knows the market, long deemed a no-go zone, is unproven. It will take months, or years, to see whether enough tourists and locals will visit and generate cash flow for places such as ChillSpot.
Nevertheless, Vergara said, "In business, if you don't take a risk there is no reward. That's not just in life but business in general."
This wouldn't be the first time that he and his sister and co-owner, Liza, went out on a limb. In 2007, both were in their native Chicago, where he was a top information technology manager at the national outplacement firm Lee Hecht Harrison and she was a pastry chef. But they took their savings, left Chicago and started their own business in Las Vegas, named SasaSweets, after her childhood nickname, Sasa.
They developed a roster of restaurant clients but their business plateaued, facing fierce competition compounded by recession. By the end of 2010, they asked themselves, "Do we really want to compete with all the pastry chefs in town or do we want to carve out a better niche for ourselves?" Vergara said.
They doubled down on SasaPops, Popsicle-shaped frozen treats in an array of nontraditional flavors from watermelon to blueberry cheesecake, an outgrowth of the shaved ices they already sold. In SasaPops, main ingredients, such pineapples, would be cut up fresh, by hand, in small batches, rather than mass-produced by machine.
In 2011, they leased a pushcart during the warm months at Las Vegas Premium Outlets North — or more accurately, begged for the space, Vergara said. Then they sold the pops at farmers markets, to large commercial accounts such as Wynn Las Vegas and secured shelf space at local Whole Foods stores. Cash flow was still difficult, although SasaPops won a couple of prestigious new product awards. But it started trending upward.
The Vergaras are going into Container Park to boost sales and widen brand recognition.
"Even though this is a small space (250 square feet), it just brings validity to your business," Joe Vergara said.
The Vergaras see a chance to hone their product line, which includes fresh-brewed coffee and hot chocolate during the nippy winter. Opening a frozen dessert store in December, when temperatures run below 60 degrees, means the Vergaras may have to wait several months before sales pick up.
"It is great to have one store," Joe Vergara said. "But how do you operate one in every major city in the U.S.?"
The business, he said, must maintain a hand-crafted touch, not only for SasaPops, but ice cream and other confections, and develop large-scale profitably.
To minimize disagreements, the Vergaras each have 49 percent ownership. Their mother in Chicago holds the other 2 percent as a tie-breaking vote.
Although the business still does not gush profits, Joe Vergara doesn't worry.
"There are times I do miss the pay (from his former job)," he said. "But it's one of the sacrifices you make to pursue your dream."
Contact reporter Tim O'Reiley at toreiley@reviewjournal.com or at 702-387-5290.