Class action lawsuit filed over rooftop-solar ruling
January 15, 2016 - 3:01 pm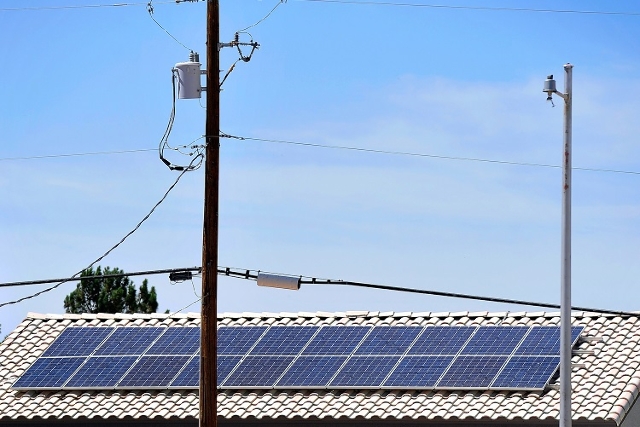 CARSON CITY — Two Las Vegas residents with rooftop-solar systems have filed a class action lawsuit in Clark County District Court over the new net metering rate approved by the Public Utilities Commission that took effect Jan. 1.
John Bamforth and Stanley Schone filed the lawsuit against Nevada Power, part of NV Energy, alleging the utility provided false and/or incomplete information to the PUC on the net metering issue.
The lawsuit says net metering customers in Southern Nevada are seeing an increase of 40 percent in their monthly service charge from $12.75 to $17.90, increasing to $38.51 by Jan. 1, 2020. The new rate schedule also reduces the credit metering customers receive for the excess energy their systems generate.
The lawsuit seeks restitution for anti-competitive actions, deceptive and unfair trade practices, monopolization over the electric utility in Nevada, price discrimination and artificial price inflation.
Schone said he invested about $42,000 in his rooftop solar system, which he would not have done if he had known the utility would act in an anti-competitive manner and charge him more just because he is a solar customer.
The new rate covers all rooftop-solar customers no matter when they installed their systems.
Both The Alliance for Solar Choice, a group of rooftop-solar firms, and the state Bureau for Consumer Protection, on Friday filed motions for reconsideration of the new rate.
The PUC on Wednesday rejected a request to stay the new rate pending a review of the requests for reconsideration.
There are 14,832 interconnected net metering customers at Nevada Power Co. in Southern Nevada, and 2,423 customers with Sierra Pacific in Northern Nevada. The companies are part of NV Energy.
Contact Sean Whaley at swhaley@reviewjournal.com or 775-687-3900. Find him on Twitter: @seanw801