Commission approves sale of 50 percent stake in Golden Gate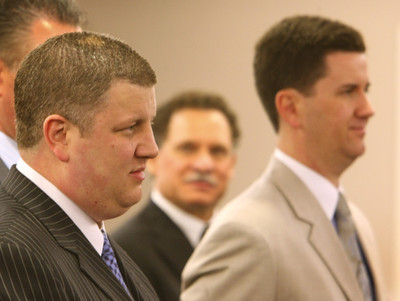 A 50 percent interest in Las Vegas' oldest hotel-casino was sold Thursday to an investment partnership controlled by two brothers whose family made their fortune manufacturing nuts and bolts in the Midwest.
The Nevada Gaming Commission unanimously approved the purchase of a 50 percent interest in the Golden Gate by Desert Rock Enterprises, which is owned by brothers Derek and Greg Stevens. Golden Gate co-owner Mark Brandenburg, whose family has controlled the downtown casino for decades, will continue to manage the Fremont Street landmark, which opened in 1906.
No sales price was given because the two groups are privately held. Brandenburg, 54, will have the remaining 50 percent interest in the hotel-casino.
"This transaction brings us the kind of financial resources and expertise that is not readily available to a small property like ourselves," Brandenburg said. "We will now be able to focus on developing the Golden Gate into a true boutique hotel that preserves the property's historic character."
Derek Stevens, 40, who serves as the CEO of Desert Rock, said he wanted to get more involved in Las Vegas investments. His family owns and operates 13 nuts and bolts manufacturing plants in Michigan and Indiana.
Desert Rock owns 19 percent of Riviera Holdings, the parent company of the Riviera, and has made several land investments in the Las Vegas Valley. Through some family trusts, Derek Stevens and his 37-year-old brother recently completed the purchase of the Las Vegas 51s, the top minor-league baseball affiliate of the Los Angeles Dodgers.
He said a visit to the Golden Gate in 2006 sparked a meeting with Brandenburg. Desert Rock plans to invest more money in the property to remodel the hotel's 106 rooms and refurbish the property's public areas by building new restrooms, adding a sound system inside the casino and enhancing the signs on Fremont Street.
"We won't touch the shrimp cocktail," Stevens said of the Golden Gate's famous menu item. "It's the best shrimp cocktail in Las Vegas."
Brandenburg said the casino's 300 slot machines were recently enhanced with ticket in-ticket out capabilities and the casino received a new operating system. A player tracking system, Club 1906, was added last year.
"We're really excited about what's happening downtown." Derek Stevens said. "We think the Golden Gate can play a big role bringing downtown back. We believe in what (Mayor Oscar Goodman) and the downtown leaders are trying to accomplish.
Derek Stevens said he recently bought a condominium in Las Vegas and plans to spend more time in the community.
The Golden Gate deal is the third downtown casino transaction in recent weeks.
In February the Siegel Group acquired the Gold Spike on Ogden Avenue for $21 million. Terry Caudill, owner of the Four Queens, recently acquired Binion's from MTR Gaming of Chester, W.Va., for $32 million. Both Caudill and the Siegel Group are embarking on renovations to enliven those properties.
Also on Fremont Street, El Cortez owners in recent years have spent about $20 million on upgrades, including signs to attract customers from Las Vegas Boulevard.
CIM Group of Los Angeles bought the Lady Luck and adjoining properties along Third Street last year and is working with the city to reopen the hotel-casino in conjunction with a mob museum under development.
Meanwhile, Landry's bought the Golden Nugget and a sister property in Laughlin for $295 million in 2005. Since then, the company has spent about $170 million on upgrades and additions. It rebuilt the pool from a concrete rectangle to an aquatic playground around a water slide and giant shark tank. It remodeled the casino, added restaurants, convention space and a nightclub and refurbished the hotel rooms.
By 2010, when Landry's completes a 500-room hotel tower, the company will have spent more on upgrades than it did to acquire both Nevada properties.
The changes, along with development of the Fremont East entertainment district, leave the Plaza, Las Vegas Club and Western Hotel, all owned by real estate company Tamares, among the few properties to not have recent upgrades or specific plans for refurbishments.
Jack Binion, scion of the Benny Binion gambling empire downtown, said he thinks the area will benefit from the upscale boom on the Strip.
"As the midlevel places get imploded on the Strip, I think it is going to drive more people downtown," said Binion, 71, whose family no longer operates Binion's. "Everybody is into nostalgia. There is a lot of nostalgia down there."
Review-Journal reporter Benjamin Spillman contributed to this article. Contact reporter Howard Stutz at hstutz@reviewjournal.com or (702) 477-3871.