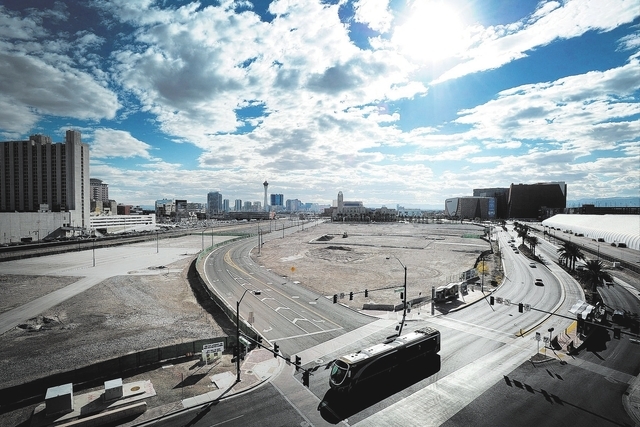 When UNLV advertised a job for $47 million worth of arena improvements at the Thomas &Mack Center a little more than a year ago, the inquiries from America's sports venue construction companies were immediate.
"When we put out a (request for proposal), it was bam, a lot of people were interested," said Mike Newcomb, executive director of Thomas &Mack, Sam Boyd Stadium and Cox Pavilion at the University of Nevada, Las Vegas. "There were 15 to 20 who expressed interest right off the bat."
With many major markets satisfied with their inventory of major sports venues, Las Vegas remains fertile ground for companies in the business of designing and building stadiums, arenas and ballparks.
Sure, there's not a big-time major-league sports team on the landscape in Las Vegas. And there still hasn't been a shovel in the ground to start construction of an arena while proposals have come and gone. (Google Chris Milam).
Yet, architects, engineers, design consultants, construction companies and project managers hungry for work have circled Las Vegas on the map because at no time has there been more major sports/entertainment buildings being planned in the region. If the projects are built, it will easily be more than a $1 billion worth of construction. Consider:
■ An 11-member UNLV stadium board studying the feasibility, size and cost of an on-campus football stadium. Nine companies from across the country applied to be the stadium evaluation project manager before the panel picked Conventions Sports &Leisures International for the $325,000 job. The UNLV panel is required to submit a stadium feasibility, funding and cost report to the state Legislature by Sept. 30.
■ MGM Resorts International and entertainment company AEG of Los Angeles partnering on a $350 million, 19,500-seat, 640,000-square-foot arena on 14.5 acres behind New York-New York on the Strip. It's scheduled to open in 2016. Kansas City-based Populous is the architect and Tim Romani of Denver is the project manager — two brand names in the national sports venue construction industry. The project includes a 10-acre park, a 60,000-square-foot entry plaza and 80,000 square feet of shopping.
■ Las Vegas City Council voting 4-3 to give developer Cordish Cos. until June 1 to finish a funding package to build a $390 million arena at Symphony Park. The funding structure includes at least $187 million in city-backed bonds and $151 million from Cordish, but the project is $52 million short of the $390 million.
■ Former UNLV basketball player and Las Vegas businessman Jackie Robinson proposing a $690 million arena as part of a $1.3 billion privately funded resort complex on the Strip next to the under-construction SLS Las Vegas hotel-casino. The arena architect is Brett Ewing of Cuningham Group Architecture.
■ New owners of the Triple-A Las Vegas 51s baseball team suggesting the city, Clark County and the Las Vegas Convention and Visitors Authority join forces to float $65 million in bonds to pay for a new 51s ballpark near Red Rock Resort. Businessman Steve Mack, the public face of ownership group Summerlin Las Vegas Baseball Club LLC, said he is talking with city, county and convention authority officials about the proposal.
■ South Point Arena &Equestrian Center building a $30 million addition that will house added space for the equestrian center and a new professional bowling tournament venue. The arena space is on the first level, and the bowling area will be on the second level. South Point hired Leo A. Daley as the architect and Gillett Construction as the construction manager, said Steve Stallworth, general manager of the South Point Arena &Equestrian Center.
■ Thomas &Mack Center undergoing $47 million in improvements to mechanical systems, main concourse and restrooms.
Most of these projects are in the planning phase, with millions of dollars already spent on renderings, architect fees, consultants, engineers, economists and contractors.
For every company that scores a job to design, plan or build a sports facility, there are many more making cold calls. UNLV has fielded quite a few, said Gerry Bomotti, UNLV senior vice president for finance and business.
"Certainly there have been many groups that have alerted us that they have great experience with designing, or constructing, or managing, or marketing stadiums, and so over the past year or so we probably have had cold calls from a couple dozen groups," Bomotti said.
In all, UNLV will spend about $500,000 on the planning of its proposed on-campus football stadium, including the $325,000 for a maximum contract with CSL International of Plano, Texas.
When UNLV worked with private developer Majestic Realty on a previous unsuccessful $900 million stadium proposal, the university received $425,000 for reimbursement of its stadium planning costs thanks to slot machine tax revenue collected by the state and distributed to recipients such as UNLV.
State law allows the state to charge $250 per slot machine every year as an excise fee. In the 1970s, the federal government used to collect this tax but Nevada successfully lobbied to get it redirected to the state. That revenue source allowed UNLV to build the Thomas &Mack Center in 1983 and the Lawler Center at University of Nevada, Reno, Bomotti said.
A most recent state bill allocated $46 million in slot machine revenue to UNLV, Bomotti said.
Those slot machine tax dollars are helping UNLV pay for its $47 million Thomas &Mack Center improvement project, including the fees for four companies: Klai Juba, executive architect; Sink Combs Dethlefs and Woods Bagot, design consultants; and Whiting Turner, construction manager.
On the proposed on-campus football stadium project, vendors paid by UNLV included stadium consultant Mark Rosentraub of the University of Michigan for economic impact work; Richard Browne and Sterling Project Development for due diligence work; Snow Management Services, also for due diligence; and Capital Airspace for airport-related issues.
Bomotti said UNLV also worked with other vendors that Majestic Realty directly hired during the previous stadium proposal, including architects Dan Meis and Populous, RCG Economics, Turner Construction, Eiman Consulting and consultant Guy Hobbs.
CSL, UNLV's currrent stadium consultant, has generated hundreds of thousands of dollars from doing work in Las Vegas on previous projects.
The company has worked on the Las Vegas Convention Center master plan, Treasure Island convention needs, the Las Vegas/Clark County/UNLV arena and stadium needs study, the city's proposed downtown arena and the 51s' ballpark concept in Summerlin, said Bill Rhoda, president of Legends Global Planning, which oversees CSL.
"I would say that vendors and contractors probably view the Vegas sports market as one that has the opportunity to sport a variety of uses and configurations, but has its unique challenges (of coming up with viable financing plans)," Rhoda said.
What's intriguing about Las Vegas is that all the sports venues are being planned without a major-league tenant lined up.
With that in mind, Rhoda noted, "There are a number of municipalities that have built arenas without major tenants (such as a major-league team), but very few to the extent of $250 million to $350 million."
The MGM/AEG arena on the Strip has hired two well-known arena design and construction names in the industry — Populous and Romani's company, ICON Venue Group, to oversee the construction project. Romani's previous sports venue projects include U.S. Cellular Field (formerly Comiskey Park) in Chicago and the Pepsi Center arena in Denver. Populous has designed hundreds of arenas, stadiums and ballparks in the U.S.
Rick Arpin, MGM Resorts senior vice president-corporate controller and a pointman on the MGM-AEG area project, said he fields calls from companies looking for work.
"In particular, providers of arena elements, such as audio visual equipment, seating, communications, furnishings," Arpin said.
Once the sports venues are built, construction firms, architects and consultants will have to sniff for work in other markets.
"These things go in waves, so once that cycle is done it is hard to see significant growth," Arpin said.
Contact reporter Alan Snel at asnel@reviewjournal.com or 702-387-5273. Follow @BicycleManSnel on Twitter.
ARENA DISCUSSION
The topic of stadiums and arenas will be under discussion Feb. 24 when the Las Vegas Review-Journal hosts its Hashtags & Headlines policy luncheon 11:30 a.m.-1 p.m. at Texas Station.