Company expands newspaper holdings, raises shareholder dividend
February 26, 2015 - 5:04 pm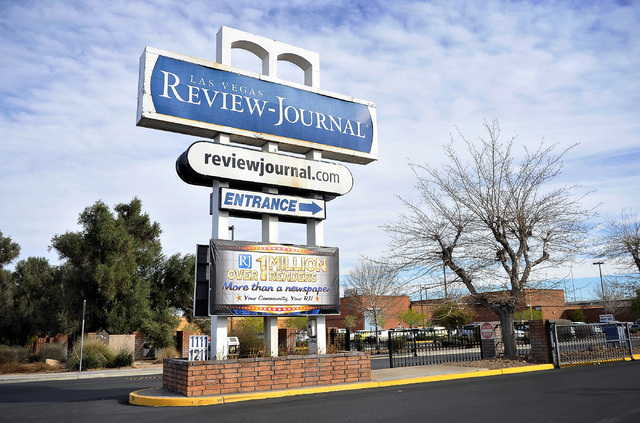 Don't tell Michael Reed newspapers are dying.
Reed, president and CEO of New York-based New Media Investment Group, will have bet more than half a billion dollars on print publications by next month, when New Media is scheduled to close on its purchase of Las Vegas Review-Journal parent Stephens Media of Arkansas.
And on Thursday, a week after New Media announced the Stephens deal, company officials released fourth-quarter earnings outlining how their business model is paying dividends and positioning the business for growth. In an earnings conference call, Reed pointed to research showing that more than two-thirds of people in small communities read a local newspaper at least once a week, while more than half of U.S. adults say they've made shopping decisions based on newspaper ads.
"We hear far too often that newspapers are dead, or no one reads newspapers anymore. It's easy to say that. It might be cool to say that," Reed said. "However, the facts don't support that."
In the quarter that ended Dec. 28, New Media reported net income of $11.5 million, or 31 cents per share, on revenue of $186.8 million. The results beat analyst expectations, which Capital IQ set at 27 cents a share on revenue of $180.3 million.
New Media's quarterly revenue increased 16.5 percent compared with $160.4 million in the fourth quarter of 2013.
The company, which went public in February 2014, also announced a quarterly cash dividend of 30 cents per share, up 11.1 percent from the third quarter.
Print has been an important driver of New Media's yearlong expansion, which will total $540 million spent on eight deals when the $102.5 million Stephens agreement is complete. New Media is funding the Stephens buy with cash and available credit.
New Media is already America's largest owner of daily newspapers, with 117 titles. Post-Stephens, that will jump to 125, or 9 percent of the nation's 1,380 dailies. The company's 1.6 million Sunday print subscribers will rise to 1.9 million.
Include community and niche publications, and New Media today has 490 publications in 415 markets in 31 states.
But print isn't nearly everything for New Media. The company's earnings report emphasized Propel, a digital-marketing platform to help smaller businesses build an online presence and customer base. Propel handles website design, social media, search engine optimization, reputation monitoring and display advertising — all functions that small businesses lack the time and expertise to oversee themselves, Reed said.
Propel's revenue spiked 171 percent in the fourth quarter to $5.6 million. The initiative made up just 3 percent of the company's annual revenue, a share that could climb with the long-term shift away from traditional print advertising, Reed said.
New Media's total quarterly digital revenue grew to $16 million, a 14.2 percent gain year over year on a same-store basis. That's compared with an average of 6.3 percent growth in prior quarters.
Other New Media platforms include car-sales website BestRide.com; a Sunday Select program that helps advertisers reach nonsubscribers; and the Center for News and Design in Austin, Texas, where the company has centralized copy editing and layout functions. All initiatives are "contributing to results and will continue to do so for many quarters to come," Reed said.
New Media has also seen classified revenue halt its yearslong slide with recent gains in obituaries and legal announcements, as well as mild improvements in auto, real estate and job classifieds.
"We do not believe local print classified will become a growing category in the very near future, but we are seeing signs of continued stabilization," Reed said.
The newspaper industry isn't finished with shakeouts. In fact, New Media itself is a product of upheaval. It arose in November 2013 from a restructuring of $1.2 billion in debt belonging to GateHouse Media.
But Reed said smaller newspapers — New Media's dailies average a circulation of 30,000 — are proving more resilient than publications in large markets. So New Media, which is managed by Fortress Investment Group affiliate FIG LLC, will continue to buy up small- to midsized titles through 2015 and beyond. Within two years, the company plans to have spent $1 billion on acquisitions since going public.
New Media's shares rose $1.45, or 6.14 percent, Thursday to close at $25.07 on the New York Stock Exchange.