Consumer spending gains lift U.S. fourth-quarter growth
December 23, 2013 - 3:02 pm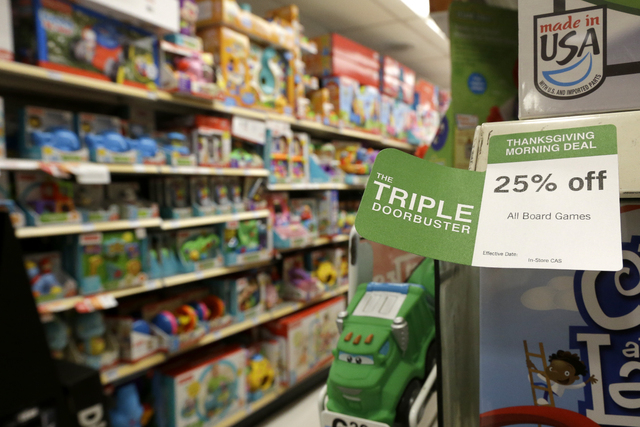 WASHINGTON — Consumer spending rose in November by the most in five months as discounts lured early holiday shoppers, giving the U.S. economy a boost at the end of 2013.
Purchases increased 0.5 percent after a 0.4 percent gain in October that was larger than previously estimated, the Commerce Department reported Monday. Other data showed consumer sentiment climbed in December to a five-month high.
Record stock prices and a rebound in home values are boosting wealth among upper-income Americans, benefiting retailers such as Neiman Marcus. At the same time, the job market is strengthening, which means spending advances will become more broad-based, enabling the world's largest economy to pick up in 2014.
"Jobs are growing, confidence is growing, households and asset values are climbing," said Paul Edelstein, director of financial economics at IHS Global Insight Inc. in Lexington, Massachusetts, who correctly projected the gain in spending. "There appears to be some sort of gathering momentum in the economy."
Stocks rose, with benchmark indexes extending all-time highs, as Apple Inc. rallied. The Standard & Poor's 500 Index climbed 0.5 percent to 1,827.63 at 11:22 a.m. in New York.
The Thomson Reuters/University of Michigan final index of consumer sentiment climbed to 82.5 from 75.1 in November. That matched the preliminary reading issued earlier this month.
The survey showed a pickup in buying plans because of retailer discounting and more favorable views of the economy. Consumers' attitudes toward the purchase of homes, cars and other durable goods improved along with their finances, according to the report.
"Moods are getting better and we're starting to see consumers get a little more active," said Michael Moran, chief economist at Daiwa Capital Markets America Inc. in New York, who correctly predicted the confidence index. "We may have a chance to see one of the best quarters for spending so far in this expansion."