8 venues, 2.1M square feet, 100K attendees: CES 2023 opens in Las Vegas
Updated January 5, 2023 - 6:44 pm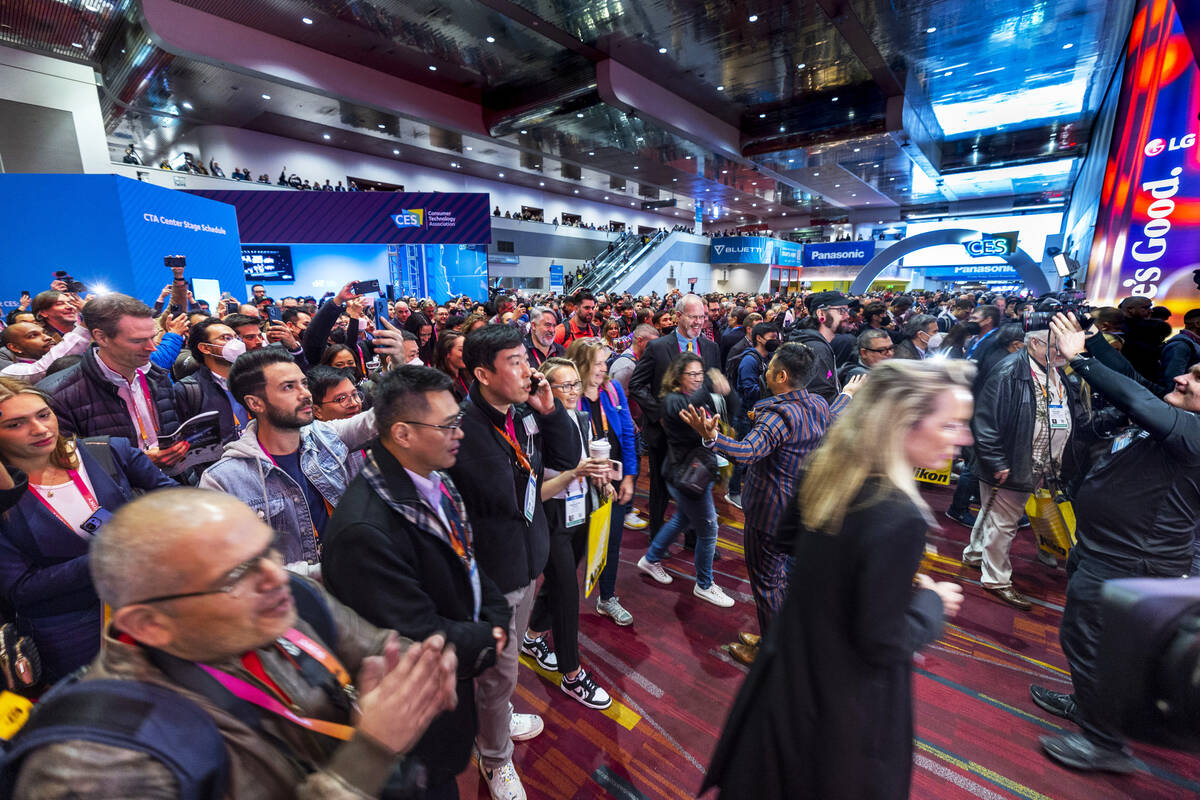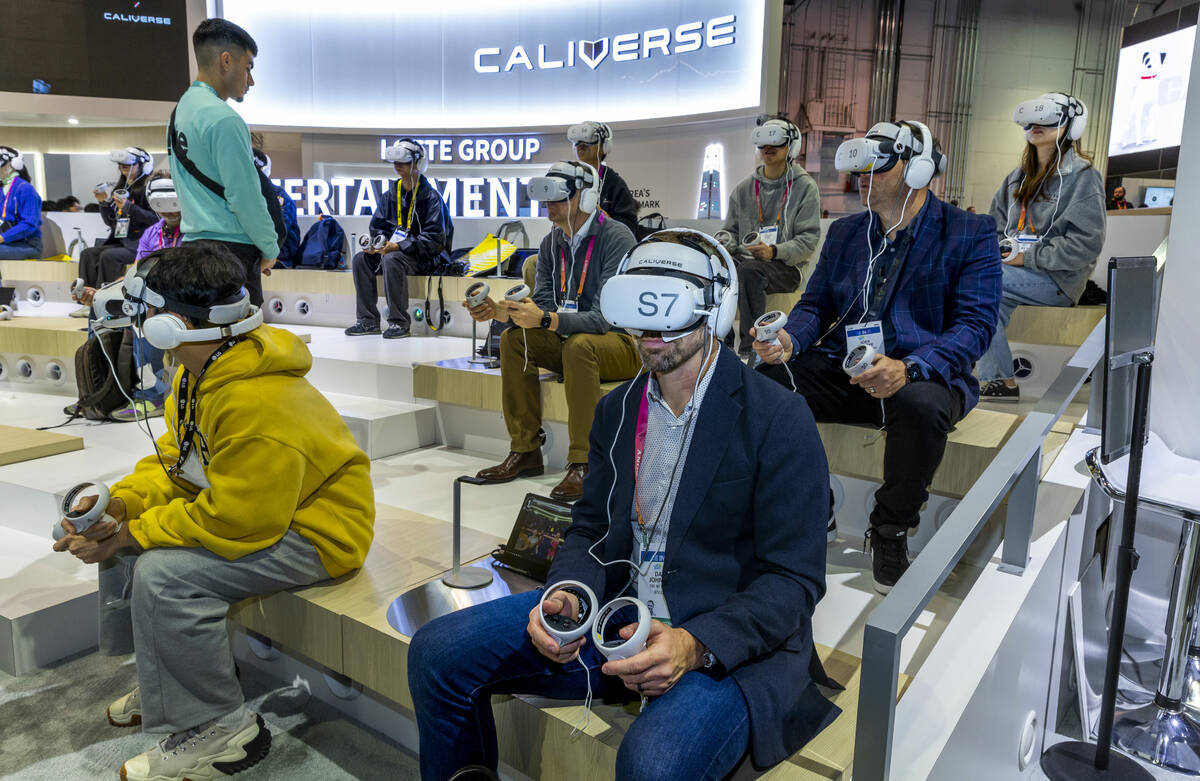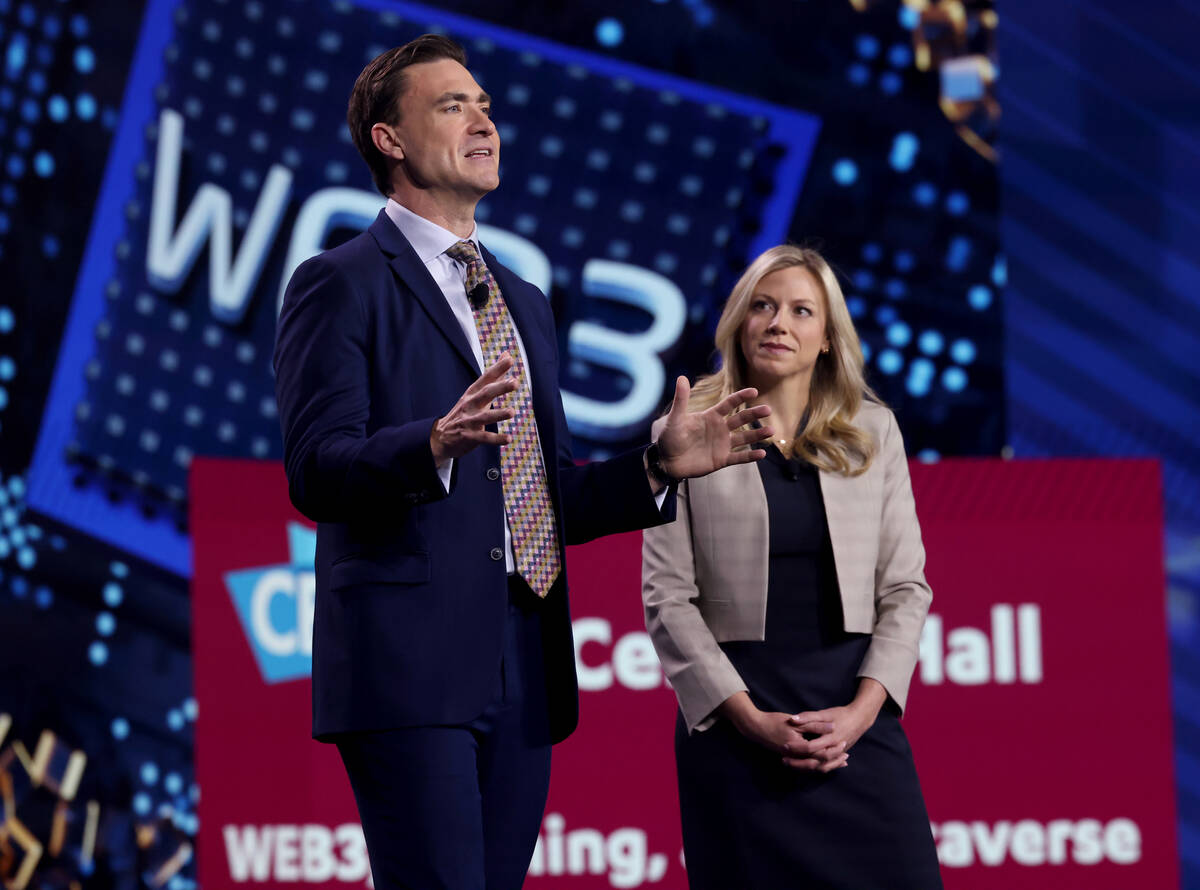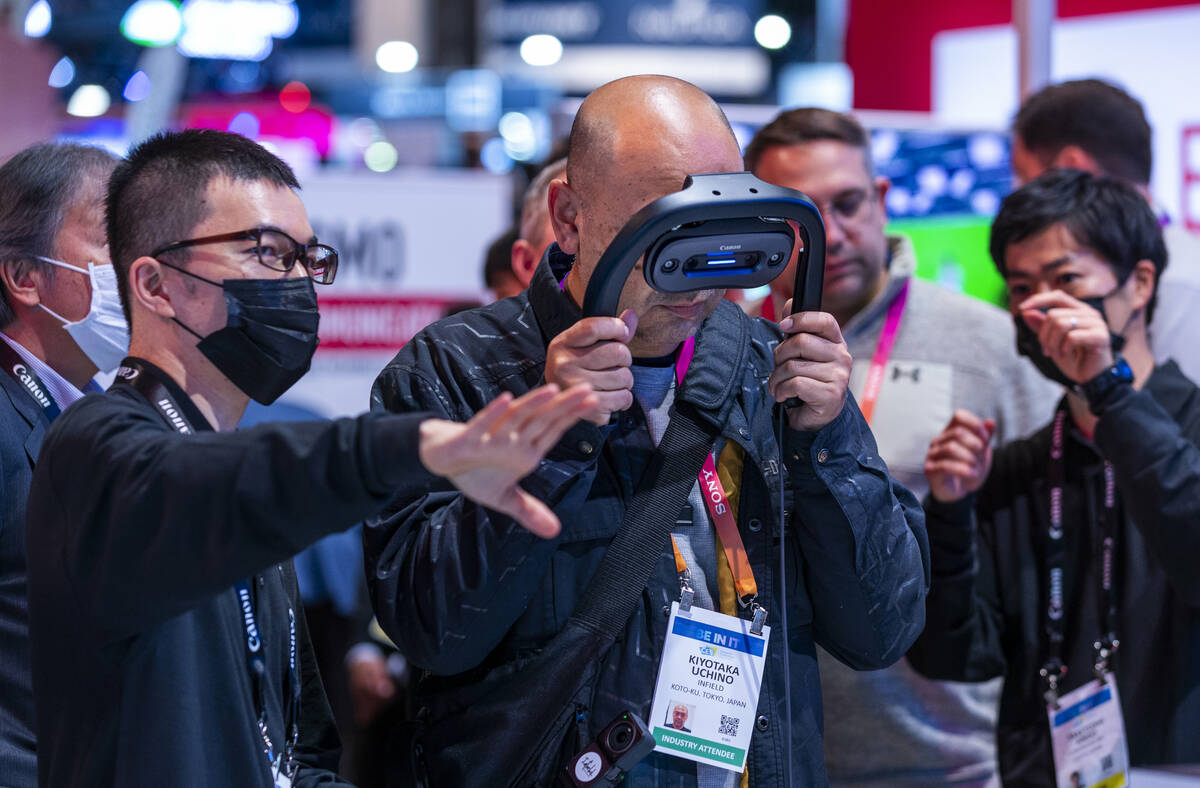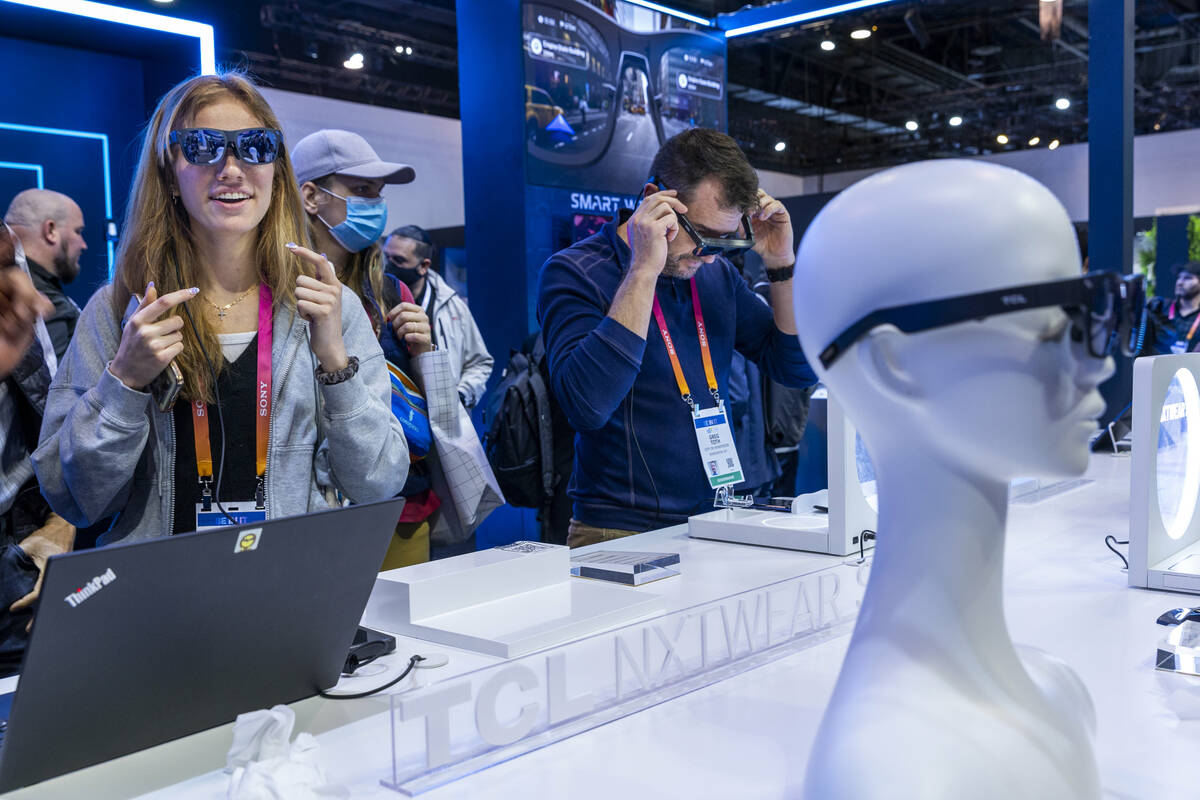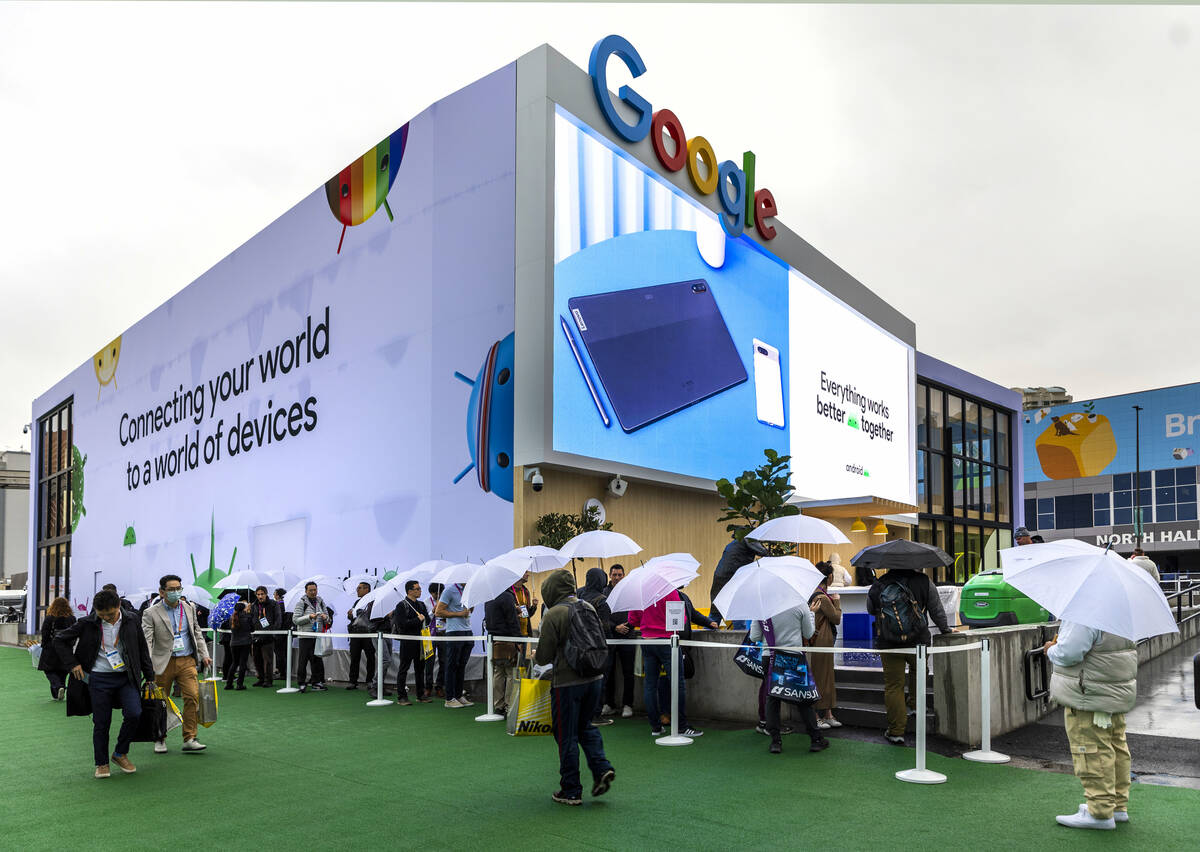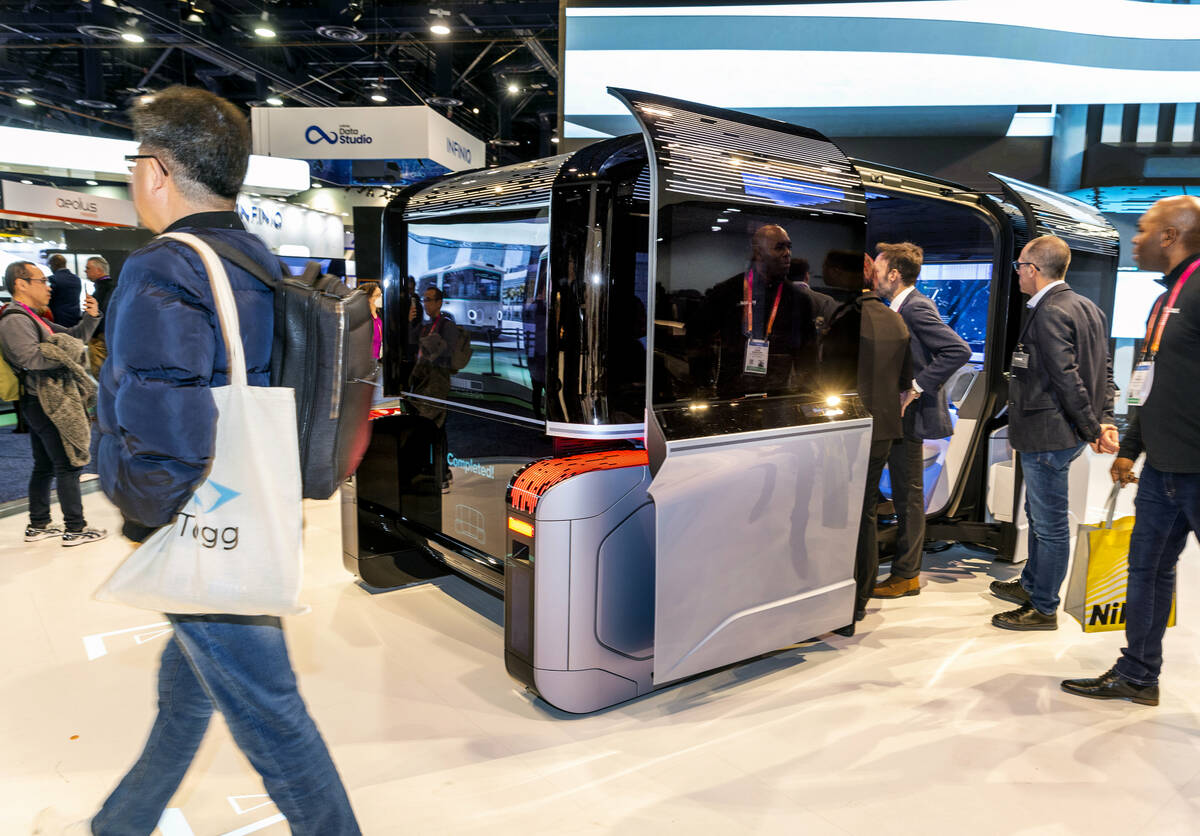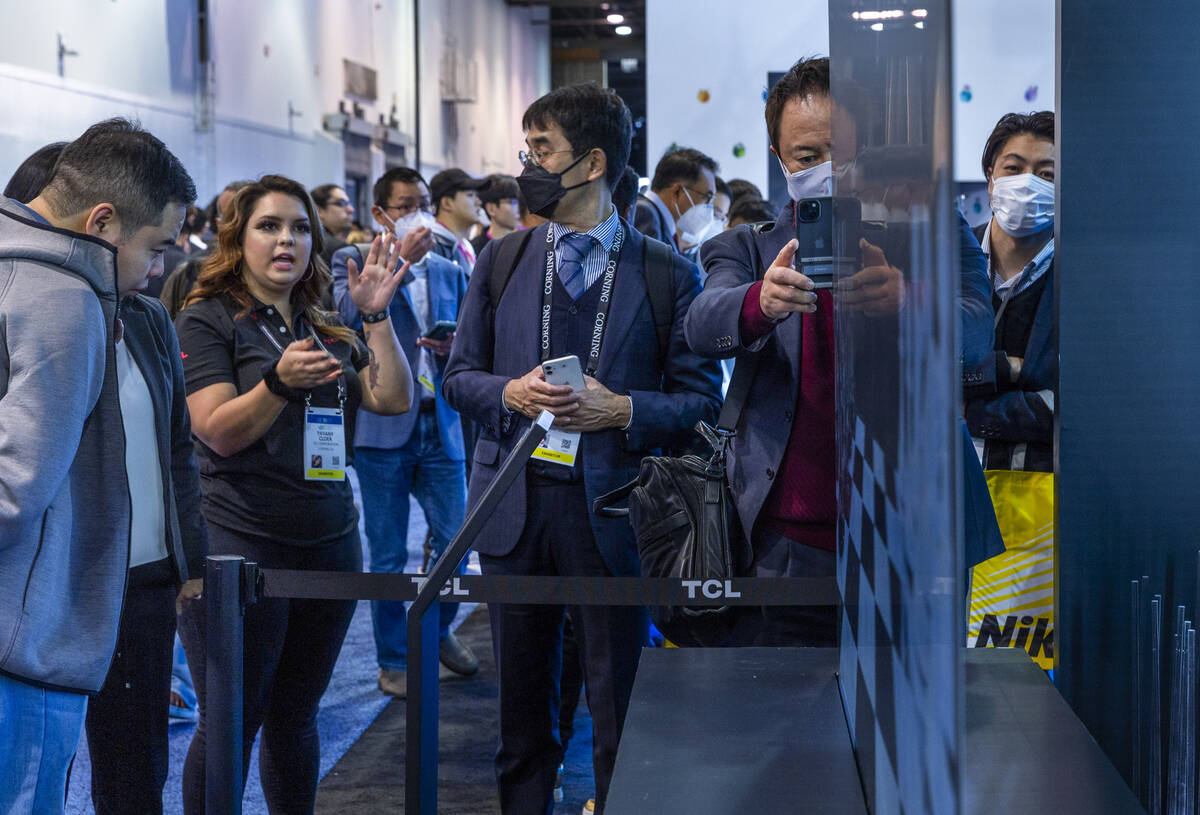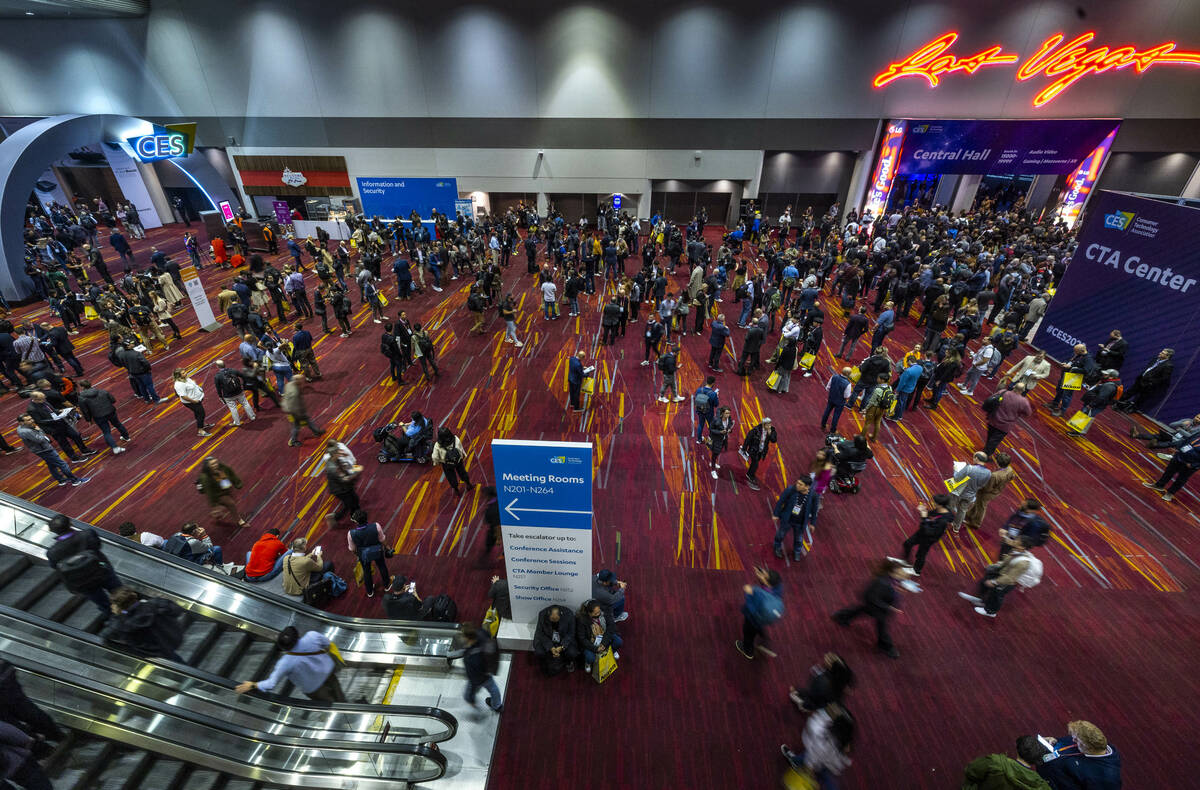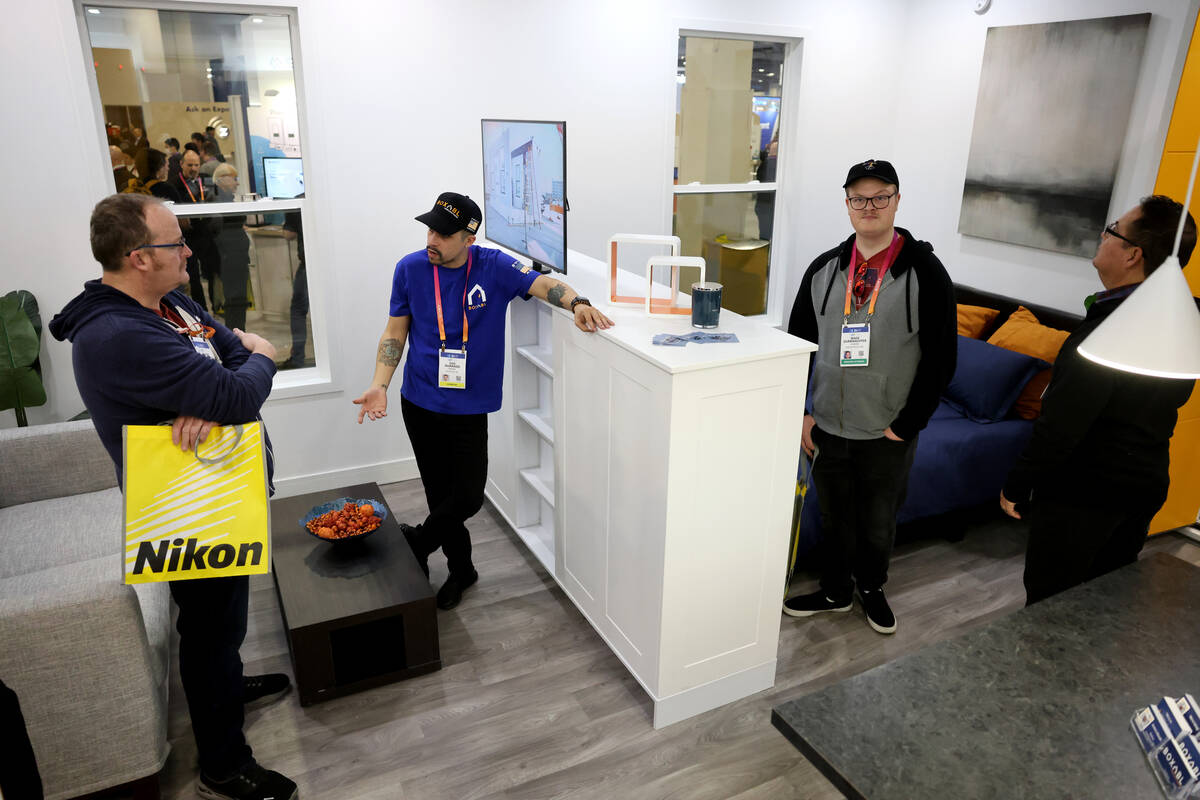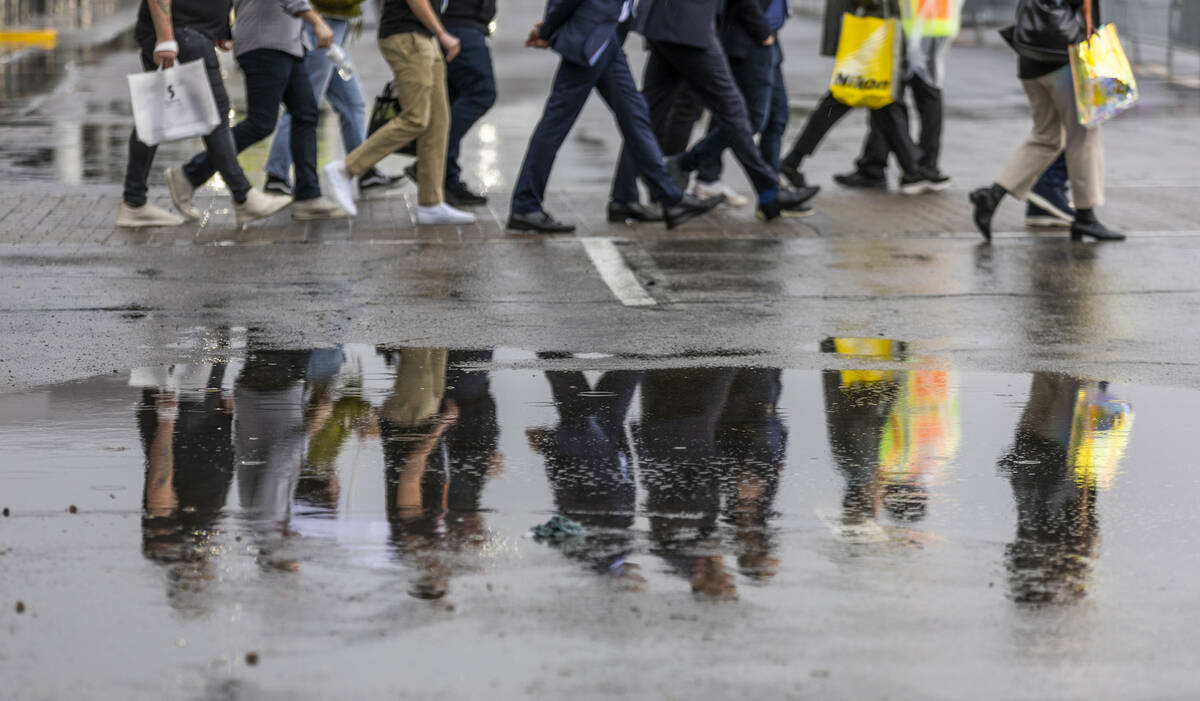 Despite the cloudy weather and bouts of heavy rain, thousands flocked to the Las Vegas Convention Center on Thursday morning for the first day of CES, where hundreds of new gadgets and technology were on display.
It also marked the first time the annual technology trade show, formerly known as the Consumer Electronics Show, was operating closer to its pre-pandemic level. The Consumer Technology Association said it expects about 100,000 attendees at its show this year — more than twice the attendance of CES 2022, though still short of the estimated 180,000 visitors who arrived for the 2019 event.
John Kelley, CTA's vice president and acting CES show director, said CES 2022 was drastically cut down in size due to COVID-19 concerns, mainly going virtual while also shortening the event from four days to a three-day show.
Kelley said the size of this year's show is about 70 percent of its pre-pandemic versions. In total, CES is taking up more than 2.1 million square feet of space across eight venues on the Strip, including the Convention Center, with over 3,200 exhibitors, according to Kelley.
While this year's iteration is a hybrid event with several keynotes and panel sessions available to livestream, a glance across the Convention Center's exhibit floor shows most attendees appear to have opted for the in-person experience. But some visitors like David Dewitt still feel there's room for the show to grow, noting that the crowd seemed smaller compared to pre-pandemic years.
Dewitt, an engineer at Honda Motor Co., was at CES for the fifth time, but it was his first visit since the pandemic.
"It seems smaller now," he said. "The Westgate pavilion used to be full, and now it's not."
Still, Dewitt described the show as "overwhelming" and something that takes multiple days to take in properly. He's attending CES with seven other Honda employees.
'Sensory experience'
Kelley said CES 2022 was heavily focused on touting its virtual attendance options, but this year, is slightly different.
"CES is a sensory experience," he said. "It's something that you can't replicate in a virtual environment. You have to see the products. You have to test the products."
There was no shortage of innovative products and dazzling displays including a floor-to-ceiling "Holographic Human" by Hypervsn that captivated attendees, countless virtual reality displays taking visitors into the metaverse and autonomous robots.
The scale of the show impressed first-timers like Michael Murray, a sales engineer for Tennessee-based Smart Systems, which sells smart home systems such as touchpads and home theaters.
He described the show as "massive," and said it was an opportunity to get a jump on which products and suppliers Smart Systems should be eyeing.
"I wanted to get ahead of the consumer product industry in order to get a sense of the new products," Murray said. "All the products that are going to be sold next year will debut here."
Putting the show right after the holidays helps CES create a reputation for outlining the development of technology for the next year, according to Kelley.
"Being at the beginning of the year, I think it helps set the tone for what the tech industry will potentially look like for the year," he said.
Grabbing global exposure
Several exhibitors said CES was an opportunity for them to introduce and grow their brand to the world.
Kelley said that CES has deliberately tried to make itself the premiere global tech event and that of the 100,000 attendees one-third are coming from outside the U.S.
"People from all over the world come here, all of them looking for new ideas to see what's next in technology," Kelley said.
Conor Moloney works as an IT manager at Rayn Technologies, a security technology company, and traveled from Limerick, Ireland to attend CES for the first time.
"They sent me here just to see anything related to security that we could use," Moloney said. "I'm just trying to absorb everything."
Chinese company Ugreen attended CES to establish a presence in the west, according to Frederick Rollins, Ugreen creative marketing manager. The company is based in Shenzhen, China, near Hong Kong, and has products such as charging cables and portable 1,200-watt power stations.
"We are trying to get as much media exposure as possible in order to grow our brand and find more customers," Rollins said.
It's a move that will be key for most tech companies this year, especially those in the U.S. as a growing number of tech firms announce layoffs. Most recently, Salesforce announced this week that it would cut about 8,000 jobs, or 10 percent of its workforce. Even CTA noted in a Tuesday report that it "anticipates a looming recession and inflation will weigh against consumer spending in the coming year," despite noting that the consumer technology industry revenues will remain about $50 billion above pre-pandemic levels.
Future of CES
Grabbing the attention of attendees and the media can be difficult to pull off, said Justin Lee, chief brand officer of South Korean firm Arbeon. The company is launching an augmented reality-powered social media app that allows users to snap a picture of an object and engage with other users through 3D characters, as well as shopping features.
"There are so many people here it's hard to engage," Lee said. "We've made sure to get giant LED screens and video examples to catch people's attention."
But even with the dazzling exhibits, the 2023 show just wasn't the same for Maxwell Hinson, lead technical marketing engineer at Green Hill Software, whose company was exhibiting at the show. Hinson has attended CES eight times and said the security software company attends CES to connect with customers and see what competitors are doing.
He said this year's event isn't at the same scale as pre-pandemic shows, but he was grateful it's finally picking up steam.
"It's a great show, and I'm happy to see the attendance being what it is," Hinson said. "Hopefully, it will grow in the future and get back to what it was."
Contact Sean Hemmersmeier at shemmersmeier@reviewjournal.com. Follow @seanhemmers34 on Twitter.
The Consumer Technology Association, producers behind the massive electronics trade show CES, kicked off the first day of the four-day show by introducing its first-ever theme — "human security for all," or the idea that technology innovations can protect human rights.
CES exists to show how innovations promise to change the world and make it better, CTA CEO Gary Shapiro said in his opening keynote at The Venetian Expo Thursday morning.
Shapiro pointed to smart homes that help create energy efficiency, virtual reality headsets and even artificial intelligence that can write with a human voice, joking that the AI chatbot ChatGPT wrote his speech.
To further illustrate advancements in tech, John Deere CEO John May explained how the heavy equipment manufacturer has been using forward-looking technology since 2000, when it integrated GPS guidance in its tractors. The company received an innovation award at this year's show for its autonomous tractor.
The company is looking for other ways to automate farming, construction and earth-moving. May highlighted its use of stereo cameras, sensors and machine learning on other large-scale equipment that made for more precise fertilization and weed control. And its data storage abilities allow farmers to make decisions based on historical information.
Technology was implemented in the equipment out of necessity, May said. Farmers need robots and data to address labor shortages, identify problems and deal with other challenges.
"In the past, farmers would grow more by using more — bigger machines, more horsepower, more seeds and more nutrients," he said. "This approach alone doesn't work today. There's less arable land, less rural labor, less time to do their jobs, due to weather volatility and rising input cost. Technology is the solution to these challenges. Technology allows farmers to create more with fewer resources."
— McKenna Ross