Transparent TVs and electric boats on display at CES media preview
January 4, 2023 - 7:55 pm
Updated January 4, 2023 - 10:08 pm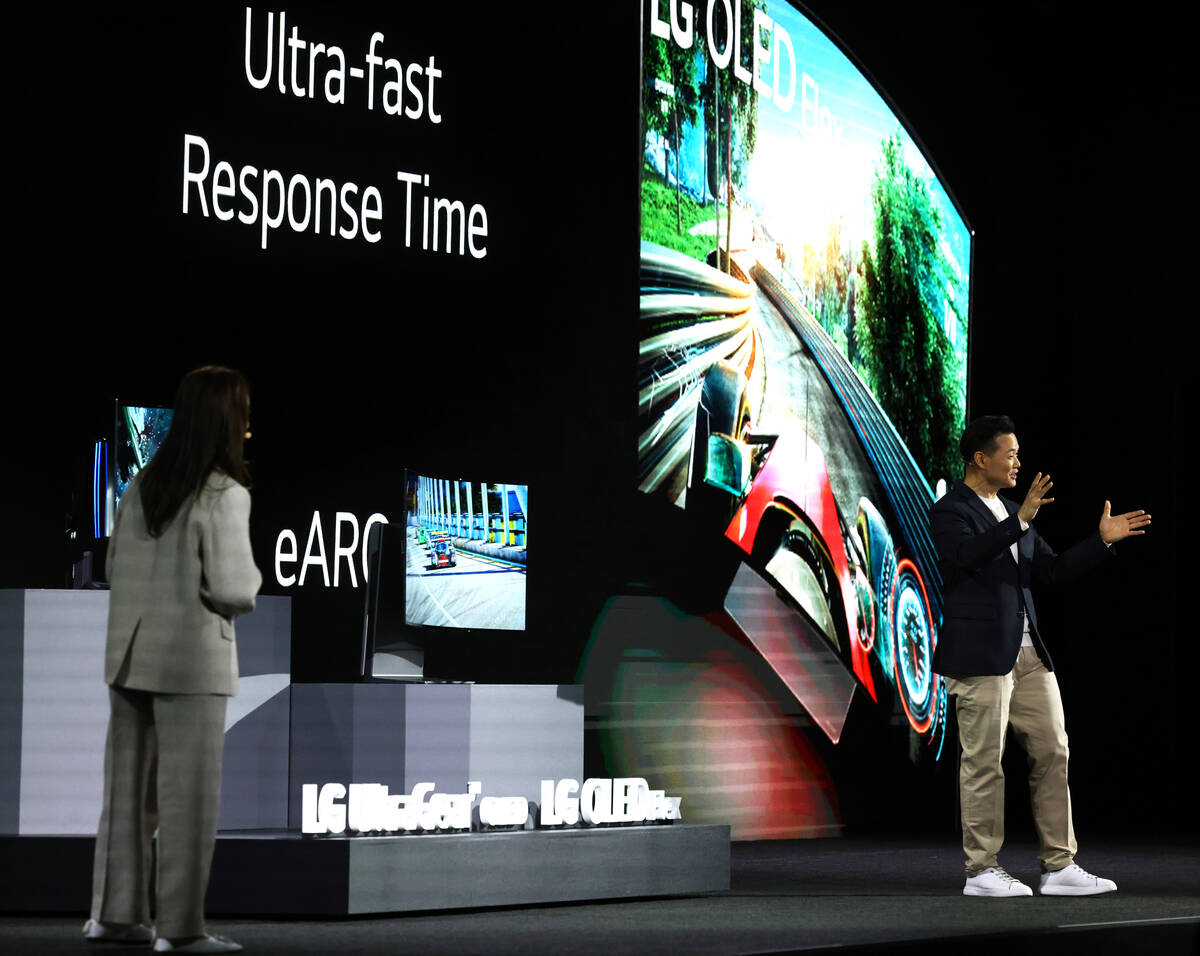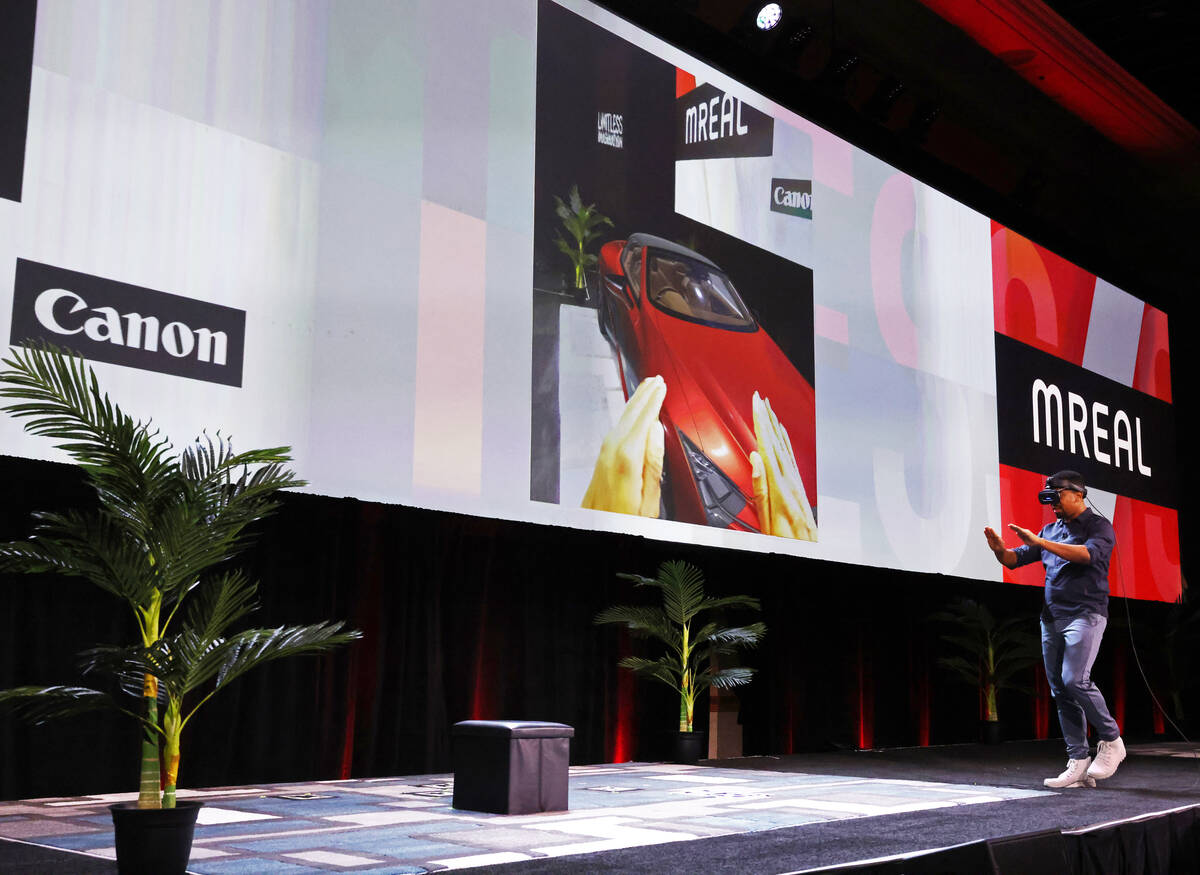 A number of major brands held media-only events on Wednesday at Mandalay Bay, just one day before the largest tech trade show starts at various convention centers.
LG Electronics, Canon and other brands showcased new products inside packed conference rooms filled with photographers snapping pics of massive TVs, including a transparent TV, portable air purifiers and sleek virtual reality headsets, among other gadgets. There were even some celebrities, including actor Kal Penn and Olympic figure skater Nathan Chen.
CES, which starts Thursday and runs until Sunday, is expected to draw more than 100,000 attendees with one-third hailing from outside the U.S., according to the Consumer Technology Association. This year's show will also cover more than 2 million square feet of floor space, roughly 50 percent bigger than CES 2022, which welcomed a significantly smaller crowd thanks to the spread of the omicron variant of COVID-19.
Here are some of the highlights at Wednesday's media showcase.
Wireless and transparent TVs
LG Electronics' main feature was its range of new OLED TVs, a product it first introduced 10 years ago.
It introduced a transparent OLED screen, called LG OLED T, that can display what is behind it, allowing it go unnoticed or act as a window. There was also a wireless TV — the world's first, according to LG — using signals through a USB thumb drive that connects to the TV.
LG also displayed the OLED Flex, which can transform from a flat TV to a curved one with 20 levels of curve settings.
Panasonic goes with environment, hygiene and mobility
Panasonic tapped Chen and Penn to help guide its presentation, which focused on sustainability.
It showed off its recently unveiled Multishape device that can act as multiple products, depending on the attachment. The device offers attachments such as a razor, toothbrush and noise hair trimmer, though Panasonic is looking to add more, according to Michelle Esgar, director of marketing and experience at Panasonic North America.
The company also featured the nanoe X, a portable air purifier that can fit inside a car and get rid of allergens, mold and bacteria as well as eliminate odors, according to Panasonic Chief Technology Officer Andrew Poliak.
There was also a new sound system developed specifically for electric vehicles that uses 67 percent less energy than current sound systems, according to Poliak. The design is meant to free up more energy so it can be directed to the EVs engine.
Simulating a boat ride
Brunswick Corp., which owns boating brands Sea Ray, Bayliner and Mercury Marine, focused on the autonomous and electric capabilities it's trying to bring into the boating industry.
It's currently developing autonomous docking where a boat uses sensors to "soft dock" across a variety of environments, according to CEO David Foulkes. The technology is a few years away from being commercially available, but the company is speeding up the development by testing the technology in real world environments, including a simulator that CES attendees will be able to try out during the show.
"The simulation software helps you develop more quickly, and test the application in environments that you wouldn't necessarily want to drive in yourself," Alex Cattelan, the chief technology officer at Brunswick, said.
This will be the first time Brunswick is showing the simulator at CES. The company initially planned to display the simulator at CES last year but pulled out of the show, according to Cattelan. But she said the extra year allowed the company to further develop the simulator, which captures the up and down motion of being on a boat.
The simulator will help bring more autonomous features to boats, said Foulkes.
Other highlights included an on-boat electric generator called Mastervolt from its Fathom brand that can power lights, radio and TVs — power that normally comes from gas engines, said Foulkes.
"People really want the generation systems online all day, not the propulsion engine," he said.
Another appliance was the 7.5e outboard, or boat propeller, that comes with a rechargeable battery and a handle that allows it to be easily transported between different boats.
Brunswick also unveiled the new boat brand Veer that will develop affordable electric boats. The first Veer boat is the X13, a 13-foot fishing boat with a motor powered by a rechargeable battery. Although this is the first electric boat under the Veer label, more will be on the way.
"We need to make electric products affordable for it to be sustainable and commercially viable," he said.
Cannon enters virtual reality
Like Panasonic, Canon brought out the celebrity firepower with filmmaker M. Night Shyamalan, who helped present some of its virtual reality products.
Shyamalan, who will be releasing his film "Knock at the Cabin " in February, said Canon's Kokomo VR headset can transport people to virtual meeting spaces such as Hawaiian beaches or the hills of Malibu, California, as well as sporting events. CES attendees will be able to preview a virtual version of the main set in Shyamalan's upcoming film.
For the system to work in a stadium, cameras are set up across a sports stadium in order to provide fans using a VR headset at home to watch the game from different angles.
The technology is only being tested at the NBA arenas of the Cleveland Cavaliers and the Brooklyn Nets. A demo of the system on Wednesday showed a perspective of sitting courtside as well as a half-court view of a game.
At the end of its presentation, Canon debuted the MREAL X1 headset, which looked like a lighter version of a typical VR headset, with an adjustable display that can be flipped above the eyes. The product demo by Kokomo co-founder Jason Mack Williams showed him conducting a virtual string quartet and at another point, sitting in a luxury vehicle.
Williams said the system can be utilized by companies to showcase new products and help conduct virtual training sessions for trades that deal with complicated machinery. Currently, the device is in the market research phase.
Contact Sean Hemmersmeier at shemmersmeier@reviewjournal.com. Follow @seanhemmers34 on Twitter.