Las Vegas inventor showcases biometric gun case at SHOT Show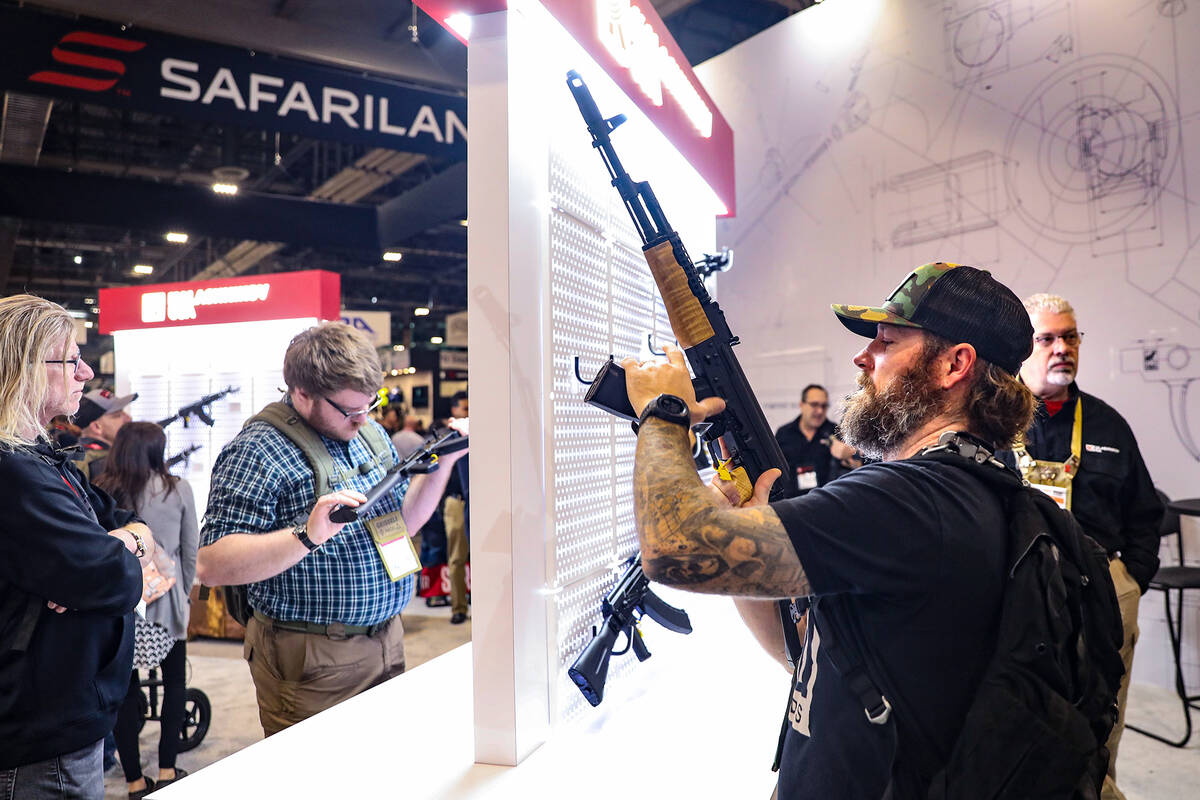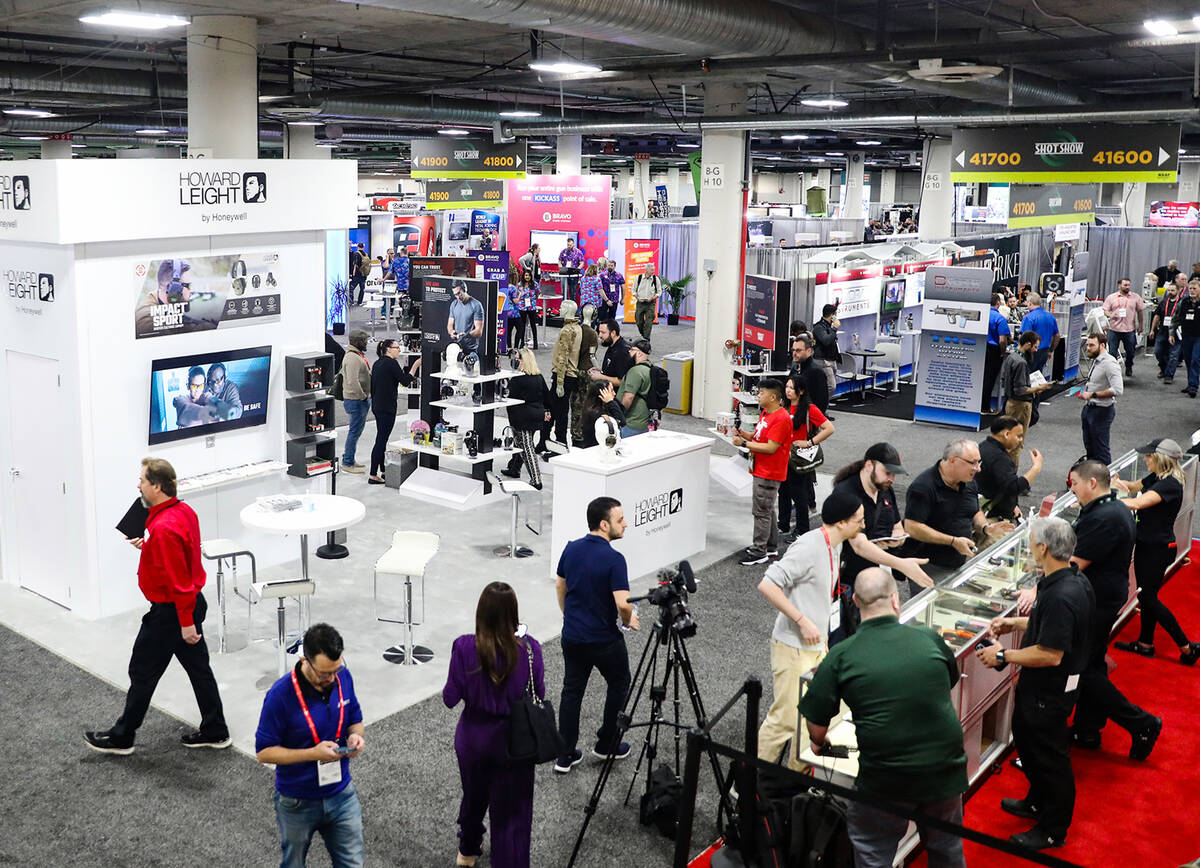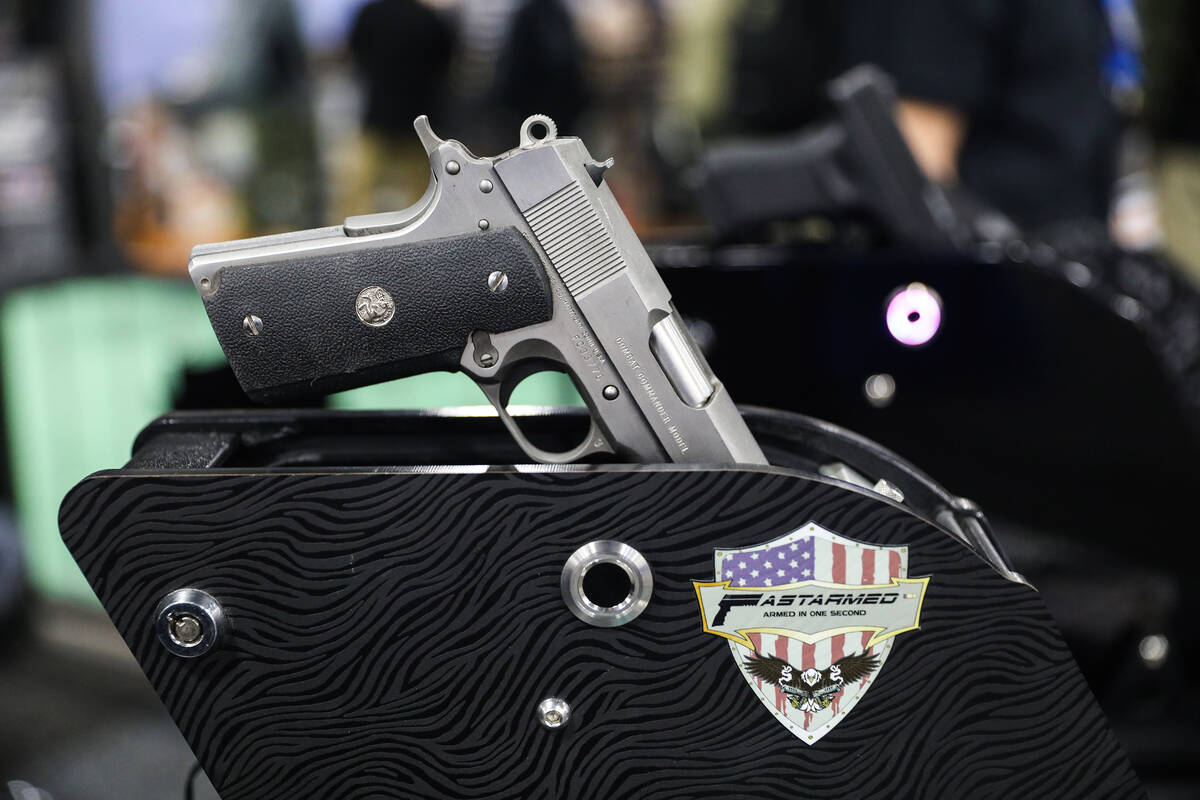 Carl Cosico is hoping the product he's exhibiting at the 2023 Shooting, Hunting and Outdoor Trade Show will not only make gun storage safer, but keep families protected in their homes and vehicles.
Cosico, the owner of Las Vegas-based Fastarmed, an auto-eject, biometric gun case, said interest was high at his small booth at The Venetian Expo, one of two venues for this year's four-day SHOT Show.
The business-to-business event, open to industry participants and not consumers, is expected to draw 50,000 people to Las Vegas through Friday and boost Southern Nevada's economy by around $100 million.
Fastarmed, which doubled its 10-foot-by-10-foot booth size from last year, produced a case that can only be accessed when a button matching a pre-stored fingerprint is pressed. The mechanism has a quick ejection action that can put a previously locked and stored loaded firearm in the owner's hands in a split second.
"We tell people they can be armed in a second," said Cosico, an inventor who has built props for Penn & Teller and Criss Angel and designed a butterfly display for the Las Vegas Community Healing Garden.
The small-business owner saw many of his small projects shutter during the COVID-19 pandemic. He tried to keep the business alive for his eight employees, "but you can only sweep the floor so many times."
While business was slow, Cosico imagined how he could develop a safer gun case.
He used his mechanical imagination to build a prototype and successfully filed for a patent. He now is brainstorming how to keep the cost per unit down to increase sales.
"There are 180 million registered gun owners in the United States," he said. "If I could get just 1 percent of those … and those owners buy several cases to store a handgun in a bedroom, an office or in their car, it would be successful."
Cases can hold just about any sized handgun, and the biometric locking mechanism can store up to 200 different fingerprints so that different family members can have access to a stored gun.
The design of the case allows for the weapon to be perfectly positioned under a locked retractable door that opens and is ready for immediate use once the biometric button is triggered.
The case is powered with 110-volt AC current or a chargeable backup battery for portable use. The in-vehicle version has mounting brackets for storage on the side of a car seat.
"This product can prevent tragedies like the first grader who shot his teacher," Cosico said, referring to the incident in Richmond, Virginia, in which a Richneck Elementary School teacher was injured after a student shot the educator with a 9 mm handgun.
Fifth-largest LV show
Cosico is among the estimated 2,338 exhibitors showing guns, ammunition, scoping technology and accessories and outdoor products like tents and camping gear at what has become Southern Nevada's fifth-largest trade show.
The SHOT Show is also the largest trade show at The Venetian Expo and the nearby Caesars Forum, covering a total 18 acres of floor space with 13.9 miles of aisles. The 45th annual event is also the 24th to be staged in Las Vegas.
In the past, the show has drawn exhibitors, buyers and media from all 50 states and 115 countries. The first show had 5,200 square feet of displays and 290 exhibitors when it opened in St. Louis in 1979.
The amenities and infrastructure of Las Vegas is what continues to attract the SHOT Show, said Joe Bartozzi, president and CEO of the National Shooting and Sports Foundation, sponsors of the SHOT Show.
"It's bigger than it has been in the past," Bartozzi said. "We've got more exhibitors and more net square feet than in any previous show, which is great considering what we've dealt with in the past couple of years with live events."
Bartozzi was referencing 2021's virtual show.
"There was a strong appetite within the industry to come back to an in-person event in a big way," he said. "We evaluate the show through live and online surveys, and Las Vegas consistently comes out ahead. We used to move the show around — we've had it in Atlanta, Dallas, Orlando, San Francisco and New Orleans. But the infrastructure and amenities of Las Vegas are, frankly, hard to beat. Satisfaction always seems to rank higher than other cities."
Events began Sunday
The trade show opened its doors Tuesday, but there were pre-show events that began Sunday.
Participants were invited to an Industry Day at the Range at the Boulder City Rifle and Pistol Club and were welcomed by Lt. Gov. Stavros Anthony, a retired Metropolitan Police Department officer. Anthony also cut the ribbon for the opening of the show Tuesday.
Attendees also participated in a golf tournament, and Bartozzi said the high turnout will help his organization's Project ChildSafe fundraising program, which funds free gun locks and advocates for suicide prevention.
Three days of educational programs are on tap for the show, including a presentation by Steven Dettelbach, director of the U.S. Bureau of Alcohol, Tobacco, Firearms and Explosives, whose presentation is closed to media.
This story has been updated to correctly reflect the economic impact of the 2023 SHOT Show.
Contact Richard N. Velotta at rvelotta@reviewjournal.com or 702-477-3893. Follow @RickVelotta on Twitter.
Find ebikes in the wilderness
One of the newest products to the SHOT Show floor are sturdy-framed QuitetKat ebikes, electronically powered bicycles with massive tires designed for backcountry use, displayed by the Anoka, Minnesota-based Vista Outdoor family of companies.
Chuck Hewitt, a representative of Anoka, said the ebikes were initially marketed toward law enforcement, tactical officers and rangers who need fast mobility in backcountry locations.
Now, they're being embraced by hunters and outdoor enthusiasts who want easier access to tree stands and favored locations with less effort.
"You'll be able to cover ground a lot faster than you would be able to on foot," Hewitt said.
On flat surfaces, the 1,000-watt motors can provide ebikes speeds of up to 40 mph and there are settings to keep speeds lower. Quiet motors preserve peaceful settings and prevent wildlife from being disturbed.
Bikes are designed to haul small bike trailers or equipment bags and the ebikes, depending on motor size and accessories, retail from between $2,000 and $7,000.