Thousands pour into Las Vegas for World of Concrete opening day
Updated January 17, 2023 - 7:00 pm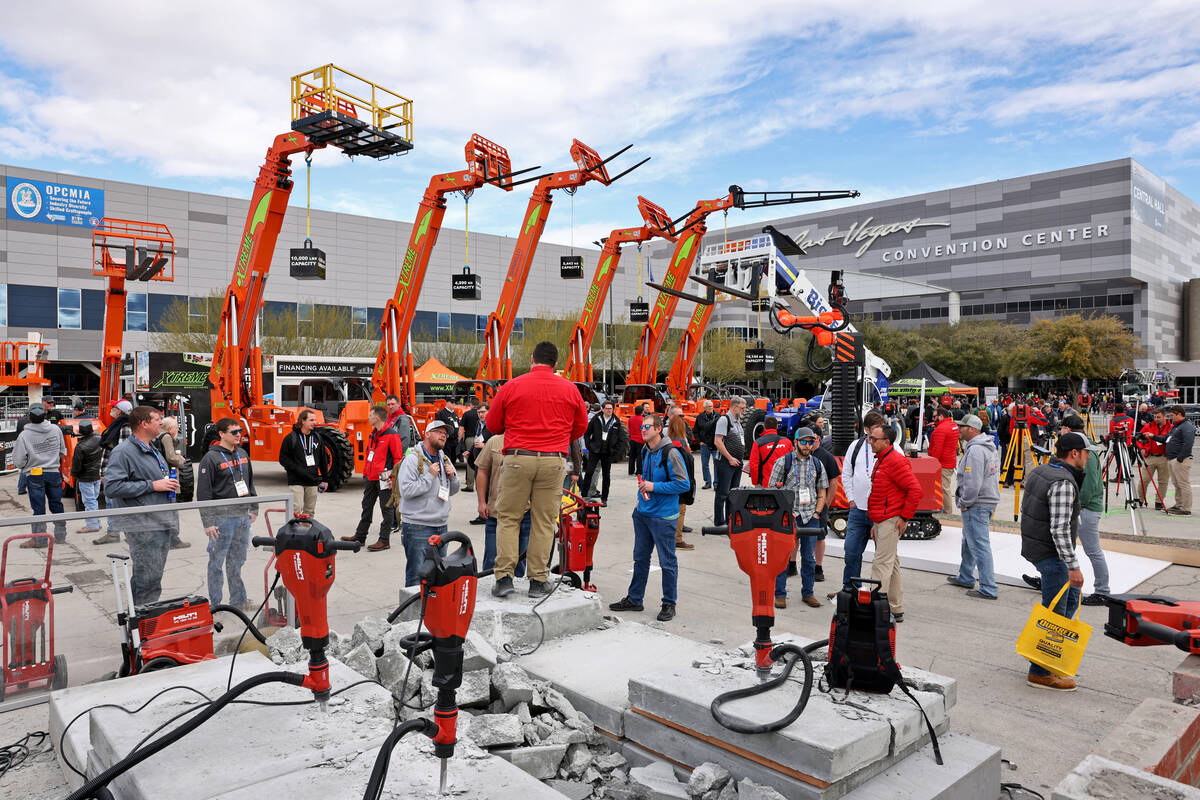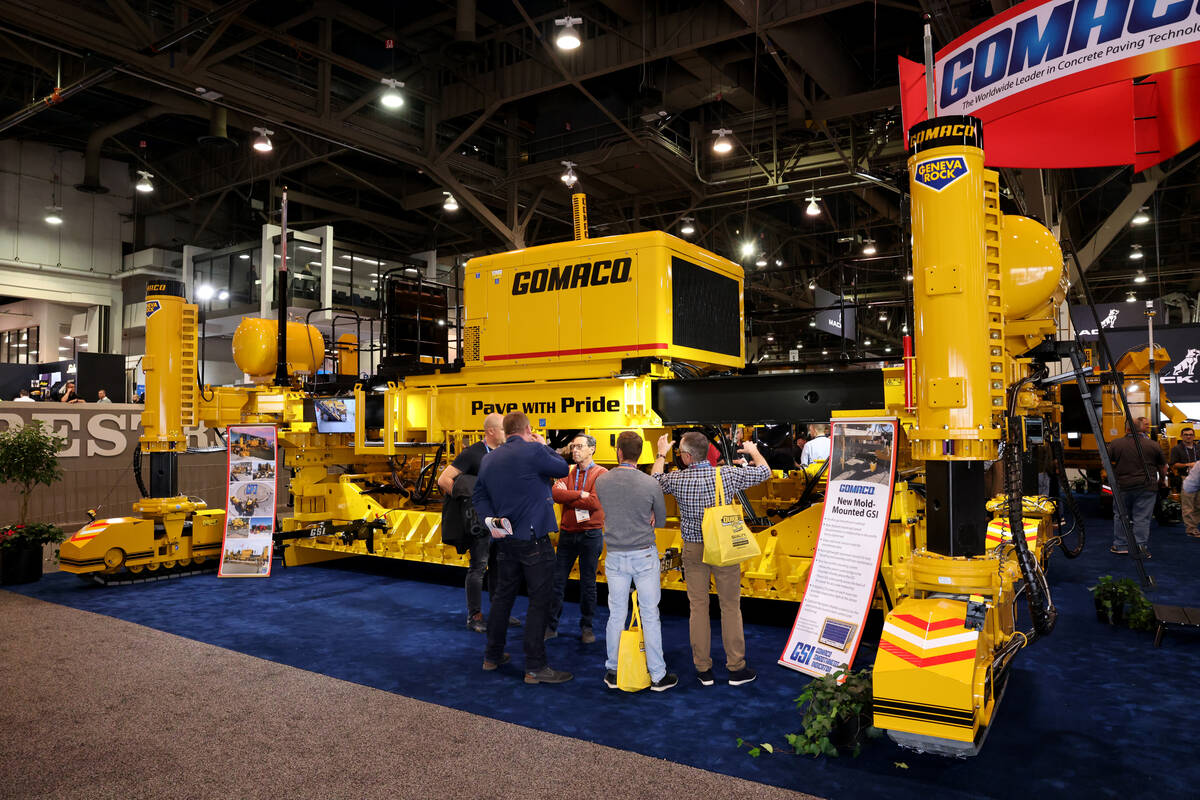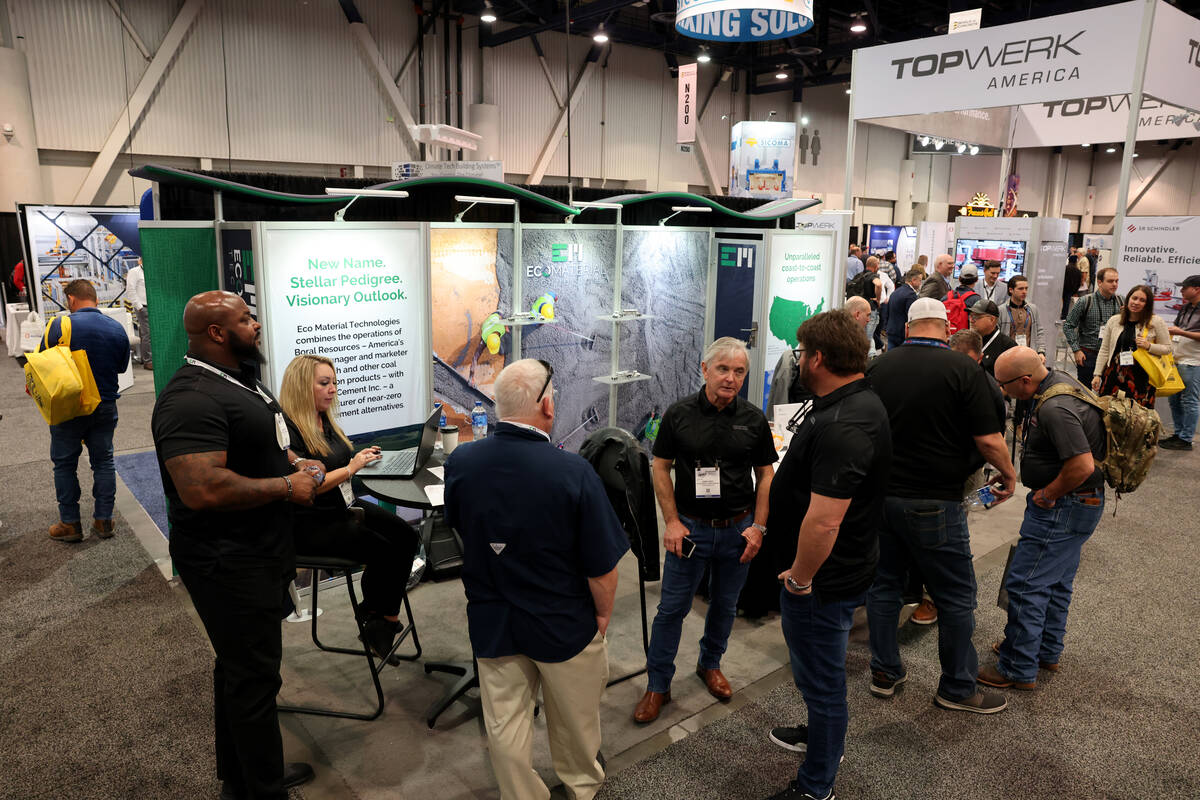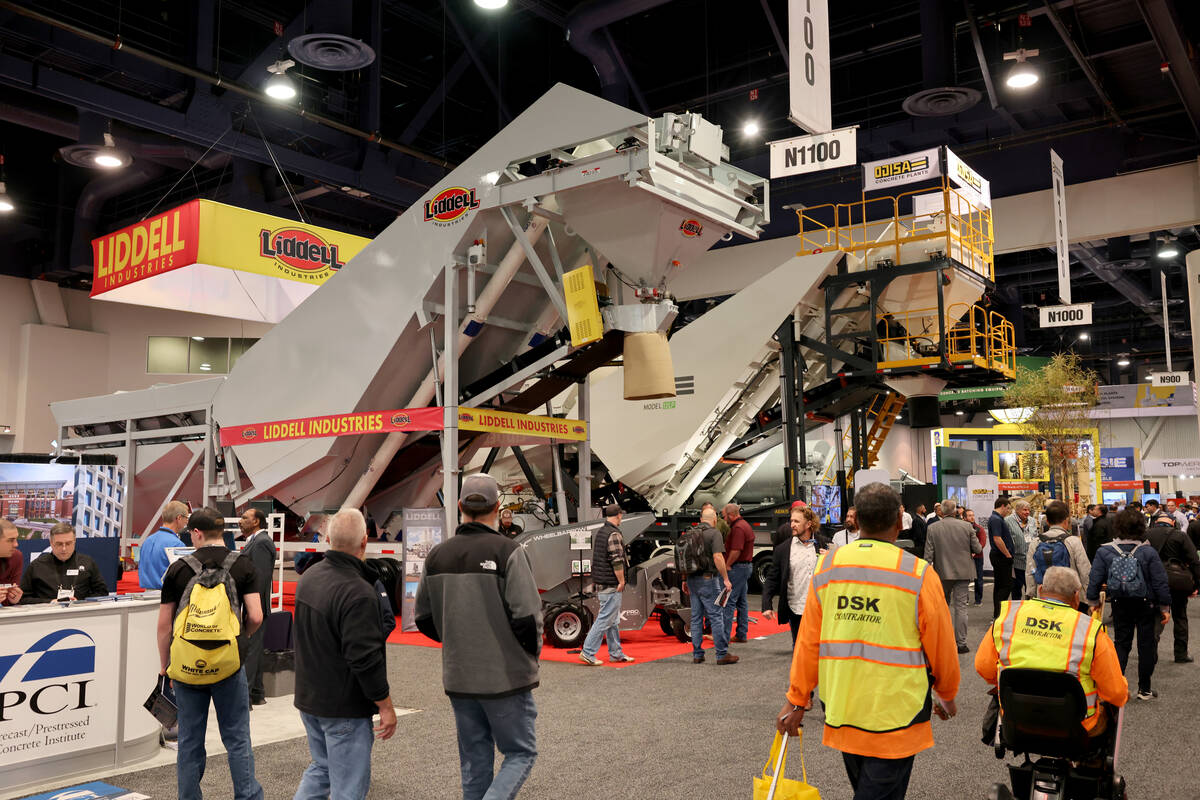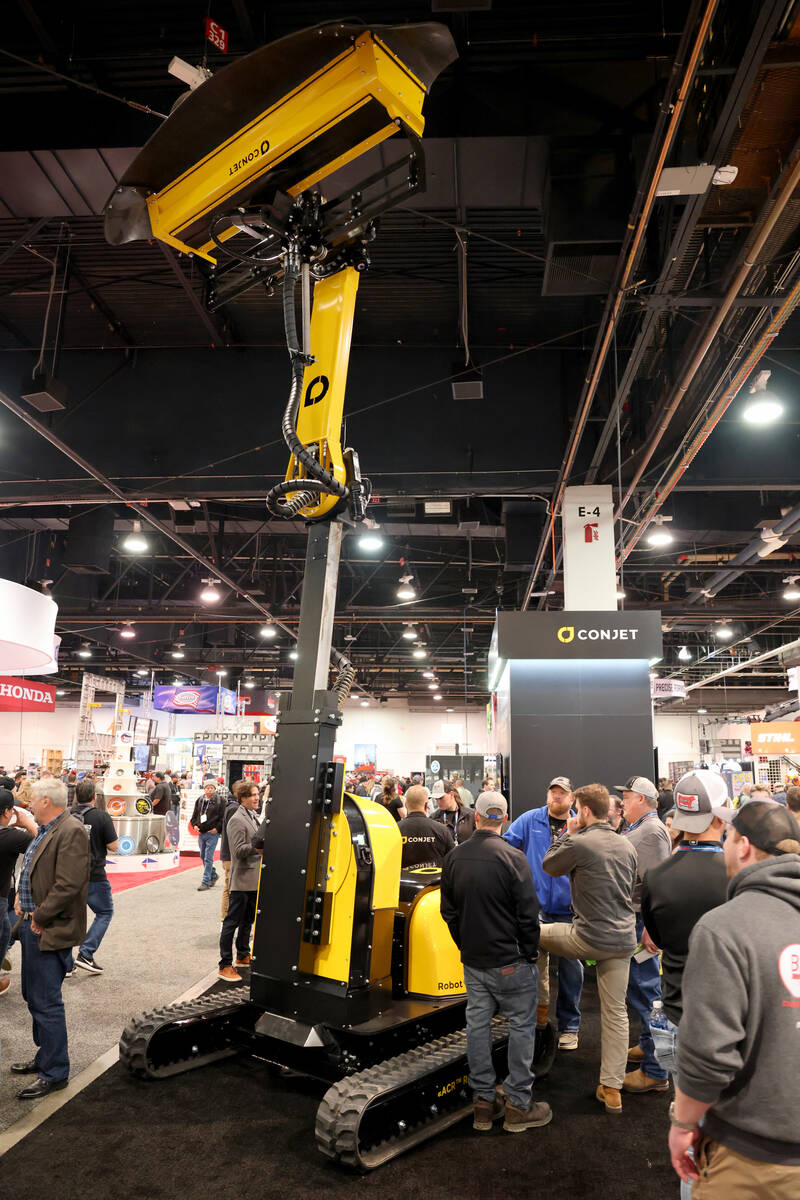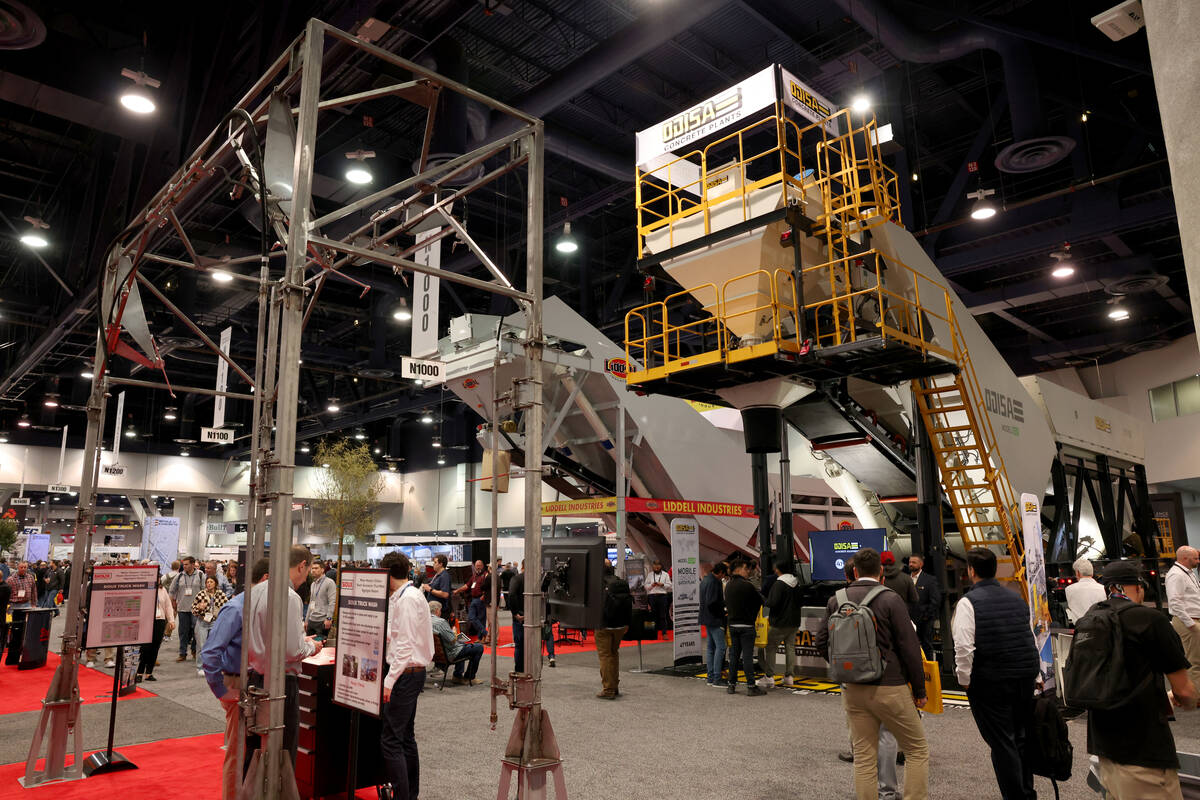 The registration lines for the first day of the World of Concrete snaked out of the doors Tuesday morning at the Las Vegas Convention Center, marking a promising start for the annual trade show.
The convention brings together all aspects of the concrete and construction industries, and the show floor was filled with cranes, trucks and outdoor demonstrations of concrete pouring, as well as the latest products and trends.
This year, attendance is expected to hit its pre-pandemic number of 60,000 after 2022 brought in 37,000 attendees, according to Kevin Thornton, senior vice president of Informa Markets Construction, the company that produces World of Concrete.
Exhibitors and attendees were also convinced that the show could reach its pre-pandemic attendance.
Dave Jackson, senior brand manager at Sakrete, which produces individual bags of concrete sold at retail stores, noticed a big difference inside the Convention Center.
"Last year, we thought it was about 40 percent of normal, but this is the busiest show I've seen," Jackson said. "We will probably talk to 3,000 to 4,000 people at our booth."
First-time attendee Sam Thompson, a concreter for Merit Concreting, traveled from Lampton, Australia, and was browsing the booths inside the Central Hall.
"I've always been interested in this type of stuff, all the big over-the-top Vegas-style displays," Thompson said.
AccuCrete, maker of concrete products that can be used in wood construction projects, makes it a habit to exhibit at World of Concrete, according to Steve Butler, AccuCrete's product developer director. It wants to leverage exhibiting at the show to grow its presence across the U.S., especially within Western markets.
But not everyone was looking to grow their clientele. Deia Abuobaid, project manager at construction firm Yibna in Jordan, was planning to see the latest trends in research and development.
"There is a lot of R&D progress in the construction industry. It's always moving," Abuobaid said. "So I'm just going to see as much as possible and bring ideas back."
Abuobaid was impressed by the tech introduced by companies the first day, including automated robots that can remove damaged concrete, virtual reality devices to help employees train and artificial intelligence-assisted site mapping devices.
Constructions downturn in 2023
Despite the excitement among organizers, attendees and exhibitors, economic indicators such as rising costs for the industry are painting a gloomy picture for 2023.
The Portland Cement Association released an economic forecast during a news conference at the show and projected construction activity will decline over the next 18 months. It also expects a 3.5 percent decline in cement consumption in 2023 — the first time in 13 years that a decline would occur.
Ed Sullivan, chief economist and senior vice president at PCA, said a decrease in expected activity probably will start by mid-2023. He attributes the decline to a delayed reaction within the industry from rising interest rates implemented by the Federal Reserve.
"(The Fed's) interest rate went from virtually nothing to now standing at roughly 4.5 percent," Sullivan said. "The full impact isn't felt tomorrow or the day after; there are long legs. We're saying it's 12 months … that means those increases in March of 2022, the full impact we have yet to feel."
Several companies felt confident about the construction industry in the short-term, saying they accumulated a long list of backlogged orders last year.
The Terex Corp., which owns over 20 construction brands, has backorders that should run into 2024, according to Terex Marketing Manager Chelsey Kutz.
"We haven't seen a slowdown yet, but we are always prepared in case one comes on the horizon," she said.
Sullivan of PCA doesn't expect a recession to hit this year because of the economy's resilient job market and rising gross domestic product.
"I don't say it's a recession. I say it's an inflation-induced growth slowdown," Sullivan said.
The PCA estimates that the brunt of the downturn will happen in private, nongovernment-commissioned construction and in the single-family home market.
This sentiment was echoed by Hunter Plott, president of the Alabama-based John Plott Co., who was attending World of Concrete.
"The private industry will probably slow down, but the government still has a ton to allocate," Plott said.
The PCA expects recent legislation, including the $1.2 trillion Infrastructure Investment and Jobs Act, will provide a boost to the construction industry, but it won't be "as strong as expected," Sullivan said.
Attendees at the World of Concrete didn't see a reason to panic over the economic projections and conceded it will impact different parts of the industry differently.
Butler said because AccuCrete focuses on projects that are more resilient to interest rate adjustments, like multifamily homes, the company isn't overly stressed about this year's outlook.
"No one can look too far past their nose, but we are cautiously optimistic about this year," Butler said.
Contact Sean Hemmersmeier at shemmersmeier@reviewjournal.com. Follow @seanhemmers34 on Twitter.