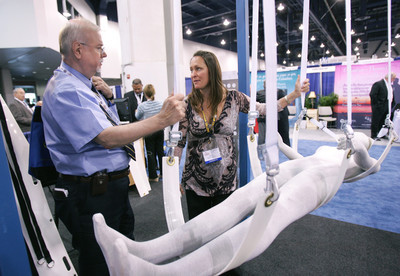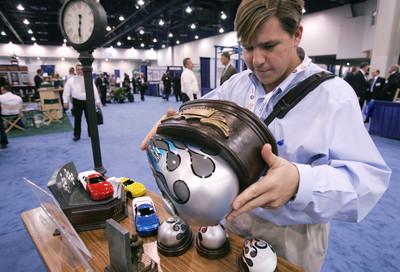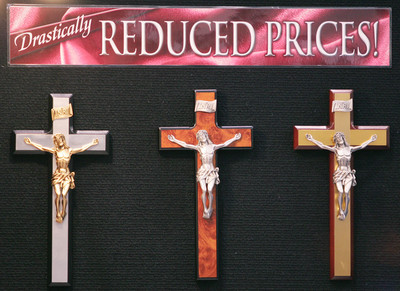 Monty Python urged moviegoers to "Always look at the bright side of death," and thousands of funeral home directors in Las Vegas this week might echo that sentiment.
National Funeral Home Directors Association members are in Southern Nevada for their annual convention, an event that features not only the latest and greatest in funerary hardware and technology but educational seminars on everything from marketing pet death care services to a business succession program aptly titled "Planning Your Exit Strategy."
The event attracts about 6,000 people whose everyday job requires a balance between strength and sensitivity to comfort grieving families and the fiscal acumen needed to build and maintain a small business.
For four days, the Las Vegas Convention Center will be packed with tools, gimmicks, technology and information to aid both sides of the death business.
"What you are seeing here is clearly the commerce," said Patrick Lynch, owner of Lynch & Sons Funeral Directors in Clawson, Mich. "The commerce side is a reflection of the demands of the culture."
The convention is set to a Las Vegas theme, with exhibits that include card-playing corpse replicas and memorial diamonds displayed on a tiny blackjack table.
And there is no denying death is big business. The National Funeral Directors Association says there are more than 2.4 million deaths annually in the United States and a typical funeral costs about $6,600. The funeral service industry employs about 106,000 people and generates about $11 billion in revenue annually.
In addition to conventional caskets and hearses, the show includes cremation urns for pets, movie star makeup for corpses and environmentally friendly bamboo and wicker coffins for people who don't want their decomposing body to harm the Earth.
The market for off-beat funeral products lives because there are as many preferences for death care as there are people.
Products that may seem absurd to some are essential to therapeutic grief of others.
Makeup artist Dina Ousley of Los Angeles said looking good in a casket was important to her family when her mother died.
Ousley was marketing a line of makeup she boasts is good enough for movie stars and television news anchors to use under the glare of high definition cameras to funeral directors at the conference.
The makeup is lightweight, applied in pixels and was a source of comfort for her family after her mother's death.
"My mother was beautiful, she was vain," said Ousley, who applied the makeup to her mother's face, which had been injured in a fall that preceded death. "She would have wanted me to make her look beautiful."
People who want a unique memorial can purchase a desktop display for their DNA.
Andrew Isakson of Burlington, N.C., came up with the product through his work doing DNA analysis and genetic testing.
The company, DNA Security, extracts DNA from a sample of the deceased, usually a patch of skin from the buttocks. It decodes the DNA and etches unique markers into the desktop display. It also uses a process to bond the DNA to decorative beads embedded in the display.
"It actually has a portion of the person forever," Isakson said of the display, which he expects to retail for about $1,000. "There is not any other way you can do that."
There are also products for people who want to be remembered by being forgotten, at least by the Earth.
Ecoffins, a company based in the United Kingdom, sells environmentally friendly caskets, urns and burial wraps that are designed to have no impact on the planet.
Bob Francis, product development stock controller for the company, said the business had such strong responses to its Web site from potential American consumers that the company decided to come to the show.
Woodland burials, a term for burials of nonembalmed bodies away from a cemetery and without a marker, are more popular in the United Kingdom than in the United States.
"Everyone feels they have to be sealed in a hermetically sealed container," Francis said. "It isn't so."
Trends aside, there is much more — or less, depending on your perspective — to a funeral than a creative casket or fancy hearse.
Thomas Lynch, Patrick's brother who also runs a Michigan funeral home, said the most important role of a funeral director is to help the bereaved cope in a meaningful way.
Lynch, whose family will be featured in an upcoming "Frontline" documentary about the mortuary business, said a good funeral has simple ingredients.
"What you really need is somebody who has died, someone who cares and somebody to stand between them to try and make sense of it," he said.
Contact reporter Benjamin Spillman at bspillman@reviewjournal.com or (702) 477-3861.