Developer moves operations base into former Ice House Lounge
August 16, 2012 - 1:02 am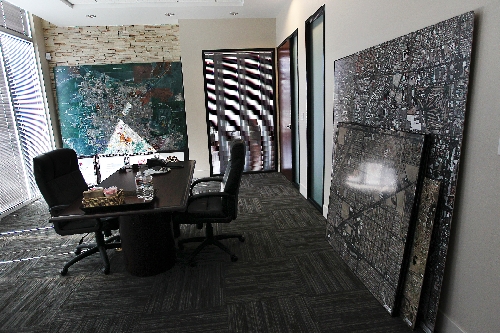 It was once a swanky bar and restaurant for downtown dwellers and legal eagles who punched the clock at nearby offices.
The Ice House Lounge at 650 S. Main St. opened for business in 2004, serving cocktails on ice embedded in the countertop at one of the lounge's two bars. The Ice House also served food and had themed music nights.
But the party ended in 2009. The restaurant sat vacant for three years.
Real estate developer Jeffrey Fine in April acquired the building from BNY Mellon for $1 million, according to county records. Though Fine is keeping the upstairs bar and the full-service kitchen on the main floor, he three weeks ago moved his Fine Properties staff into the old Ice House. The stark white building is a restaurant no more.
"We had been looking for office space downtown for awhile and couldn't find anything," Fine said. "There's a lot of homes that have been converted around Sixth (Street), and they're not in the best shape and they're all asking for a lot of money."
Fine patronized the Ice House in its early days. When he saw that the bank was selling the building, he decided the site was perfect for his base of operations. He is leaving the office's phone number outside, though, in case food trucks or catering companies are interested in using the still-functional kitchen for events.
The space may also see use as a pop-up restaurant. Fine is a partner in LEV Restaurant Group, which owns local Coffee Bean & Tea Leaf and Jamba Juice franchises, I Love Burgers, Lobster ME and Daily Kitchen and Wellness Bar. Fine is also a partner in Fifth Street Gaming, which is overseeing development of the Downtown Grand.
Fine also owns a couple of acres just north of the Ice House site, which could solve one of the biggest challenges Fine sees downtown: land availability.
"We think it's a very desirable market from an office standpoint," he said. "It's hard to assemble property downtown. That's going to be the biggest challenge, is trying to assemble enough land to do anything at a reasonable price."
The Ice House Lounge was built in 2003 near the former site of Las Vegas' ice house, where in the early 20th century the city turned water into ice for residents and businesses.
Downtown resident and urban historian Brian "Paco" Alvarez was a regular at the Ice House Lounge, often hosting fundraisers as part of his work with the Contemporary Arts Center. He said he's disappointed the building isn't being revived as a restaurant, but said any business is better than no business.
"I would rather see an office space than a nightclub that's just sitting there," Alvarez said. "At least it's being used."
The downtown office market is open now, said Focus Commercial Group broker Brandon Wiegand. Class A space ranges from $1.50 to $3.75 a foot with many options. There are even deals to be had at $1 a foot, he added.
"Right now there's a higher demand for residential and retail," Wiegand said.
But Fine's Ice House acquisition for use as an office is logical, Wiegand said, because he also owns the parcel next door.
"It would make sense that the 2.5 acres gets rolled into that piece (the Ice House)," he said. "Then they have a really powerful place on that corner."
Contact reporter Caitlin McGarry at cmcgarry@reviewjournal.com or 702-387-5273.