Distributors like tax, geographic benefits of Las Vegas
October 12, 2014 - 6:24 pm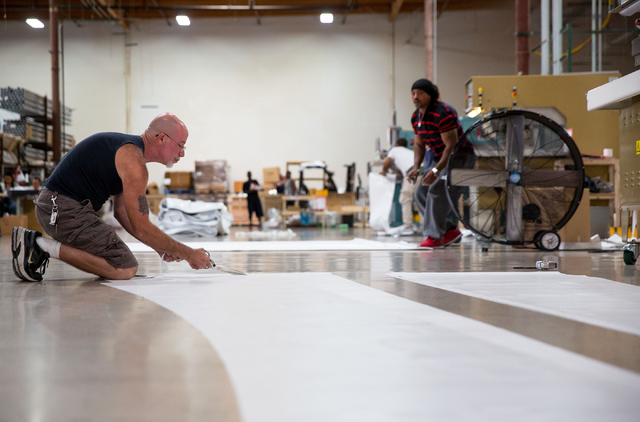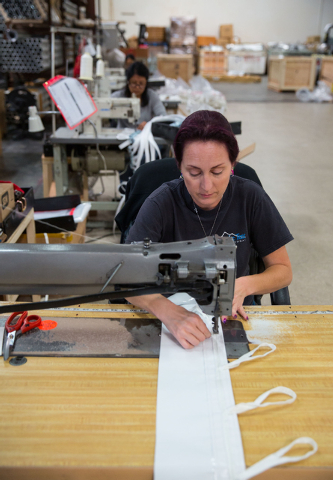 As companies seek lower operating costs and easy access to major highways as well as air and rail freight to transport their products, Las Vegas has become a hub for distribution centers, which are sprouting up across the valley.
Companies such as T.J. Maxx, Sysco, Levi Strauss, Zappos and Blue Bell Creameries are just a few who have decided to set-up their distribution centers in Southern Nevada.
In Henderson, Creative Tent International, Mars Chocolate North America, Unilever, Las Vegas Distillery and Olin Chlor Alkali are among those who found the area to be compatible for doing business.
Ean Reves, CEO of Creative Tent International, which engineers portable structures and tents for worldwide events and the military, said the company relocated in June of last year from Arizona to Henderson because of its close proximity to Southern California where they often ship overseas.
"How we ship is huge for our customer's influence to buy," Reves said. "The workforce and taxes are the main reasons why the company relocated. There are a lot of people with construction backgrounds in this area and there's also a huge advantage to be in an area that customers will come."
According to The Journal of Commerce, this trend is not exclusive to Las Vegas as industrial projects, comprised mainly of distribution centers, were more than 90 percent higher than in the first quarter of 2013. Distribution centers also make up nearly 75 percent of the industrial real estate market.
Panattoni Development Co., a commercial real estate development company that specializes in industrial, office and retail projects, has been involved in large-scale distribution center projects in Southern Nevada, including a Henderson-based distribution center for FedEx Corp. and the 130,000-square-foot headquarters for SHFL entertainment Inc. in southwest Las Vegas.
Doug Roberts, partner of the Nevada division of Panattoni Development Co., said buildings over the last 30 years have increased in size as companies look for regional areas they want to operate out of rather than establishing themselves in smaller markets.
According to Roberts, companies find the Las Vegas market attractive because of its proximity to California.
"Many companies want to service California but not be there," he said. "The most important thing is the business climate here versus California. Taxes are the primary issue and there's no personal income tax in Nevada."
Roberts added, "Companies also search out a less regulatory environment and the overall cost of business here is cheaper. It's growing but there's a long way to go before Las Vegas becomes distribution market."
Though Nevada is growing at a slower rate than other industrial markets across the country, according to Roberts, he said the Silver State has been garnering a positive reputation as a great place to do business, which will help in the future.
"I think you'll see bigger and bigger buildings and the growth will be steady," he said. "California is a huge hub for distribution centers but Southern Nevada will get its fair share and continue to grow."
Ed Coulson, the director of Lied Institute for Real Estate Studies at UNLV, said as online retail grows there will be a greater need for more centralized distribution centers in the future.
He added that as the trend continues to grow locally, the Southern Nevada economy will benefit.
"More jobs are always good and these companies are bringing jobs here," Coulson said. "What's important about these centers is that they are regional and they're creating jobs that wouldn't otherwise be here. More jobs here and will create a flow of income that will resurface throughout Las Vegas and will help the economy."
In Henderson, Unilever has been manufacturing more than 70 home, personal care and food brands such as Lipton and Klondike since 1986. Factory Director Maurice Hildebrand said though the distribution center is close to the main places the company does business, attracting technically skilled people has been difficult.
"It's costly to find good supervisors because we bring them in from other states and pay their relocation fees," he said. "We have to educate people that there's more to Las Vegas than the Strip. It's a constant challenge that requires time and money to attract employees."
Scott Muelrath, president of the Henderson Chamber of Commerce, said Henderson has a lot of attractive qualities for companies and their employees.
"Henderson is different from Las Vegas in that it has more of a community identity," he said. "It's a safe community, has a great parks system and it's a well-run city. There's a definite community feel to it but at the same time it's a large city; you can find everything in Henderson."
Muelrath said when the city's Economic Development team is recruiting a company to come to Henderson, the chamber gets involved to talk about the view of the community from a workforce development perspective and also assists with employee recruitment and retention for existing corporations.
"We highlight elements that you wouldn't think of when thinking about Nevada," he said. "The first thing you think of is gaming, which is our bread and butter, but we in Henderson represent a whole different side of Nevada and it's a great place to bring a family up in."
Muelrath added that he's looking forward to the future of the local business climate.
"There are numerous projects from housing to health care that are underway and will have a tremendous ripple effect on the balance of Southern Nevada and the type of companies that can grow here," he said. "I'm very optimistic about the future."
The first large-scale industrial building since the recession broke ground last month as Prologis began development of a 464,203-square-foot lot at Pecos and Gowan roads in Las Vegas.