Dream powers tortilla maker in North Las Vegas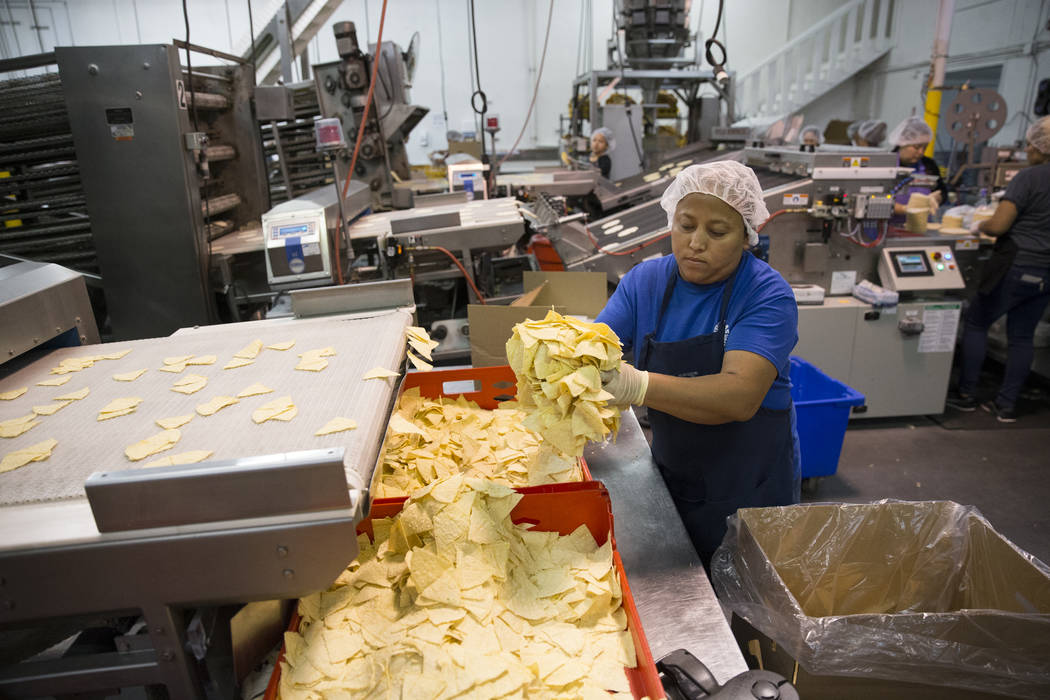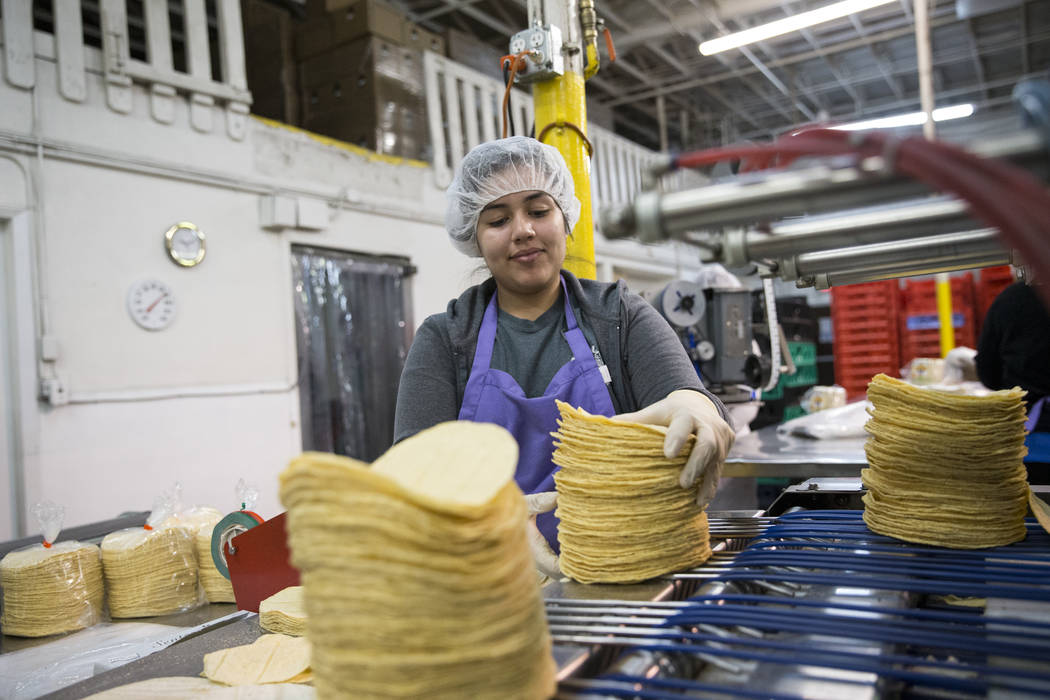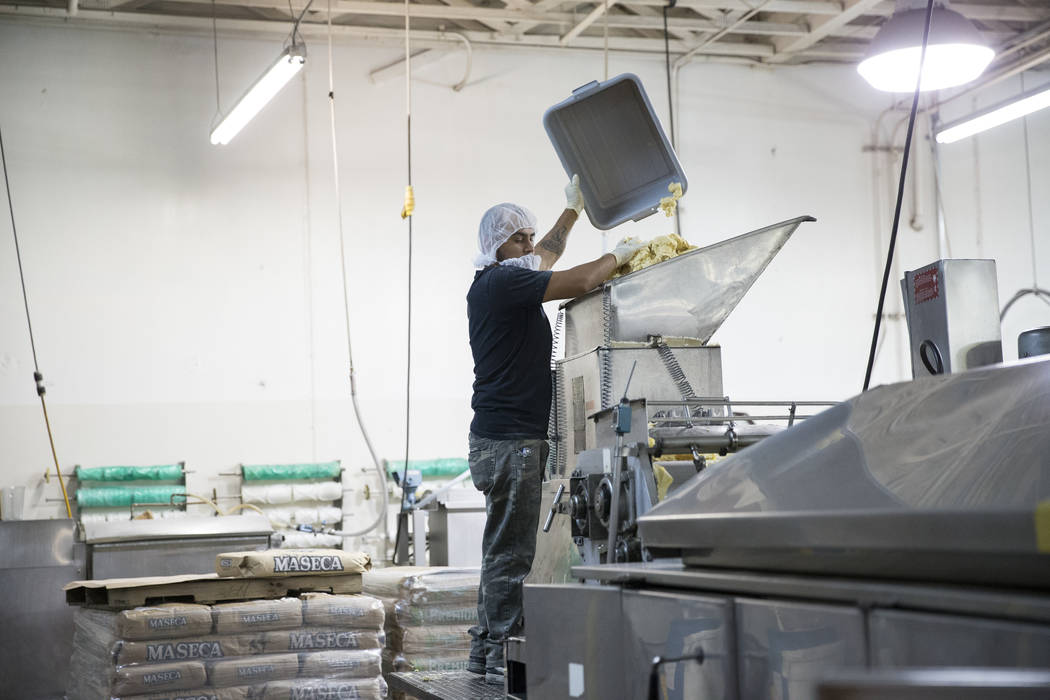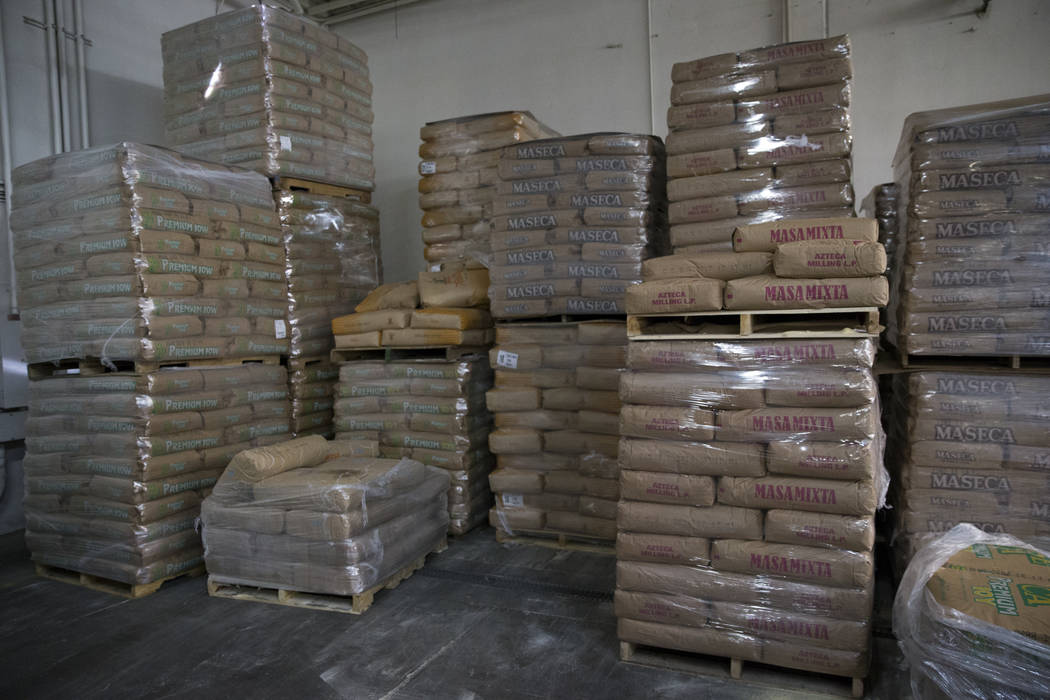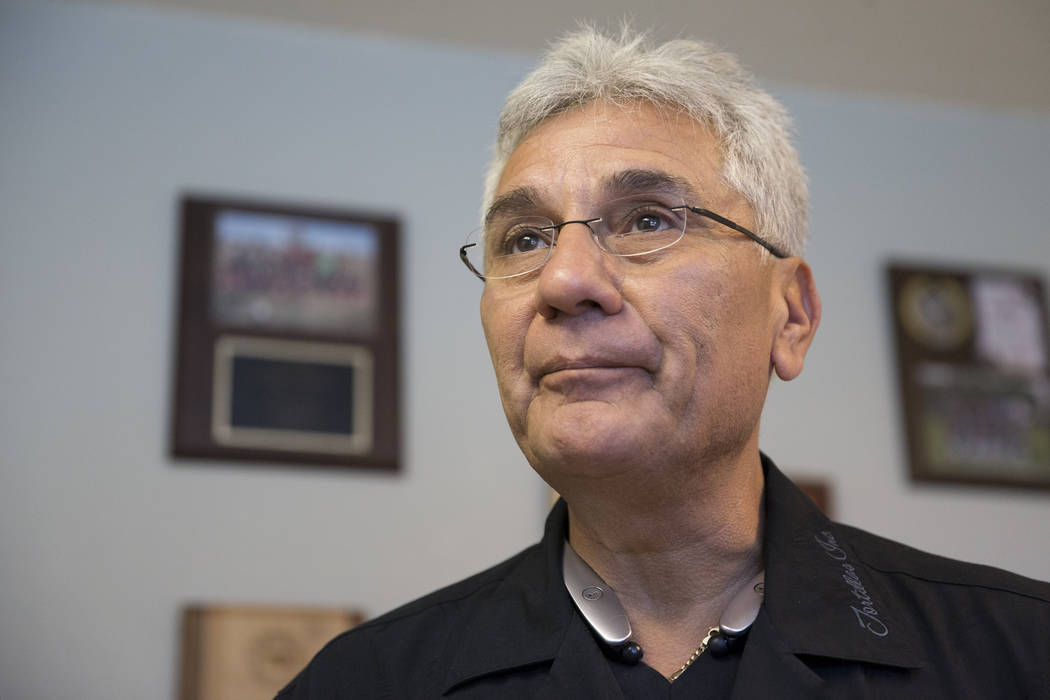 Mexican immigrant Jose Luis Gutierrez faced a stark choice in the early 1980s.
Keep his Las Vegas home or his struggling local tortilla production business.
His two partners had already bailed on the young business.
The profit did not — yet — justify the hard work required to make the flat, corn-based bread in a 400-square-foot room.
Nonetheless, Gutierrez chose to push ahead with making tortillas with the help of family while trying to hold down a second job as a waiter.
He and his wife thus left their home and moved into an apartment across the street from the plant.
Now, nearly 40 years later, that shoestring business has grown into T.I. Foods, serving tortillas and salsa to casinos on the Strip such as Wynn Las Vegas and The Venetian and generating annually more than $10 million in revenue.
The family's retail brand Los Arcos has become known to many around Nevada, sold in packages in Smith's, Costco and Wal-Mart. The company has expanded sales to California, Arizona, Utah and Colorado.
"The business was the dream to move us forward and he was right," said Gus Gutierrez of his father's decision to sacrifice the house. The younger Gutierrez worked alongside his dad in the early days and now runs the family business.
T.I. Foods has grown from four workers — Jose Luis, wife Felicitas, Gus and daughter Teresa — to 115 operating in three locations in North Las Vegas.
New $5 million plant
Nevada's tortilla king still doesn't have much of a palace though. It operates from inside a nondescript commercial building on North Commerce Street in North Las Vegas that neighbors Galaxy Foam & Upholstery Supplies.
On a weekday morning, the parking lot in front of T.I. Foods' production facility is completely full. The company has about 20 trucks in its fleet. Visitors have to park on the street or in Galaxy's lot.
It is just the first sign the company is bumping up against capacity constraints after years of growth.
Gus Gutierrez points to the parking problem as one reason he is planning a $5 million production and kitchen facility on six acres in North Las Vegas.
"We want to bring everything under one roof, retool the equipment and expand production," Gus Gutierrez says.
Inside the compact, noisy production room, four rows of tortillas are moving along three separate production belts at a speed of several miles per hour as they are first baked and then cooled down for bagging.
70 million tortillas
Each production line handles about 4,800 tortillas an hour. They operate four to five days a week for up to 20 hours a day. That equates to a maximum of 75 million tortillas a year.
About 40 people are working inside the factory on this morning, about a dozen of them gathering and packaging the fresh tortillas. Gus Gutierrez hopes to automate the bagging process in the new factory and move the workers to other positions.
"We have a lot of other things these people could do," he says.
The tortilla-making process starts at the opposite end of the production room, where corn is boiled in metallic pools for 12 hours.
Then, the corn is quickly washed and ground into a soft mush. Plastic rollers transform the mush into various shapes and sizes, such as circles and triangles. Next, the tortillas are placed on the production lines for baking.
As they exit the machines, already cooled, workers pack stacks into bags.
T.I. Foods produces more than 40 types of tortillas, varying by coarseness, thickness, pH and color.
"A lot of R&D goes into the business to fine-tune the final product," Gus Gutierrez said.
Clients today prefer tortillas with simple ingredients and few, if any, preservatives, he said.
Although T.I. Foods mainly makes tortillas for restaurants and its own retail brand, it also produces them for third parties.
Stripper Chips, a relatively new brand aiming in part at gentlemen's clubs, have their chips — which resemble figures of dancers — made at T.I. Foods.
Humble beginnings
Jose Luis Gutierrez emigrated to California in the 1960s, where he worked as a bartender and waiter. He traveled to Las Vegas in the 1970s on the recommendation of friends to look at job opportunities.
Within a week, he was employed in a gourmet room and moved the family to Las Vegas three months later.
"He was making more in one night (in Las Vegas) then he was making in a week in California," Gus Gutierrez says.
Jose Luis Gutierrez and friends thought they saw a money-making opportunity in producing tortillas for the growing Hispanic community in Las Vegas.
They bought production equipment from Mexico and in 1979 began making 100 pounds of tortillas from inside a 400-square-foot room. There was just one problem.
"We had no market, we had no customers," Gus Gutierrez says.
Half the production was thrown away. One partner quit in 1980, the other in 1981.
Jose Luis Gutierrez kept his job at the gourmet room while his family helped out with the tortilla production and sales.
Felicitas Gutierrez began selling tortillas door-to-door in the Hispanic neighborhoods, which eventually opened the road into retail stores.
The first big breakthrough came when Ricardo's, one of the few Mexican restaurants in Las Vegas at the time, agreed to buy their tortillas.
"I have watched them go from a dirt floor to a multi-million dollar business over 40 years," said Bob Ansara, the owner of Ricardo's, which continues to buy tortillas from T.I. Foods.
Then restaurants at the Stardust and Frontier became clients, opening the way to casino clients.
But the Gutierrez's dream nearly went up in a smoke.
A fire in 1984 destroyed the production facility. The $19,000 check from the insurance company wasn't enough to cover the cost of new machinery.
Veronico Trujillo, then owner of the Guerrero brand, agreed to advance the Gutierrez' equipment worth $250,000 and let the Gutierrez' pay him back over time.
"He was like an angel," Gus Gutierrez says.
Relatives pitched in as well, he said. The family tortilla business got back on its feet.
"It took about 10 years to make a decent profit," says Gus Gutierrez.
Today, the bulk of T.I. Foods' sales come from restaurants, including those in casinos. Aside from Wynn Las Vegas and The Venetian, T.I. Foods also supplies restaurants in Mandalay Bay, Tropicana, Planet Hollywood and in properties belonging to Station Casinos and Boyd Gaming.
Over the years, Gus Gutierrez and his team of workers have expanded beyond producing just tortillas to selling salsa, refried beans, meat and cheese. That drove him to change its name from Tortillas Inc. to T.I. Foods. The company today sells about 120 products.
Gus Gutierrez says it would be tougher today to launch and grow a startup tortilla business, much like his father did nearly 40 years ago, because of greater food safety regulation.
"A lot of the smaller companies are having difficulty being in compliance. They are very limited in whom they can sell to due to these requirements."
Contact Todd Prince at tprince@reviewjournal.com or 702-383-0386. Follow @toddprincetv on Twitter
Growing population
Although T.I. Foods might have gotten off to a rough start in 1979, in hindsight it was in the right place at the right time.
The Hispanic population in Clark County grew from about 35,000 in 1980 to roughly 673,000 by 2016. Clark County's population also exploded, rising from 463,000 to 2.15 million over the same period while tourism to Las Vegas jumped from 11.9 million to 42.9 million.
The popularity of Mexican foods among the U.S. population was expanding rapidly. Today, the Mexican restaurant industry generates nearly $40 billion in revenue and is expected to grow faster than the broader U.S. food service sector through 2020, according to IBISWorld, a publisher of industry research.
By the numbers
4,800 — tortillas handled per hour by each production line
20 — hours per day that production lines run
4-5 — days a week that production lines run
75 million — tortillas produced annually by the production lines