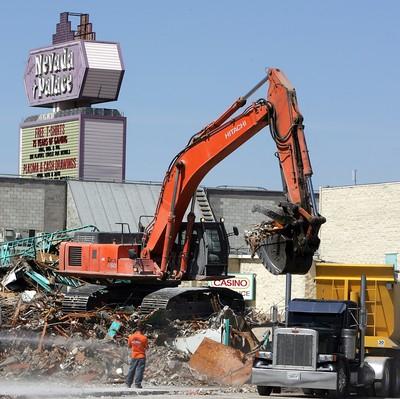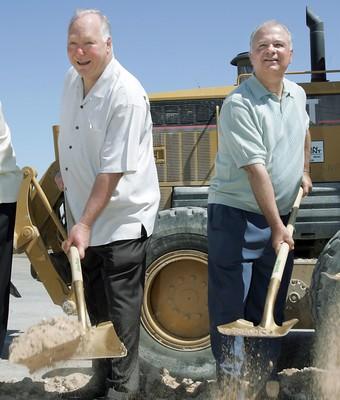 Cannery Casino Resorts' plans to expand its brand throughout the valley's local market took a major step Monday with the ceremonial groundbreaking of its $250 million Boulder Highway project.
The Eastside Cannery is scheduled to open in late summer 2008. It will replace the Nevada Palace, a locals mainstay since 1977.
"We really believe this is a new paradigm for the Boulder Highway," said William Wortman, co-owner of Cannery Casino Resorts. "The facility will be a much more modern facility, and this is also a continuation and evolution of the Cannery brand."
Wortman had been an investor in Nevada Palace since 1985, but bought out his partner in September to make way for the new development.
Plans for the project include a 307-room hotel tower, a 65,000-square-foot casino with 2,000 slot machines and 26 table games. It will also have restaurants, a spa and a pool.
The Nevada Palace casino and 100 hotel rooms will remain open during construction. Wortman's business partner, William Paulos, said this will allow approximately 400 employees to keep their jobs during the transition and maintain the company's customer base.
One hundred hotel rooms at the rear of the Nevada Palace were razed over the weekend.
"It would have been very easy to take a bulldozer and go through the whole thing," Paulos said. "That wouldn't have been the right thing to do."
He added that the property will be torn down in 14 months
Wortman said the Eastside Cannery will compete with the other locals properties in the area: Sam's Town, Boulder Station, Sunset Station and Arizona Charlie's Boulder.
Las Vegas Convention and Visitors Authority President Rossi Ralenkotter said the property is part of the larger valleywide construction boom that will add 33,000 hotel rooms during the next five years.
"We have a vision plan at the LVCVA that by the year 2010 we're going to attract 43 million visitors to our destination," Ralenkotter said at the groundbreaking. "It's projects like this that are going to allow us to do that."
The Eastside Cannery is the first major hotel-casino project to be built on Boulder Highway south of U.S. Highway 95 since the opening of Boulder Station in August 1994.
Sam's Town, which opened in April 1979, added more rooms in 1994 and underwent an $84 million expansion in 2000 that added movie theaters and a special events center.
This is the second property gaming industry veterans Wortman and Paulos have brought to areas they believe to be underserved by new developments.
The first Cannery casino opened in early 2003 on the corner Craig and Losee roads. It added a movie theater and additional rooms in 2006. The 201-hotel room property was the first new casino and hotel to open in North Las Vegas since Texas Station in 1995.
Wortman said the company is in discussions about two more projects in the area. It is also looking at projects outside Nevada.
Wortman and Paulos are co-owners of Millennium Gaming, which owns 58 percent of Cannery Casino Resorts. A subsidiary of the investment management corporation Oaktree Capital Management owns the remaining 42 percent, increasing its investment from 8 percent in 2006.
Cannery Casino Resorts also operates the Rampart Casino in the JW Marriott in Summerlin and will open a casino next to the Meadows Racetrack outside Pittsburgh in June.