2 Nevada energy projects take next steps in BLM approval process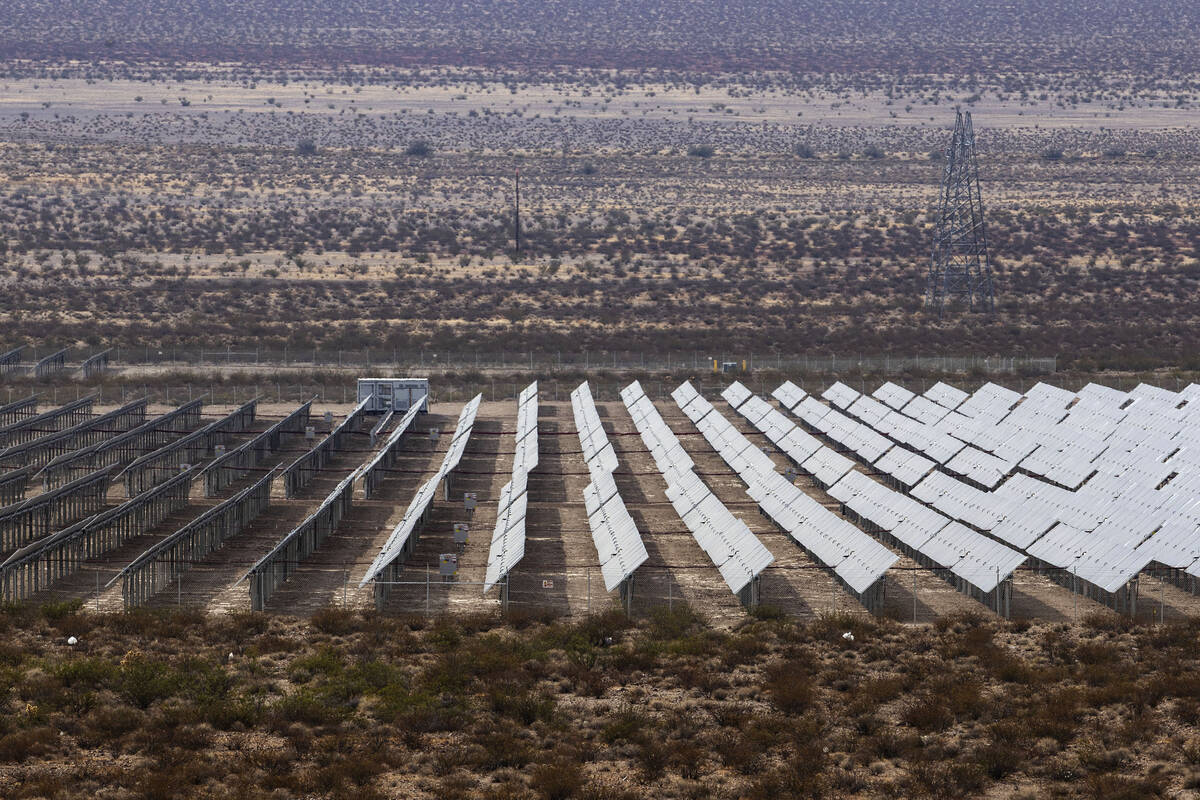 The Bureau of Land Management announced Monday that it is accepting public comment on a plan to build a 300 megawatt solar farm in Indian Springs called Bonanza Solar.
Separately, the BLM is taking public comment on the Greenlink West portion of the $2.5 billion Greenlink Nevada transmission project that would place several transmission lines running about 472 miles from North Las Vegas to Reno.
Greenlink West is in a more advanced stage of the approval process as the BLM last month published a draft environmental impact statement on the project. Bonanza Solar is in an earlier stage of the process.
Greenlink West
The Greenlink project has been presented as a way to improve energy transmission and increase access to renewable energy in Nevada.
"Greenlink Nevada is essential to helping Nevada achieve its climate action and de-carbonization goals and increased renewable portfolio standard, moving Nevada closer to a future powered by 100% renewable energy and reducing Nevada's carbon footprint," says a statement on NV Energy's website.
Now that the draft environmental impact statement has been published, there will be a 90-day public comment period that ends Aug. 23.
The BLM will hold workshops where the public can give direct input on the following dates and locations:
— Virtual workshop on Zoom, June 15, 5:30 – 7 p.m. Here is the Zoom link.
— Southern Nevada workshop, July 11, 5 – 7 p.m., Aliante Casino, Scottsdale Ballroom, 7300 N. Aliante Parkway, North Las Vegas.
— Rural Nevada workshop, July 12, 5 – 7 p.m., Beatty Town Office, Community Center, 100 A Avenue South, Beatty.
— Northern Nevada workshop, July 13, 5 – 7 p.m., Neil Road Recreation Center, McKinley Auditorium, 3925 Neil Road, Reno.
— Virtual workshop on Zoom, Aug. 2, 5:30 – 7 p.m.Here is the Zoom link.
Earlier public comments on the project included concerns that approval of Greenlink could lead to further development of energy projects on BLM land that could have negative environmental impacts, according to the July 2022 BLM report on Greenlink West.
An NV Energy spokesperson said it supports the BLM permitting process and will work with other stakeholders throughout the rest of the process.
The BLM is aiming to make a final decision on the Greenlink West project by the end of 2024 and release a draft environmental impact statement for the other portion of the project, Greenlink North, later this year, according to a news release from the Department of the Interior.
2,500+ acre solar farm
The BLM on Monday opened a 45-day period during which the public can submit comments on the Bonanza Solar project. The comment period would end on July 20.
The 2,500+ acre Bonanza Solar project would be placed in Indian Springs, about 30 miles northwest of Las Vegas and would be on public land in both Clark and Nye counties. The project's owner is EDF Renewables Inc., an international renewable energy developer that has projects in 22 countries, according to its website.
Here is a list of the public workshops where direct input can be given on the scoping period:
— Virtual workshop on Zoom, June 26, 5:30 – 7 p.m.Here is the Zoom link
— Las Vegas workshop, June 28, 5 – 7 p.m., Centennial Hills Library, 6711 N. Buffalo Drive, Las Vegas.
— Indian Springs workshop, June 29, 2023 5 – 7 p.m., Indian Springs Community Center, 715 Gretta Lane, Indian Springs.
The BLM already has received several comments on this project, many of which expressed concern about the potential environmental impact on the Mojave desert tortoise and desert plants.
Basin and Range Watch, a nature conservation non-profit, appliedto have the BLM designate 58,000 acres near Indian Springs as an "Area of Critical Environmental Concern," which would prevent the development of the Bonanza Solar project.
"An Area of Critical Environmental Concern would be a long-term solution to maintain the ecological integrity of this connectivity corridor," said the application from Basin and Range Watch. The application is still under review.
The BLM said in a news release that environmental objections to Bonanza Solar will be taken into consideration.
EDF Renewables Inc. didn't respond to request for comment.
A decision on the Bonanza Solar project could happen in the fall of 2024. It's estimated the solar farm would take 12 months to complete if it gets approved, according to the BLM.
Contact Sean Hemmersmeier at shemmersmeier@reviewjournal.com. Follow @seanhemmers34 on Twitter.