Amonix closes North Las Vegas solar plant after 14 months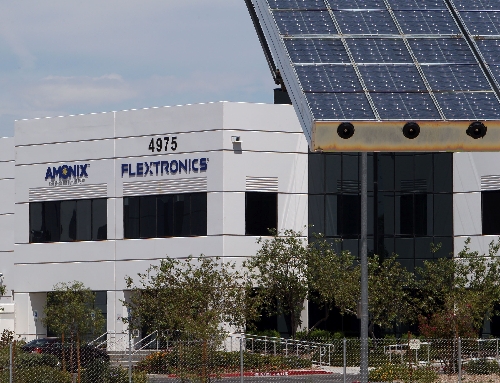 The Amonix solar manufacturing plant in North Las Vegas, subsidized by more than $20 million in federal tax credits and grants, has closed its 214,000-square-foot facility about a year after it opened.
Officials at Amonix headquarters in Seal Beach, Calif., have not responded to repeated calls for comment this week, but the company began selling equipment, from automated tooling systems to robotic welding cells, in an online auction Wednesday.
A designer and manufacturer of concentrated photovoltaic solar power systems, Amonix received $6 million in federal tax credits for the North Las Vegas plant and a $15.6 million grant from the U.S. Department of Energy in 2007 for research and development.
Rene Kenerly, a former material and supply manager at Amonix, said the plant has been idle since May 1, when he was laid off. At its peak, the plant had about 700 employees working three shifts a day to produce solar panels for a utility in Amarosa, Colo., he said.
"I don't think they had a lot of training," Kenerly said. "There were a lot of quality issues. A lot of stuff was coming back because it had some functionality issues."
The Amonix plant was highly touted by political leaders and economic development officials when it opened in May 2011. Company executives said they would employ as many as 300 assembly line workers paid $12 to $14 an hour, plus benefits.
Nevada Sen. Harry Reid, U.S. Rep. Shelley Berkley, D-Nev., and Gov. Brian Sandoval were among the political leaders who lauded the company when it announced it would start making solar panels in the Golden Triangle Industrial Park. Reid in particular has pushed for solar energy research and development in Nevada, drawing parallels between the value of Nevada sunshine and Saudi Arabian oil.
"Last year, Amonix CEO Brian Robert­son was tragically killed in a plane crash and unfortunately the company was unable to recover from this difficult time," Reid said Wednesday in an email statement. "Some people will be tempted to use today's unfortunate news for political gain. But I am hopeful that the bipartisan support for this project and the public-private partnership that helped make this and many other projects possible will not be degraded by dirty energy supporters for their own profit or political gain. The clean energy sector is too important to Nevada's future, and I hope that those that publicly acknowledge this will continue to strengthen the bipartisan support for renewable energy programs and incentives that exists in Nevada."
Department of Energy press secretary Jen Stutsman noted that the project had bipartisan support from elected officials, including Republicans Sandoval and North Las Vegas Mayor Shari Buck.
Amonix was selected for a grant under the Bush administration's Department of Energy in 2007 and eventually received a total of $15.6 million under the grant, she said.
"The global solar industry is facing significant challenges that are impacting solar manufacturers worldwide," Stutsman said Wednesday from Washing­ton. "Amonix, an innovative solar startup company with strong backing from Republicans as well as Democrats, received a tax credit to expand its American manufacturing operations and help ensure the United States continues to compete for the manufacturing jobs of the future. While today's news is disappointing, the United States simply can't afford to cede America's role in the growing, highly competitive solar energy industry."
The company announced 200 layoffs in January, one month after Robertson was killed in a plane crash in Penn­sylvania, but a representative at the time said the plant was "retooling to redeploy our next generation utility-scale CPV (concentrated photovoltaic) solar power system" and would "ramp back up based on the manufacturing build plan in second half of 2012."
Mary-Sarah Kinner, press secretary for Gov. Sandoval, also noted Robertson's death.
"After the tragic loss of their CEO late last year, today's news is a sad ending for Amonix," Kinner said. "The governor supported a company which was expanding to Nevada and creating jobs in a targeted economic development sector, which is a priority for him."
Nevada's Department of Employment, Training and Rehabilitation's rapid response team is doing all it can to assist displaced workers in finding new employment, she said.
North Las Vegas Mayor Buck and city economic development officials did not respond to requests for comment.
Founded in 1989, Amonix is headquartered in Seal Beach with additional facilities in Torrance, Calif., and North Las Vegas.
The company had a five-year lease on the North Las Vegas site with Operating Engineers. Donna Alderson, a CB Richard Ellis broker in charge of leasing the building, said she was told the facility would be vacated by the end of July and go on the market for lease at about 30 cents per square foot.
The North Las Vegas plant was a joint venture with Singapore's Flextronics Industrial. Amonix founder and chairman Vahan Garboushian had estimated capital investment of $15 million in the plant, including equipment, construction and tenant improvements.
Kenerly, the former Amonix manager, said many investors pulled back after Robertson's death and the company was about $100 million in debt, including $34 million owed to Flextronics.
Bombard Electric, the Las Vegas contractor that did the electrical work, has placed a lien on the property used for the solar panels, he said.
Mitchell "Moe" Truman, president of Pan Western, a transportation service in North Las Vegas, said his company is owed about $60,000 for shipping Amonix products to and from Colorado.
"I'll never see that money," Truman said. "I'd like to know how they burned through that money."
POLITICAL FALLOUT
In July 2010, President Barack Obama talked up the Amonix plant during a Nevada visit to support Reid's re-election, saying tax credits for the plant provided by federal economic stimulus efforts had already made an "extraordinary impact."
"Now, the only problem we have is these credits were working so well, there aren't enough tax credits to go around," Obama said in a speech at the University of Nevada, Las Vegas.
"There are more worthy projects than there are tax credits. When we announced the program last year, it was such a success we received 500 applications requesting over $8 billion in tax credits, but we only had $2.3 billion to invest. In other words, we had almost four times as many worthy requests as we had tax credits."
The plant's closure quickly became a political football in Nevada's U.S. Senate race.
"Congresswoman Berkley, when you voted for the trillion dollar stimulus, you promised it would create 34,000 jobs in Nevada," wrote Chandler Smith, spokeswoman for U.S. Sen. Dean Heller, the incumbent Republican Berkley is challenging. "Nevada lost jobs. Congresswoman Berkley, you pushed $6 million in funding to a company that has created zero long-term jobs for Nevada. It's time for you to admit the stimulus – and your policies – aren't working."
Berkley's communications director, Xochitl Hinojosa, responded: "Shame on Senator Dean Heller. While Shelley Berkley and Republican Governor Brian Sandoval are working to make Nevada the clean energy jobs capital of America, Senator Heller is cheering the fact that hundreds of Nevadans have just lost their jobs because he thinks it will help his political campaign. However, Heller's rooting for failure should come as no surprise to Nevada's middle class, given his track record protecting tax breaks for corporations that ship American jobs overseas and defending China's unfair trade policies that are cheating Nevada workers out of thousands of good-paying jobs."
Amonix isn't the only solar company to go under after receiving an infusion of federal capital.
California-based Solyndra filed for bankruptcy last year after receiving $535 million in federal loan guarantees from the Obama administration.
Colorado-based Abound Solar, which received a $70 million loan guaranteed by the Energy Department, filed for bankruptcy in June, succumbing to intense competition from China that has sharply driven down the cost of solar panels, chairman Thomas Tiller said in a Reuters news article.
Review-Journal writer Laura Myers contributed to this report. Contact reporter Hubble Smith at hsmith@reviewjournal.com or 702-383-0491.